Muramasa
Talk

0
13,961 pages on
this wiki
Relm

: I couldn't miss the chance to practice my drawing!
This article is in need of a few pictures. Perhaps you can help by

uploading

and adding a picture or two.
"Referred to as a demon sword, this katana was said to drink the blood of countless enemies."
—Description, Final Fantasy Tactics.
Muramasa (ムラマサ, Muramasa?) is a recurring weapon in the Final Fantasy series. The Muramasa is usually associated with the Ninja and Samurai Job classes.
Appearances
Edit
The Muramasa is the reward given to Ninjas by the Legendary Smith after reaching Job level 99. It has an Attack power of 140 and adds +5 Strength, Vitality, Intellect, and Mind, and +10 Agility.
The Muramasa is one of Auron's katanas. It has the Triple Overdrive, Triple AP, and Overdrive->AP abilities on it.
The Muramasa is one of the strongest katanas and cannot be bought in any shop. It can be found as a treasure in the Pharos at Ridorana, dropped by the Crypt Bunny, and stolen from the Avenger. It has an Attack power of 84, and its license costs 50 LP. All katana have 2.39s charge, and 1.2s action time, making them average what it comes to attacking speed.
In the International Zodiac Job System version, the Mononofu is the only class able to equip the Muramasa, and it requires the Katana 5 License for 100 LP.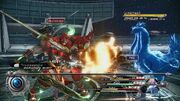 "A weapon of fey power feared as the blade that will strike down time's master. Increases chain bonuses."
—Description
The Muramasa is a DLC weapon for Noel Kreiss, which increases chain bonuses in battle.
A different version of Muramasa is wielded by Gilgamesh in his downloadable battle; when Gilgamesh attacks with the Muramasa it has a drain effect.

Muramasa is a command ability for the Samurai, which deals damage and inflicts Doom or Confusion statuses to surrounding enemies and requires 580 JP to learn. The weapon itself provides 14 Attack and 15% Weapon Defense when equipped. It can be bought for 15,000 gil from Chapter 3 onwards. It can be found with the Treasure Hunter ability at Limberry Castle Keep as rare treasure.
The Muramasa (村正, Muramasa?) is a katana for Jack. It increases his Strength by 58 and his max MP by 30%. It can be unlocked in the Sixth Arms Research Institute after Jack has participated in missions 200 times, and is priced at 35,000 gil.
"Brilliant blade made shiny by a coat of blood. Even so, it has an alluring quality about it."
—Description
The Muramasa is a high-powered weapon only usable by Clavats. It can be made using the Cursed Weapon scroll, and provides +160 Attack.
The weapon is called Muramas and it has a sword icon before its name. It can be found in Nasty Dungeon. Taro is equipped with a Muramas as well, the only other one in the game. It has 40 use, it also increases a Robot's HP by 99 and increases their Str by 22. The damage formula for Muramas is the user's Str x15, and its effective against humans and mutants.
The weapon is called Muramas in the game and it has a sword icon before its name. It has an Attack power of 100 and also has innate Curse. It becomes the Mystic Sword Masmune when the curse is lifted by Masa. It deals Mystic-elemental damage, making it the only non-Mystic Sword weapon that can deal Mystic-elemental damage.
The Muramasa can be bought in the Mysterious Tower for 9,000 gil. The sword provides 14 Attack and can inflict lower status.
Etymology
Edit
The Muramasa is named after a Japanese swordsmith, Sengo Muramasa (千子村正), famous for his extremely sharp blades. Muramasa is said to have been a brilliant swordsmith, but also rather insane. The blades forged by him were involved in numerous famous yet unfortunate accidents. These led to the legends that his swords were evil and bloodthirsty to the point that once drawn, it cannot be returned to its scabbard without having first drawn blood, even if it requires forcing the wielder to commit suicide.
References
Edit