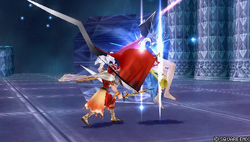 Multi-Hit (連続ヒット, Renzoku Hitto?, lit. Consecutive Hit) is a recurring ability in the series. It is an ability used exclusively by Onion Knight.
Appearances
Edit
Dissidia Bravery Attack is a Bravery attack used by Onion Knight, learned by default. It requires 30 CP to equip (15 when mastered), 60 AP to master, and has Melee Low priority. After learning Multi-Hit, the player may learn Swordshower and Extra Slice to use as follow-up attacks. Onion Knight charges and strikes the opponent multiple times, flinging them into the air.
Dissidia012 Multi-Hit is a Bravery attack for Onion Knight, requiring 20 CP to equip (10 when mastered) and 90 AP to master. It is otherwise identical to its previous incarnation.