Mt. Kolts
Talk

0
13,959 pages on
this wiki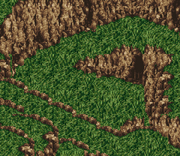 Mt. Kolts (霊峰コルツ, Reihō Korutsu?, lit. "Sacred Mount Kolts") is a dungeon in Final Fantasy VI. It is located at the foot of the Sabre Mountains, which lie northeast of South Figaro. Terra, Locke, and Edgar pass over this mountain on the way to the Returner Hideout. On the way, they come across a shadowy figure. Once they reach the summit, they learn that this man is Vargas, Duncan's son and student. Vargas fights them, but Sabin comes to the rescue and defeats Vargas. He then joins Terra, Locke, and Edgar.
Mt. Kolts does not appear in the World of Ruin, and thus is assumed to be destroyed. The precise location of the Sabre Mountains is replaced by ocean, so presumably Mt. Kolts and the rest of the mountains sank beneath the water.
Sidequests
Edit
The Gigas Glove
Edit
The Gigas Glove, a powerful Relic that increases the wearer's physical damage by 25%, is hidden on the mountain. In the second cave, where a lower path leads to an outside ledge with the Main Gauche, there is a hidden path in the upper-right that leads to another part of the cave with the treasure chest with the Glove.
Monster formations
Edit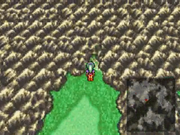 On the slopes
In the caves
Mt. Kolts has its eponymous theme as a background theme.

Other appearances
Edit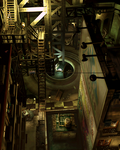 Mt. Kolts makes a cameo in Final Fantasy VII, where it appears on a poster in Midgar's Sector 8. It also appears in Crisis Core -Final Fantasy VII- as the name of a bar in Midgar's Sector 8 Fountain.


Kolts Region is a location in Final Fantasy Airborne Brigade.

If the player returns to Mt. Kolts after South Figaro's capture by the Empire, a green cadet blocks the entrance and tells the player, "This town's under Imperial control", despite there being no town on Mt. Kolts; most likely the dialogue spoken by the soldiers in South Figaro was also used for Mt. Kolts.