Mountain
Talk

0
13,973 pages on
this wiki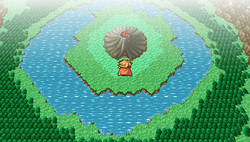 Mountains (山, Yama?) are a recurring type of location found throughout the Final Fantasy series, starting with Final Fantasy III. They usually appear as Dungeons that serve as passages between areas, normally stalled by a Boss Battle. Caves are almost always found at mountain ranges.
Mountains appear in every game with an Overworld, and there they work as a barrier for the characters, since they are generally impassable by anything other than an airship.
Appearances
Edit
Mount Duergar and Mount Gulg are two mountains explored in the original Final Fantasy, but despite their names, the explored areas are actually caves underneath the mountains.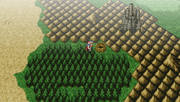 Castle Palamecia is located atop a mountain range, rendering it inaccessible by anything other than a flying airship. It is later replaced by the infernal palace of Pandaemonium, which can't be reached by an airship. A special passage must be crossed instead.
The Dragon's Peak is the very first location that is actually a mountain. Like its name implies, Dragons are a common sight at its summit.
In Final Fantasy III, however, airships cannot fly over mountains, and the Invincible can only fly over smaller mountains such as the ones found in the mountain range near the Cave of Shadows, which no other airship can.

Mt. Hobs is a mountain located in a route between Damcyan and Fabul. Mount Ordeals is a mystical mountain located east of Mysidia.
In the underworld, some mountain ranges can be found, and notoriously, airships can land on some of them (however, characters may not find a passage to the base levels). However, in the Red Moon, due to the rough terrain filled with craters, the Lunar Whale must normally land atop mountain ranges and the party must walk to other locations.
Mt. Hobs is the only accessible mountain in this game.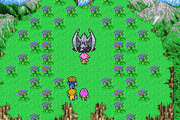 Two mountains appear in Final Fantasy V: At the North Mountain, appearing in Bartz's World, grows Dragon Grass, a plant poisonous to humans that has medical properties when ingested by Wind Drakes. Likewise, in Galuf's World, the Drakenvale contains many Dragon Grass.
Again, in the overworld, Airships can fly over mountains, but flying fauna such as Black Chocobos and Wind Drakes cannot.
In Final Fantasy VI several mountains are explored, and none appear in both the World of Balance and World of Ruin simultaneously: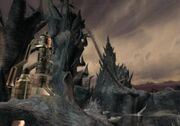 Several mountains and mountain ranges of the Planet are explored in Final Fantasy VII.
List of Mountains:
The Vienne Mountains are a natural border of Esthar.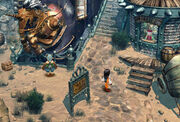 In Gaia, the Mist Continent is the most hilly area; it has several areas of high altitude, which are where the greatest settlements can be found. This is due to the nefarious Mist that overruns the lower areas of the Mist Continent. In Disc 3, Gaia is purged of Mist, but in Disc 4, Mist returns, this time to cover the entire planet.
However, three mountains appear as locations in this game:
Mt. Gagazet is a sacred mountain range, and homeland of the Ronso. It also features a series of caverns and springs, along with ferocious fiends. It is the final test of a Summoner's pilgrimage before reaching Zanarkand Ruins.
The Paramina Rift is an icy mountain pass between the Golmore Jungle and the holy mountain of Bur-Omisace.
Mt. Bur-Omisace is a sacred mountain that serves as the center of the Kiltia religion. It is located in the edge of Jagd Ramooda, which in a way prevents war from reaching it.
The Mosphoran Highwaste is located in the region of Nabradia, annexed by Archadia in the beginning of the game. It is a mountain pass between Nalbina Fortress and the Salikawood. It is also home to the Esper Exodus.
Arda, Heaven's Pillar is an enormous landmass of the Purvama of Lemurés where a mountain range can be found. Throughout the other islands of Lemurés, several temples and underfanes can be found at mountain ranges.
Full Motion Videos reveal that there are mountain ranges on Cocoon from which only the Vile Peaks is visited due to story-driven gameplay. Near the Sunleth Waterscape there are also mountains.
Most of Gran Pulse is covered in mountain ranges, especially south: canyon of Vallis Media and Yaschas Massif. Also there are Sulyya Springs surrounded by mountains.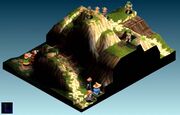 Several passes and mountains are found in Final Fantasy Tactics.
List of Mountains:
Mount Gale located in the Windia region.
There's a unnamed mountain located on Floatland. The player needs to climb up the mountain to reach Maitreya's Tower. In Pureland, there's Mt. Hasbid and Mt. Goht.
As Dissidia 012 Final Fantasys world is based on that of the original Final Fantasy, the iconic Mount Gulug can be found, but this time as a tall mountain with an icy summit. A volcano also marks Chaos's throne, and is located on the floating landmasses near the ruins of Onrac.