Ad blocker interference detected!
Wikia is a free-to-use site that makes money from advertising. We have a modified experience for viewers using ad blockers

Wikia is not accessible if you've made further modifications. Remove the custom ad blocker rule(s) and the page will load as expected.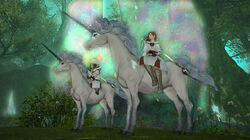 Mounts are a form of transportation in Final Fantasy XIV, wherein players ride atop the backs of various creatures. While riding, enemy attacks may snare the ride or forcefully dismount a player, requiring caution in more dangerous areas. Players will automatically dismount when entering city gates, but they may ride them in residential districts.
Heavensward features flying mounts that can soar through new zones added in the expansion.
List of Mounts
Edit
Grounded Mounts
Edit
Image
Name
How to obtain
Description

Aithon

Possible reward from Bowl of the Embers (Extreme).
Its breath is said to be as hot as the seventh hell. Legend states that the Lord of the Inferno, Ifrit, forged this magicked steed from a nightmare offered by the Amalj'aa in sacrifice.

Nay is but a hoofbeat away from neigh! - Uma Bugyo

Ahriman

Veteran's Reward (90 days).
Though little is known of the void and the creatures which call the extra-dimensional realm home, scholars have discovered that there is a strict hierarchy amongst voidsent consisting of twelve distinct tiers. Ahrimans are believed to fall into the fifth, making them formidable foes... when not enthralled by curses.

Ye'd 'ave t' be blinder'n an ahriman wi' an eyepatch t' miss the camp. - Baderon Tenfingers

Behemoth

Veteran's Reward (270 days).
Immediately following the Calamity, an adventurer returning to Gridania from the Falcon's Nest in the Coerthas happened upon a den of baby behemoths who had lost their mother to Bahamut's flames. Despite objections from friends and family alike, she kept the beasts, eventually training them to serve as mounts.

Do not presume to provoke the behemoth to battle. You will die. - Meurise

Bomb Palanquin

Purchase from 789th order kobolds at Trusted (level 4) reputation.
Upon learning that his creations were forever lacking the power to combust, 789th Order Acolyte Ba Go did what any master of explosives would—attach the bombs to the corners of an iron bench and create a floating coach.

Hack and slash and tossy-boom. Bang and boom and slashy-doom.♪ - Goblin Diddy

Boreas

Possible reward from Akh Afah Amphitheatre (Extreme).
Legend states that the Lady of Frost, Shiva, birthed this magicked steed from a unicorn offered by her followers in sacrifice.

"Nay is but a hoofbeat away from neigh!" - Uma

Cavalry Drake

Purchase from Brotherhood of Ash at Trusted (level 4) reputation.
Training a cavalry drake is a long and arduous process that begins the moment the scalekin hatches. Never allowed to see its mother, the creature is raised solely in the presence of a drake whisperer while being weaned on the incendiary glands of aged battle drakes to ensure it is both submissive and deadly.

You are as a lost kitten that has wandered into the drake's lair. - Zagozz Teh

Cavalry Elbst

Purchase from Novv's Clutch at Trusted (level 4) reputation.
To ensure his elbst do not find themselves at a disadvantage to swift-running chocobos, Pahh of Novv's Clutch clips the webbing on their feet at a young age, rendering them more capable of achieving high speeds on land. This procedure, however, robs them of their natural-born ability to swim.

My elbst is your elbst. - Seabeast Tamer

Ceremony Chocobo

Complete the Ceremony of Eternal Bonding with either the Gold or Platinum Plan.
Wearing ceremonial barding, these snow white chocobos born of Ishgard were bred for use in the Ceremony of Eternal Bonding.

After the proceedings have ended, mount this snow white chocobo with your partner and ride off into the sunset. - Unknown

Company Chocobo

Join one of the 3 Grand Companies of Eorzea and do the Quest "My Little Chocobo".
Born and bred in the city-state of Ishgard, the majority of company chocobos are geldings of the rouncey variety; however, massive destriers and miniature Belah'dian jennets are also raised to accommodate the builds of Rogadyn and Lalafell riders respectively.

Chocobos are stout-hearted creatures, but they have their limits. - Mimigun

Coeurl

A Realm Reborn Collector's Edition Bonus.
Native to the jungles of the Near East, coeurls were only recently introduced to Eorzea, brought over from faraway lands such as Thavnair by Ul'dahn nobles who thought to breed them as pets. Now, but a handful of skilled tamers living in recluse on the Pearl are said to be able to train them.

Hey, good lookin'! Catch my coeurl yet? - Swygrael

Direwolf

Purchase from Ehcatl at Allied (level 7) reputation.
Mass cullings of the beasts during the Sixth Astral Era prompted naturalists to deem the species extinct. However, this claim was proved false when Ixali scouts discovered a lone pack roaming the sparsely inhabited mountains of Xelphatol.

I lost two good men to these wolves. - Corentiaux the Colder

Draught Chocobo

Recruit a Friend campaign.
This heretofore unseen breed of chocobo was said to have been discovered by chocobo hunters searching for the legendary Chocobo Forest. Its enormous size would make it a fine pack chocobo, but its foul temper prevents it from completing even the simplest of tasks without the injury of some poor rider.

The thing was thrice my size and had already maimed several keeps. - Battlewarden Ribald

Enbarr

Possible reward from Whorleater (Extreme).
It is said to have been born of the surging waves. Legend states that the Lord of the Whorl, Leviathan, birthed this magicked steed from a nightmare offered by the Sahagin in sacrifice.

Nay is but a hoofbeat away from neigh! - Uma Bugyo

Fat Chocobo

A Realm Reborn Collector's Edition Bonus.
Playfully described by some as "large and in charge," in truth, when summoned, this gluttonous gourmand will flap nary a feather unless a garland of gysahl greens is dangled before him—in which case not even the laws of nature can slow the fat chocobo down.

Huff...huff...heave...heave... - Fat Chocobo

Flame Warsteed

Completion of the A Line in the Sand IV achievement.
After witnessing dazzling demonstrations of how a warsteed might turn the tide of battle, the Grand Companies of Eorzea emptied their coffers at the feet of the Far Eastern uma bugyo, each seeking to put themselves at an advantage during Frontline campaigns.

Hoof to neigh, Eorzea knows not the horse for one reason: the horsebird. - Uma Bugyo

Gilded Magitek Armor

Obtain achievement for 500 player commendations.
It only took a few heated skirmishes with the allied city-states for Garlemald to realize that the magicks wielded by the realm's mages were too much for even the thickest of magitek armor plating. Alloyed gilding has since been discovered to dampen the effects of elemental charges and is now standard issue.

You ditched your magitek armor!? Fool of a Lalafell! - Biggs

Goobbue

Only obtainable in version 1.0.
Traded for a song by the High Satrap of a distant land, the secret to taming these creatures once thought to be unbreakable was introduced to Eorzea by a mysterious wandering minstrel who journeyed through the realm in the final days before the Calamity.

Would that I had the girth of a goobbue! - Nanamo Ul Namo

Gullfaxi

Possible reward from The Navel (Extreme).
Its powerful legs set off tremors that can be felt from malms away. Legend states that the Lord of Crags, Titan, wrought this magicked steed from a nightmare offered by the kobolds in sacrifice.

Nay is but a hoofbeat away from neigh! - Uma Bugyo

Kirin

Complete the "A Legend for a Legend" Quest.
Ask any man in Othard who rules the realm of beasts, and you will receive the same answer-Kirin. It is believed that the lion-like creature has walked the eastern lands for over a thousand years and will only answer the call of a hero it has deemed worthy.

Even folk in the Far East 'eard that tale, I reckon. - Trachraet

Laurel Goobue

Purchase from Little Solace at Trusted (level 4) reputation.
After having the moss and flowers growing upon his head pulled up and tossed aside like common weeds by a band of sylvan ne'er-do-wells, this quiet-mannered goobbue was taken in and cared for by the sylphs of Little Solace whose elders crafted for him a magnificent laurel with which to hide his scars.

Naught is as exhilirating as a romp through the forest on goobbueback. - Unknown

Legacy Chocobo

Only available to Legacy Campaign characters.
In the five years following your sudden disappearance at Carteneau Flats, your ever-faithful chocobo spent each waking moment galloping across the realm in search of his lost master. His myriad adventures are nothing less than fantastical and heartbreaking... but that is a story for another day.

Go find the chocobo you rode in on, and ride on out. - Sevrin

Logistics System

Win 200 Frontline campaigns.
One of the automated system drones deployed by the Allagans to maintain and protect their strongholds. After being unearthed by the Sons of Saint Coinach, the mechanical sphere was modified by Nero tol Scaeva into a personal transport device.

Magitek Armor

Complete Main Scenario quest "The Ultimate Weapon".
This suit of Garlean-developed reaper-class magitek battle armor has had its original control systems purged and replaced with a new, modified core build by Cid of the Garlond Ironworks.

At last, our very own suit of magitek armor! - Cid Garlond

Markab

Sometimes rewarded from The Striking Tree Extreme primal trial.
It is said to have been born of a single thunderbolt. Legend states that the Lord of Levin, Ramuh, drew forth this magicked steed from a nightmare offered by the sylphs in sacrifice.

Nay is but a hoofbeat away from neigh! - Uma Bugyo

Nightmare

Sometimes rewarded from Extreme primal trials.
While it is no secret that it was the enigmatic Ascians who provided the beast tribes with nightmares, their reasons for doing so remain shrouded in mystery. Otherwise untamable, the single piercing tone of a magicked whistle is the only method known to soothe the savage beasts.

See the nightmare for reality, and ready thyself for the coming chaos! - Urianger

Serpent Warsteed

Completion of the A Line in the Glade IV achievement.
After witnessing dazzling demonstrations of how a warsteed might turn the tide of battle, the Grand Companies of Eorzea emptied their coffers at the feet of the Far Eastern uma bugyo, each seeking to put themselves at an advantage during Frontline campaigns.

Hoof to neigh, Eorzea knows not the horse for one reason: the horsebird. - Uma Bugyo

Sleipnir

Purchased from Optional Item Sales on Mog Station for $24
Blessed by the elder primal himself, Sleipnir will forever remain loyal to those who have proven themselves worthy. In addition to being fearless in battle, the dark steed is also able to manipulate his corporeal form to accommodate any rider, large or small.

Storm Warsteed

Completion of the A Line in the Storm IV achievement.
After witnessing dazzling demonstrations of how a warsteed might turn the tide of battle, the Grand Companies of Eorzea emptied their coffers at the feet of the Far Eastern uma bugyo, each seeking to put themselves at an advantage during Frontline campaigns.

Hoof to neigh, Eorzea knows not the horse for one reason: the horsebird. - Uma Bugyo

Unicorn

Complete the quest "Unicorn Power" (requires completing all Conjurer class quests).
Not long ago, Eorzean unicorns numbered in the thousands, and could oft be seen roaming the Coerthas highlands in great majestic herds that would render the mountains white as snow. Poaching has caused the population to decline, and if it were not for your act of kindness, there would be one fewer.

Your precious horses, they're just unicorns with a big empty forehead. - Chief Chocowacker

Warbear

Obtain achievement for participating in 200 high level duties as a Warrior.
In generations past, warriors seeking fame and glory would journey out into the untamed wilds of Abalathia's Spine in search of the giant grizzled bears that roamed the mountains, and would wrestle the beasts into submission, riding their prizes back to civilization. That is, or die trying.

How do you like my pets? Not too playful for you, I hope? - Beast Trainer

Warlion

Obtain achievement for participating in 200 high level duties as a Paladin.
Early in the Sixth Astral Era, lions were brought over from the Near East and trained to serve as battle mounts for the Sultansworn of Ul'dah. Deemed unbreakable, those not sold to the Coliseum for venationes were released into the deserts of Thanalan where they eventually reverted back to a feral state.

I, too, see the friends I lost in the lions and spinners... - Gregory

Xanthos

Possible reward from The Howling Eye (Extreme).
At full gallop, it is said to be the very wind itself. Legend states that the Lady of the Vortex, Garuda, created this magicked steed from a nightmare offered by the Ixal in sacrifice.

Nay is but a hoofbeat away from neigh! - Uma Bugyo
Flying Mounts
Edit
| Image | Name | How to obtain | Description |
| --- | --- | --- | --- |
| | Black Chocobo | Complete main scenario quest "Divine Intervention". | |
| | Company Chocobo | Upgrades to flight capability upon completing the quest "I Believe I Can Fly." | |
| | Griffin | Heavensward Collector's Edition bonus. | |
| | Manacutter | Complete main scenario quest "Into the Aery". | |
| | Midgardsormr | Complete main scenario quest "Fetters of Lament". | |
| | Sanuwa | | |
| | Witch's Broom | Complete the 2015 edition of All Saints Wake seasonal event. | |