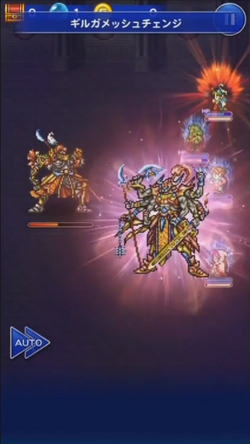 Morphing Time! (ギルガメッシュチェンジ? or ギルガメッシュチェーンジ, Girugamesshu Chenji?, lit. Gilgamesh Change), also known as Gilgamesh Morphing Time or Gilgamesh Change!!, is a recurring ability in the series. It is an ability exclusive to Gilgamesh, and either provides Gilgamesh with some form of buffs or allows him to change to his more powerful form.
Appearances
Edit
V Gilgamesh Morph! is an enemy ability used by Gilgamesh when fought at Castle Exdeath. It changes Gilgamesh into his eight armed form, seen for the first time in the series, where he proceeds to attack continuously with Excalipoor to little effect before being banished.
Dissidia012 Gilgamesh Morphing Time is the EX Mode for Gilgamesh, transforming him into his eight armed form as seen in Final Fantasy V. While in this form, Gilgamesh gains the ability Octo-Break, which causes each arm to wield any of the eight weapons used by him in battle—he has a 45% chance of wielding eight of the same weapon, a 45% chance of using four weapons twice each, and a 10% chance of a random alternate combination. Whatever weapon(s) Gilgamesh is holding, their relevant bonuses are applied to all his attacks, while weapons that affect his attack power alternatively activate their effects. Thus the benefits of Gilgamesh's EX Mode are impossible to predict, but his attacks are more reliable. Gilgamesh's melee Bravery attacks do more hits, and some of his HP attacks hit over larger areas.
FFRK Morphing Time! is Gilgamesh's default Soul Break, which the expense of one Soul Gauge segment increases user's Attack.
Etymology
Edit
It's morphin' time is the official transformation call of the Mighty Morphin Power Rangers TV show. It is called out before the main characters transforms into the Power Rangers.
Ad blocker interference detected!
Wikia is a free-to-use site that makes money from advertising. We have a modified experience for viewers using ad blockers

Wikia is not accessible if you've made further modifications. Remove the custom ad blocker rule(s) and the page will load as expected.