Mopingway
サミングウェイ (Saminguwei?)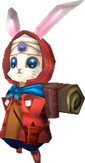 Statistics
Level
HP
10
32
EXP
Gil
1
12
Strength
Stamina
Speed
11
11
2
Intellect
Spirit
Attack
Accuracy
2
10
7
115
Evasion
Defense
Mag. Def.

Magic Defense

Mag. Eva.

Magic Evasion

5
20
6
5
Elemental affinities
100%
100%
100%
100%
100%
100%
100%
100%
Restorative
Drain/Osmose
-100%

Absorbs

100%

Damages, supplies to the caster
Mopingway, called Thumbingway in the Japanese version and otherwise known as Namingway, is an enemy fought in the Nintendo DS release of Final Fantasy IV. Distraught over his girlfriend's infidelity, Mopingway becomes angered when the player speaks to him and attacks them. However, he only uses physical attacks and has incredibly low HP. Thus, he can easily be slain with a single attack, but the battle still breaks Mopingway out of his self-pitying stupor nonetheless.
AI script
Edit
This article or section is a stub about an enemy in Final Fantasy IV. You can help the Final Fantasy Wiki by expanding it.
Names in other languages
Edit
Spanish: Suspiriri
Italian: Sospirway
Related Creatures
Edit
Ad blocker interference detected!
Wikia is a free-to-use site that makes money from advertising. We have a modified experience for viewers using ad blockers

Wikia is not accessible if you've made further modifications. Remove the custom ad blocker rule(s) and the page will load as expected.