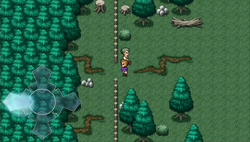 Moonlight Wood (ツキミの森, Tsukimi no Mori?) is a location in Final Fantasy Dimensions It's located to the north of Hagakure. According to the elder in Hagakure, this area is full of dangerous monsters.
After talking to the elder in Hagakure, the Warriors of Darkness are allowed to enter Moonlight Wood. During their traveling through this area, a shadow follows them. Finally, they get into a fight with a mysterious man. He warns them to leave and escapes using a smoke bomb. They then leave the forest and head to Matagi.
Etymology
Edit
[view · edit · purge]Moonlight is the light that reaches Earth from the Moon, consisting mostly of sunlight, with some starlight and earthlight reflected from those portions of its surface which the Sun's light strikes. Its name in Japanese is part of an often used aesthetic and naming theme of the moon in relation with ninja.
Ad blocker interference detected!
Wikia is a free-to-use site that makes money from advertising. We have a modified experience for viewers using ad blockers

Wikia is not accessible if you've made further modifications. Remove the custom ad blocker rule(s) and the page will load as expected.