Moon
Talk

0
13,968 pages on
this wiki
Relm

: I couldn't miss the chance to practice my drawing!
This article is in need of a few pictures. Perhaps you can help by

uploading

and adding a picture or two.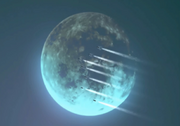 The Moon (月, Tsuki?) is a recurring plot element of importance in the Final Fantasy series.
Appearances
Edit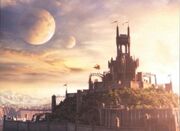 In Final Fantasy IV, there are two moons, one of which is the Red Moon, is an important location. It is actually an artificial structure, and home to the Lunarians, the race to which Kluya, father of Cecil and Golbez, belongs. Cecil, after losing all the Crystals to Golbez, goes into the Moon via the Lunar Whale - a ship made by Kluya - that allows one to travel through space. The Red Moon is also home to the God of Eidolons, Bahamut, and the Hummingway tribe.
In Final Fantasy IV: The After Years, a new moon appears in the sky. It is home to the Creator, an entity that travels the cosmos using his moon, observing planets as their inhabitants evolve and judging whether they are deserving of living and destroying the same planets with this moon in case they are not.
In Final Fantasy: Legend of the Crystals, the moon of Final Fantasy V is revealed to be home to Ra Devil, an entity that observed the planet and is planning to destroy it.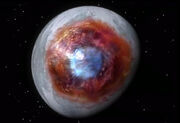 In Final Fantasy VIII, the Moon is the true origin of the monsters, and the reason why these infest the planet. The event where monsters are brought into the planet is called the Lunar Cry.
The planet of Gaia has two moons, one red, which actually originates from Terra, and its original blue moon. The moons do not play a part in the storyline, but there is a Tetra Master card dedicated to them.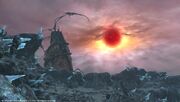 In Final Fantasy Crystal Chronicles: Ring of Fates, the Crimson moon is a manifestation of pure evil created long ago when the God of Light created the planet. When he created the world, he extracted its chaotic evil in the form of a moon. Humans who are influenced by its power become Lunites.