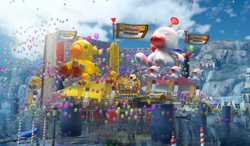 Moogle Chocobo Carnival is downloadable content for Final Fantasy XV. The event ran from 24th January 2017 to 20th February 2017, and was released with patch 1.04. It was free, but season pass holders got some extra items. It could be accessed no matter where the player was in the game from the title screen. It whisked Noctis Lucis Caelum to a festive Altissia where he could try out various minigames. The player unlocked a new attire for Noctis that is a carnival-themed re-color of his casual outfit without the jacket. Season Pass holders get a full-on carnival outfit.
Moogles and chocobos are the Final Fantasy series mascots, and the city is decorated accordingly.
The waiter at the Square Enix Cafe at the carnival appears to be modeled after the real life waiter in the real world version of the cafe.
Ad blocker interference detected!
Wikia is a free-to-use site that makes money from advertising. We have a modified experience for viewers using ad blockers

Wikia is not accessible if you've made further modifications. Remove the custom ad blocker rule(s) and the page will load as expected.