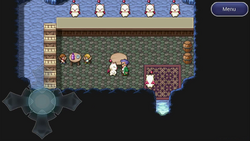 Moogle Cave (モーグリの洞窟, Mōguri no Dōkutsu?) is a location in Final Fantasy Dimensions. It's located on an isolated island to the southwest of the World Map. This area is populated by mostly moogles. They sell some of the best items, weapons, and armor. The tail and fang collectors are also presented here.
Ad blocker interference detected!
Wikia is a free-to-use site that makes money from advertising. We have a modified experience for viewers using ad blockers

Wikia is not accessible if you've made further modifications. Remove the custom ad blocker rule(s) and the page will load as expected.