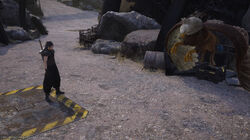 Be careful! Sometimes monsters lurk inside treasure chests!
Monsters-in-a-box (敵入りの宝箱, Teki Iri no Takarabako?, lit. Treasure Chest Containing Enemy) are enemies that appear in treasure chests. After the character opens the Chest, the phrase "Monster-in-a-box!", "Monsters!", or similar is displayed, and a battle begins with an enemy. Usually these enemies are stronger than average foes, and can even match a boss's strength. Monsters-in-a-box were series staples up to Final Fantasy VIII where they do not appear, and only return to the series in Final Fantasy X.
Previous to the use of monster-in-a-box treasure chest starting in Final Fantasy II, the original Final Fantasy surrounded treasure chests with fixed encounters to protect boxes. As a precursor to the monster-in-a-box, enemies fought through this method still had the tendency to be stronger than average. In the later games of the Final Fantasy series, Mimic enemies act as a replacement which appear as boxes and morph into an enemy.
Appearances
Edit
In Final Fantasy II, Monsters-in-a-box are very common, appearing in almost every dungeon. Unlike later installments, the item is gained before the monster is fought. All types of dragons appear as Monsters-in-a-box in some later dungeons and in the last dungeon, Pandaemonium, several of the game's most powerful armor pieces can be found in boss fights with Monsters-in-a-box.
Monsters-in-a-Box
Edit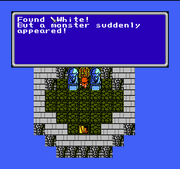 Early in the game in Castle Sasune, the party must defeat a monster-in-a-box, a Griffon, to obtain the Wightslayer. In Eureka, a Ribbon is obtained after opening a treasure chest and defeating the Ninja within. During the final dungeon of the game, there is a crossroad of four paths. Each path has a chest along the way, with a Xande's Clone guarding a Ribbon.

This article or section is a stub about an enemy in Final Fantasy III. You can help the Final Fantasy Wiki by expanding it.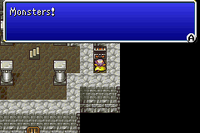 Many monsters-in-boxes can be fought in Final Fantasy IV. After opening a box, a message saying "Monsters!" will appear and the fight will initiate. After winning the battle, the item contained in the chest will be received.
In the DS version, the word "Monsters!" has been replaced by "Enemy Ambush." If there is an item, the item will be received, followed by the term "Enemy Ambush!". For example, in the Giant of Babil, the message box will say:
Found Elixir.
Enemy Ambush!
Monsters-in-a-Box
Edit

This article or section is a stub about an enemy in Final Fantasy IV: The After Years. You can help the Final Fantasy Wiki by expanding it.
V Monster-in-a-box appears when the player opens certain Treasure Chests, and is commonly extremely strong for the location. Once the enemy is defeated, a message is displayed and the item is received. The superboss Shinryu appears as a monster-in-a-box in the Interdimensional Rift, which guards the strongest weapon in the game, Ragnarok. In the GBA Remake, Neo Shinryu is encountered the same way, guarding the Ultima Weapon.
VI Several monsters-in-a-box appear in Final Fantasy VI. A notable example is Angler Whelk in Darill's Tomb, which drops a strong Holy-elemental weapon for Sabin.
Monsters-in-a-Box
Edit
VII Monsters-in-a-box only appear once in the clock puzzle room of the Temple of the Ancients. They do not give items.
FFVIICC In Gongaga, Zack can find treasure chests that contain enemies. During a mission he will also encounter a treasure chest that will transport him into a battle against Bahamut Fury.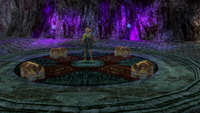 In the Omega Ruins, there are areas where three to five treasure chests are grouped together. Some contain treasure, while others initiate a battle. After the battle, the other nearby treasure chests will disappear. It is random which treasures contain battles.
The treasures contain the following items:
X-2 There are several monster-in-a-box chests in the Fiend Colony. The battles that initiate are against Vermin-type enemies.
XIV Patch 2.1 added the Treasure Hunt system, which uses a monster-in-a-box mechanic. The buried treasure coffers have a trap that will release a "powerful musk" when opened that summon monsters. These creatures must be defeated in order to claim the goods contained within.
Dissidia012 In Confessions of the Creator, red treasure chests initiate battles with powerful enemies when opened, and one in the Southern Lufenia gateway triggers a battle with Feral Chaos.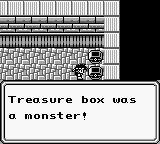 The sewer has two trapped treasure chests which contains monsters. The player can farm them for high level meat if they want, but the player doesn't get any items from these treasure chest. The player can repeatedly open them infinitely if they wish to fight the monsters again.


This article or section is a stub about Final Fantasy: The 4 Heroes of Light. You can help the Final Fantasy Wiki by expanding it.
Etymology
Edit
[view · edit · purge]A monster is any creature, usually found in legends or horror fiction, that is often hideous and may produce fear or physical harm by its appearance or its actions. The word "monster" derives from Latin monstrum, meaning an aberrant occurrence, usually biological, that was taken as a sign that something was wrong within the natural order.
Ad blocker interference detected!
Wikia is a free-to-use site that makes money from advertising. We have a modified experience for viewers using ad blockers

Wikia is not accessible if you've made further modifications. Remove the custom ad blocker rule(s) and the page will load as expected.