Ad blocker interference detected!
Wikia is a free-to-use site that makes money from advertising. We have a modified experience for viewers using ad blockers

Wikia is not accessible if you've made further modifications. Remove the custom ad blocker rule(s) and the page will load as expected.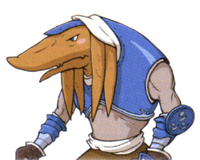 Master of mind and body who speaks with actions, not words.
—Description
The Monk is a bangaa enemy job class in Final Fantasy XII: Revenant Wings.
A true physical fighter, the Monk is a Melee unit with a variety of powerful fist attacks and healing moves, resembling the White Monk from Final Fantasy Tactics Advance.
| Skill | Effect | Level Learned |
| --- | --- | --- |
| Attack | Deal melee damage to one foe. | Basic Attack |
| Roundhouse | Deal damage to surrounding foes. | Level 1 |
| Chakra | Restore user's HP and remove buffs. | Level 1 |
| Focus | Gather power, increasing potency of next ability. | Level 12 |
| Far Fist | Deal ranged damage to one foe. | Level 18 |
| Flurry | Deal damage to one foe with three successive hits. | Level 24 |
| Auto-Regen | Give Regen to the group. | Passive Ability |
Missions
Edit
Final Fantasy XII: Revenant Wings Enemy
Burly Thug
({{{japan}}},

{{{romaji}}}

?)
Level
HP
7
416
Str
Mag
Stm
Mnd
65
65
73
49
Atk
MAtk
Def
MDef
36
21
27
18
Speed
AtkSpd
MvSpd
Sight
73
62
0.714
3.5
| | |
| --- | --- |
| Location | {{{Location}}} |
| Type | Melee |
| Nature | None |
| Weak Against | None |
| Resistant to | None |
| Immune to | None |
Final Fantasy XII: Revenant Wings Enemy
Barbarous Sky Pirate
({{{japan}}},

{{{romaji}}}

?)
Level
HP
11
448
Str
Mag
Stm
Mnd
85
85
97
61
Atk
MAtk
Def
MDef
41
26
42
27
Speed
AtkSpd
MvSpd
Sight
97
63
0.714
3.5
| | |
| --- | --- |
| Location | {{{Location}}} |
| Type | Melee |
| Nature | None |
| Weak Against | None |
| Resistant to | None |
| Immune to | None |
Final Fantasy XII: Revenant Wings Enemy
Sadistic Monk
({{{japan}}},

{{{romaji}}}

?)
Level
HP
10
440
Str
Mag
Stm
Mnd
80
80
91
58
Atk
MAtk
Def
MDef
40
25
40
26
Speed
AtkSpd
MvSpd
Sight
91
63
0.714
3.5
| | |
| --- | --- |
| Location | {{{Location}}} |
| Type | Melee |
| Nature | None |
| Weak Against | None |
| Resistant to | None |
| Immune to | None |
Final Fantasy XII: Revenant Wings Enemy
Meddlesome Sky Pirate
({{{japan}}},

{{{romaji}}}

?)
Level
HP
16
488
Str
Mag
Stm
Mnd
110
120
127
76
Atk
MAtk
Def
MDef
57
40
58
37
Speed
AtkSpd
MvSpd
Sight
132
64
0.714
3.5
| | |
| --- | --- |
| Location | {{{Location}}} |
| Type | Melee |
| Nature | None |
| Weak Against | Thunder |
| Resistant to | None |
| Immune to | None |
Final Fantasy XII: Revenant Wings Enemy
Auracite Thrall
({{{japan}}},

{{{romaji}}}

?)
Level
HP
18
508
Str
Mag
Stm
Mnd
120
120
139
82
Atk
MAtk
Def
MDef
70
45
70
44
Speed
AtkSpd
MvSpd
Sight
139
64
0.714
3.5
| | |
| --- | --- |
| Location | {{{Location}}} |
| Type | Melee |
| Nature | None |
| Weak Against | None |
| Resistant to | Fire |
| Immune to | None |
Final Fantasy XII: Revenant Wings Enemy
Quaddo, Verminlord
({{{japan}}},

{{{romaji}}}

?)
Level
HP
14
472
Str
Mag
Stm
Mnd
100
110
115
70
Atk
MAtk
Def
MDef
55
37
55
35
Speed
AtkSpd
MvSpd
Sight
120
63
0.714
3.5
| | |
| --- | --- |
| Location | {{{Location}}} |
| Type | Melee |
| Nature | None |
| Weak Against | Thunder |
| Resistant to | None |
| Immune to | None |
Final Fantasy XII: Revenant Wings Enemy
Monk
({{{japan}}},

{{{romaji}}}

?)
Level
HP
1 - 99
360 - 1,152
Str
Mag
Stm
Mnd
30 - 525
30 - 525
31 - 625
28 - 325
Atk
MAtk
Def
MDef
27 - 151
12 - 136
25 - 174
19 - 93
Speed
AtkSpd
MvSpd
Sight
31 - 625
61
0.714
3.5
| | |
| --- | --- |
| Location | {{{Location}}} |
| Type | Melee |
| Nature | Varies |
| Weak Against | None |
| Resistant to | None |
| Immune to | None |