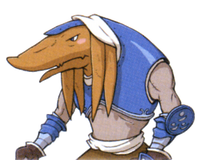 Master of mind and body who speaks with actions, not words.
—Description
The Monk is a bangaa enemy job class in Final Fantasy XII: Revenant Wings.
A true physical fighter, the Monk is a Melee unit with a variety of powerful fist attacks and healing moves, resembling the White Monk from Final Fantasy Tactics Advance.
| Skill | Effect | Level Learned |
| --- | --- | --- |
| Attack | Deal melee damage to one foe. | Basic Attack |
| Roundhouse | Deal damage to surrounding foes. | Level 1 |
| Chakra | Restore user's HP and remove buffs. | Level 1 |
| Focus | Gather power, increasing potency of next ability. | Level 12 |
| Far Fist | Deal ranged damage to one foe. | Level 18 |
| Flurry | Deal damage to one foe with three successive hits. | Level 24 |
| Auto-Regen | Give Regen to the group. | Passive Ability |
Missions
Edit
Final Fantasy XII: Revenant Wings Enemy
Burly Thug
({{{japan}}},

{{{romaji}}}

?)
Level
HP
7
416
Str
Mag
Stm
Mnd
65
65
73
49
Atk
MAtk
Def
MDef
36
21
27
18
Speed
AtkSpd
MvSpd
Sight
73
62
0.714
3.5
| | |
| --- | --- |
| Location | {{{Location}}} |
| Type | Melee |
| Nature | None |
| Weak Against | None |
| Resistant to | None |
| Immune to | None |
Final Fantasy XII: Revenant Wings Enemy
Barbarous Sky Pirate
({{{japan}}},

{{{romaji}}}

?)
Level
HP
11
448
Str
Mag
Stm
Mnd
85
85
97
61
Atk
MAtk
Def
MDef
41
26
42
27
Speed
AtkSpd
MvSpd
Sight
97
63
0.714
3.5
| | |
| --- | --- |
| Location | {{{Location}}} |
| Type | Melee |
| Nature | None |
| Weak Against | None |
| Resistant to | None |
| Immune to | None |
Final Fantasy XII: Revenant Wings Enemy
Sadistic Monk
({{{japan}}},

{{{romaji}}}

?)
Level
HP
10
440
Str
Mag
Stm
Mnd
80
80
91
58
Atk
MAtk
Def
MDef
40
25
40
26
Speed
AtkSpd
MvSpd
Sight
91
63
0.714
3.5
| | |
| --- | --- |
| Location | {{{Location}}} |
| Type | Melee |
| Nature | None |
| Weak Against | None |
| Resistant to | None |
| Immune to | None |
Final Fantasy XII: Revenant Wings Enemy
Meddlesome Sky Pirate
({{{japan}}},

{{{romaji}}}

?)
Level
HP
16
488
Str
Mag
Stm
Mnd
110
120
127
76
Atk
MAtk
Def
MDef
57
40
58
37
Speed
AtkSpd
MvSpd
Sight
132
64
0.714
3.5
| | |
| --- | --- |
| Location | {{{Location}}} |
| Type | Melee |
| Nature | None |
| Weak Against | Thunder |
| Resistant to | None |
| Immune to | None |
Final Fantasy XII: Revenant Wings Enemy
Auracite Thrall
({{{japan}}},

{{{romaji}}}

?)
Level
HP
18
508
Str
Mag
Stm
Mnd
120
120
139
82
Atk
MAtk
Def
MDef
70
45
70
44
Speed
AtkSpd
MvSpd
Sight
139
64
0.714
3.5
| | |
| --- | --- |
| Location | {{{Location}}} |
| Type | Melee |
| Nature | None |
| Weak Against | None |
| Resistant to | Fire |
| Immune to | None |
Final Fantasy XII: Revenant Wings Enemy
Quaddo, Verminlord
({{{japan}}},

{{{romaji}}}

?)
Level
HP
14
472
Str
Mag
Stm
Mnd
100
110
115
70
Atk
MAtk
Def
MDef
55
37
55
35
Speed
AtkSpd
MvSpd
Sight
120
63
0.714
3.5
| | |
| --- | --- |
| Location | {{{Location}}} |
| Type | Melee |
| Nature | None |
| Weak Against | Thunder |
| Resistant to | None |
| Immune to | None |
Final Fantasy XII: Revenant Wings Enemy
Monk
({{{japan}}},

{{{romaji}}}

?)
Level
HP
1 - 99
360 - 1,152
Str
Mag
Stm
Mnd
30 - 525
30 - 525
31 - 625
28 - 325
Atk
MAtk
Def
MDef
27 - 151
12 - 136
25 - 174
19 - 93
Speed
AtkSpd
MvSpd
Sight
31 - 625
61
0.714
3.5
| | |
| --- | --- |
| Location | {{{Location}}} |
| Type | Melee |
| Nature | Varies |
| Weak Against | None |
| Resistant to | None |
| Immune to | None |