Relm:

I couldn't miss the chance to practice my drawing!

This article is in need of a few pictures. Perhaps you can help by uploading a picture of add images to the tables.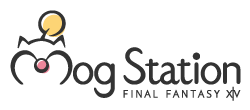 Mog Station is the account management system for Final Fantasy XIV: A Realm Reborn. Within Mog Station the player can manage their monthly subscription payment and purchase optional services.
On October 27, 2014 Square Enix implemented a cash shop to the Mog Station.
Services
Edit
Account management
World transfer service
Veteran Rewards
Optional Items
Veteran Rewards
Edit
Veteran Rewards[1] are special in-game item bonuses awarded based on how long the player has had an active subscription. These rewards will be distributed via the moogle delivery service once the player has reached a certain number of days subscribed.
Veteran Rewards are granted based on the number of days subscribed rather than time played. For example, a player who subscribes for 90 days is eligible to receive the 30, 60, and 90 day Veteran Rewards all on their first day. In the event there is a break in your subscription, the period between the expiration and renewal of your subscription will not be included in the total.
Rank
Days subscribed
Reward(s)
1
30
Wind-up Cursor Minion
Fantasia
2
60
Black Chocobo Chick
Cascadier Uniform Voucher*

Receives 2 vouchers (body and legs)

3
90
Beady Eye
Voidal Resonator
4
180
Minion of Light*

One of three minions will appear when summoned.


Black Mage Barding
5
270
Wind-up Leader*

The minion summoned will vary depending on your Grand Company allegiance. This minion can only be summoned when enlisted in a Grand Company.


Behemoth Warhorn
6
360
Wind-up Odin
Aetheryte Ticket x50
Wind-up Warrior of Light
Barding of Light
7
450
Wind-up Goblin
Goblin Cap
8
540
Wind-up Gilgamesh
Inquire Within*

For housing only.

9
630
Wind-up Nanamo
Fat Chocobo Head
10
720
Advent Attire*

The set contains: Strife Vest, Strife Gloves, Strife Bags, Strife Boots

11
840
Wild Rose Attire*

The set contains: Wild Rose Bandana, Wild Rose Cuirass, Wild Rose Armguards, Wild Rose Breeches, Wild Rose Boots

12
960
Wind-up Firion
Wild Rose Barding
13
1080
Tantalus Attire*

The set contains: Tantalus Vest, Tantalus Cuffs, Tantalus Breeches, Tantalus Boots

14
1440
Leonhart Attire*

The set contains: Leonhart Jacket, Leonhart Gloves, Leonhart Bottoms, Leonhart Boots
Optional Items
Edit
Items can be purchased via the Mog Station under Optional Items.
| Item | Image | Price | Description |
| --- | --- | --- | --- |
| Phial of Fantasia | | $10 | A wondrous item for the ultimate makeover! |
| Three Phials of Fantasia | | $28 | A wondrous item for the ultimate makeover! |
| Five Phials of Fantasia | | $45 | A wondrous item for the ultimate makeover! |
| Promise of Innocence (Standard) | | $N/A (Free) | A wristlet required for the standard plan Ceremony of Eternal Bonding |
| Promise of Passion (Gold) | | $10 | A wristlet required for the gold plan Ceremony of Eternal Bonding |
| Promise of Devotion (Platinum) | | $20 | A wristlet required for the platinum plan Ceremony of Eternal Bonding |
| Minion: Y'shtola | | $5 | A clockwork doll crafted to resemble Y'shtola. |
| Minion: Yda | | $5 | A clockwork doll crafted to resemble Yda. |
| Minion: Papalymo | | $5 | A clockwork doll crafted to resemble Papalymo. |
| Pumpkin Head | | $3 | A pumpkin you can wear! |
| Unripened Pumpkin Head | | $3 | A green pumpkin you can wear! |
| White Pumpkin Head | | $3 | A white pumpkin you can wear! |
| Ripened Pumpkin Head | | $3 | An orange pumpkin you can wear! |
| The Howling Spirit | | $5 | Dress up as a grinning ghost! |
| The Wailing Spirit | | $5 | Dress up as a spooky specter! |
References
Edit