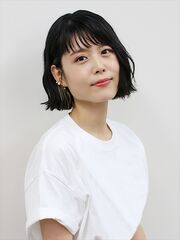 Miyuki Sawashiro (沢城 みゆき, Sawashiro Miyuki?) born June 2, 1985 in Tokyo is a Japanese voice actress and singer who works for Mausu Promotion. She voice Minfilia in Final Fantasy XIV, Sice in Final Fantasy Type-0 and Final Fantasy Agito, Aranea Highwind in Final Fantasy XV and Quistis Trepe in World of Final Fantasy.
Background
Edit
She is most known for being voices for Asada Shino (Sinon) in Sword Art Online II, Cammy in Street Fighter IV, Ultear, Virgo and Ur in Fairy Tail, Ayane Yano in Kimi ni Todoke, Kurapika in Hunter × Hunter (2011 release), and Milla Maxwell and her fractured self in Tales of Xillia and Tales of Xillia 2. She also voiced Celty from Durarara!! as well as the female Avatar in Fire Emblem: Awakening and Camilla in Fire Emblem Fates.
External links
Edit
Ad blocker interference detected!
Wikia is a free-to-use site that makes money from advertising. We have a modified experience for viewers using ad blockers

Wikia is not accessible if you've made further modifications. Remove the custom ad blocker rule(s) and the page will load as expected.