Mist Cave
18,467 pages on
this wiki
Talk

0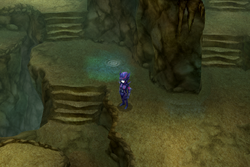 Mist Cave (ミストのどうくつ, Misuto no doukutsu?, lit. Cave of Mist), also known as Misty Cave, is a dungeon in Final Fantasy IV and Final Fantasy IV: The After Years. It is the cave that leads from Baron to Mist, and it is named as such because the cave is shrouded in mist.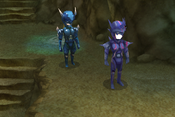 In the original game, Cecil Harvey and Kain Highwind must travel through this cave in order to deliver the Carnelian Signet to Mist. On the way, they hear a voice telling them to return to Baron. When they refuse, the mist gathers and they must fight the Mist Dragon.

Seventeen years later, Ceodore Harvey and the Hooded Man reach the Mist Cave to get to Mist and escape the pursuit of Baron soldiers.

In Final Fantasy IV: The After Years, the player can talk to Namingway to buy items from him.
Items

| Item | Price |
| --- | --- |
| Hi-Potion | 150 gil |
| Phoenix Down | 100 gil |
| Mallet | 80 gil |
| Tent | 100 gil |
| Echo Herbs | 50 gil |
| Bomb Fragment | 200 gil |
| Antarctic Wind | 200 gil |
| Zeus's Wrath | 200 gil |
In the DS version of the game, players receive Potion x5 for finishing the map.
DS formations
Edit
Note: this is a one-time scripted encounter
Musical themes
Edit
The background music that plays inside Mist Cave is the Final Fantasy IV "Dungeon" Theme.
Other appearances
Edit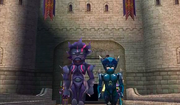 The King of Baron has ordered Cecil of the Red Wings to deliver the Carnelian Signet to the village of Mist.
—Description
Mist Cave is unlocked by completing Mako Reactor No. 5 in the Final Fantasy VII realm. Completion of this dungeon unlocks Underground Waterway in the Final Fantasy IV realm.

Mist Cave
Dungeon Info
Difficulty
Classic
3
Total Stamina
Classic
7
Elite
20
Elite
37
Locations
Name
Stamina
Rounds
Classic
Elite
Mist Cave - Entrance
2
12
3
Mist Cave - Waypoint
2
12
3
Mist Cave - Exit
3
13
3
Enemies
Regular Enemies
Bosses

Target Score(s)

Mist Cave - Exit

Exploit the Mist Dragon's weakness to dark attacks.
Defeat the Mist Dragon without having any attacks countered.
Classic Rewards
Completion Type
Item
Quantity
Completion Reward
Gil
700
Mastery Reward
Minor Holy Orb
5
Stamina Shard
1
First Time Completion
Kain
1
Mythril
1
Elite Rewards
Completion Type
Item
Quantity
Completion Reward
Gil
3,500
Mastery Reward
Greater White Orb
3
Stamina Sahrd
1
First Time Completion
Mythril
1
Stamina Shard
1