Minions are vanity pets that can be summoned by the player in Final Fantasy XIV: A Realm Reborn. They are usually baby or toy versions of existing characters, monsters or objects across Hydaelyn. While most serve no specific purpose other than vanity, some can be used for other reasons such as providing illumination.[1]
Minions can be summoned or dismissed at any time, without having to wait for any recast timer. The only exceptions being when the player is on dut or has a summoned companion. Only one minion can be summoned at a time.
To obtain the summoning action for a minion, the player must use the corresponding item for it, which can be acquired through diverse means such as quests, crafting, and FATEs. Once the player learns the summoning action, it will never be lost and it can be used by all of the player's classes or jobs.
While minions do not generate any enmity, neither will they participate in battle. If the player is KO'd, the minion will simply wander off back to wherever it rests until the player calls upon it again.
The action Minion Roulette, which was introduced on patch 2.16[2], allows the player to summon a random minion from the player's minion pool. This action becomes available after the player acquires at least two minions.
A minion's behavior determines what the minion will do after it is summoned. Each minion is assigned one of the three behaviors:
Independent ─ The minion follows the player, but roams around when idle.
Obedient ─ The minion follows the player, and stays by the player's when idle.
Stationary ─ The minion does not move at all, and despawns when the player moves too far.
Interactions
Edit
Some minions perform special actions depending on the player's environment or on emotes directed at them.[3] Minions also behave differently on Lalafell players, where the actions they perform involve the player's head instead of the shoulder.
Coeurl Kitten, Model Vanguard, Wind-up Tonberry, and Wolf Pup attempt to assist the player in combat.
Wind-up Y'shtola 'casts' protect during combat.
Proximity
Edit
Wind-up Louisoix and Wind-up Bahamut fight each other.
Wolf Pup and Coeurl Kitten fight each other.
Wind-up Tonberry will fight other minions.
Buffalo Calves fight each other.
Wind-up Moogles and Wind-up Delivery Moogles will dance together.
Mammets salute each other.
Chocobo Chicks make a circle.
Mandragora will gather and take turns dancing.
Dust Bunnies, Fledgling Dodos, Goobbue Sproutlings, Mummy's Little Mummy, Slime Puddles, Tender Lambs, Wind-up Amalj'aa, and Wind-up Founders herd with its kin.
/handover

Minions act as if they are fed and perform a unique animation after feeding.
Independent minions approach the player, along with other players' minions.
Fledgling Apkallu bobs its head.
Baby Opo-opo, Nutkin, and Tight-beaked Parrot gets off the player's shoulder.

/slap

Independent minions run away from you, while Obedient and Stationary minions don't.
Assassin Fry swims away.
Tiny Tortoise slides away and spins around in its shell.

/poke

Bite-sized Pudding and Slime Puddle melt.
Dust Bunny freaks out.
Wind-up Sun goes higher/lower.
Chigoe Larva backflips.
Demon Brick and Mummy's Little Mummy fall over.
Beady Eye spins in air then extends wings.
Baby Bun moves its head around.
The Moogle on Demon Box lifts the box revealing the Spriggan*

also happens spontaneously

.
Assassin Fry swims in a circle.
Model Vanguard will 'retaliate'.

/beckon

Puff of Darkness and Wind-up Succubus float to your shoulder/head.
Baby Opo-opo, Nutkin, and Wind-up Nanamo climbs and sits on your shoulder/head.

/cheer

Tender Lamb dances joyfully.
Minions of Light dance reminiscent of Final Fantasy victory poses.

/pet OR /stroke

Tender Lamb acts happily.
Coeurl Kitten cleans itself, while other players' Coeurl Kittens run away.
Wolf Pup rolls over as if asking for a belly scratch.
Fledgling Apkallu flaps its wings.
Cactuar Cutting spins in a circle.
Baby Behemoth gets grumpy.
Smallshell does a small dance.
Kidragora spins in a circle.
Treasure Box attempts to bite your hand.
Littlefoot does a chestbump.

/clap

Most minions face you.
Minions of Light dance reminiscent of Final Fantasy victory poses.

Any emote will make the Bluebird leave your shoulder
Miscellaneous
Edit
Bluebird and Tight-beaked Parrot sits on you when idle.
Wind-up Succubus may appear on your shoulder when summoned or eventually when idle.
Wind-up Ultros giggles at emotes of female players and moves away from male players.
Wind-up Sun disappears when User Interface is hidden, but not the light it gives off.
Assassin Fry swims in static water (i.e. lakes).
Plush Cushion wiggles occasionally if nobody is on it.
Plush Cushion deflates slightly if you stand on it.
Fat Cats won't move after being fed unless its owner moves a little bit away.
Minion Guide
Edit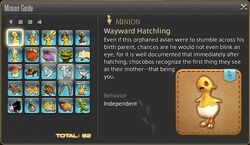 As of patch 2.3: Defenders of Eorzea, a minion guide was introduced to the game. [4] The guide lists all of the minion summoning actions the player has acquired in a log-like presentation. Its purpose is to further expand the game's lore, in this case mostly about the minions themselves, and to serve as a collector's reference.
For each minion entry the following is included:
The minion's name.
The minion's icon.
The minion's description.
The minion's behavior.
The minion's footprints.
The minion's summoning action description (when hovering over the minion icon).
A quote by an NPC regarding the minion or its kin (when hovering over the minion patch icon).
The player can also check the total amount of owned minions in the guide.
List of minions
Edit
Minion
Behavior
Special Attack
Acquisition
Requirement
Image

Accompaniment Node



Independent
Gravity Field
Do It for Gilly
Accompaniment Node
Summon your accompaniment node and marvel at the advanced accompaniment technology of the Allagan Empire.
Constructed by Ironworks handyman Wedge solely of parts retrieved from a deactivated Azys Lla guidance node, this refurbished machina retains none of the guidance capabilities present in the original.

To proceed, please agree to the terms and conditions of use.

—Guidance Node

Angel of Mercy



Obedient
Raise Shields
Bought from House Valentione Maid during Valentione's Day (2017)
Angel of Mercy
Summon your angel of mercy minion. Come and save me tonight.
A missing tinker has recently returned to Ul'dah claiming to have been "rescued by an angel." While most believe the man to merely be a recipient of a passerby mage's kindness, he has since dedicated his life to creating automata in the image of his heavenly savior.

You are the angel of beauty who gave me my life and stole away with my heart!

—Hortefense

Anima



Independent
All That You Are
Body and Soul
Anima
Summon your anima minion. From your heart and from your hand. Finally people will understand your intentions.
Ardashir fashioned this new body utilizing the anima's original soulstone. No longer limited to the immediate vicinity of the anima weapon, it is free to explore the realm at your side. Whether it will grow to become a real boy or girl, however, remains to be seen.

The anima took on a corporeal form!?

Assassin Fry



Independent
Assassinate
Desynthesized from Ninja Betta.
Assassin Fry
Summon your assassin fry minion. There was an old betta who swallowed a fry. No one knows why it swallowed the fry, but for some reason, the fry can now fly.
After several turns of the sun sloshing about in the depths of a ninja betta's belly, this freshly hatched fry has given up swimming altogether and taken to the skies. How spending time in a belly can inspire a fish to flight is something only one who has spent time in a belly can know.

They say never to look a gift fish in the mouth.

Atrophied Atomos



Independent
Cyclone
Level 60★ Alchemist recipe
Atrophied Atomos
Summon your atrophied Atomos minion. Putting money where this voidsent's mouth is merely results in devoured money.
While the means by which this otherworldly devourer of aether became trapped in a treasure coffer is most certainly a mystery worthy of further investigation, the real question on everyone's minds here is, "Why did you let it out?"

Let all know that a new threat to the peace has emerged.

—Sixth Astral Era Crier

Baby Bat



Independent
Ultrasonics
Junkmonger Nonoroon at Poor Maid's Mill.
Baby Bat
Summon your baby bat minion. Has yet to acquire a taste for blood.
Nonoroon, resident junkmonger at Memeroon's Trading Post, came up with the idea for capturing and selling baby bats one day while raiding caves for bat eggs...of which he could not find any.

Even ate a wing off one afore I made up my mind up to climb down the wall.

—Ahldfoet

Baby Behemoth



Independent
Wild Horn
Included in Final Fantasy XIV: A Realm Reborn Collector's Edition
Baby Behemoth
Summon your baby behemoth minion. We can only hope his mother doesn't come looking for him.
Obtainable in Ul'dah's Sapphire Avenue Exchange for a fistful of coin and a smile, the pedigree of this baby beast is questionable at best. While displaying many behemoth-like features - a sleek violet hide, hungry eyes, and two polished horns - its squealing is not unlike a boar at slaughter.

Disaster follows the man like a behemoth chasing a butterfly.

—Chechezan

Baby Brachiosaur



Obedient
Starstorm
Randomly received from completing the Secret of the Lost Legend Boss FATE in The Diadem
Baby Brachiosaur
Summon your baby brachiosaur minion.
This adorable automaton was cobbled together by a sky pirate (who had once apprenticed as a goldsmith) after claiming to have spotted one of the mythical creatures from the deck of his crew's airship on a journey deep into the Diadem.

Don't be a baby! Get a grip!

—Sisipu

Baby Bun



Independent
Poison Spore
Complete the FATE "Lazy for You" with a gold medal rating
Baby Bun
Summon your baby bun minion. Tastes great on salads and in stews.
For those wondering on the ill effects of inhaling spores released by common funguars, according to the Encyclopedia Eorzea (third edition), funguar spores "befoul the body's humours and claim control of an individual's very soul, rendering them a mindless thrall."

You mushroom-headed, spindly-legged, spore-spewing abominations!

—Gabineaux

Baby Opo-opo



Independent
Opo See, Opo Do
Defeat Gobmachine G-VI in Brayflox's Longstop (Hard)
Baby Opo-opo
Summon your baby opo-opo minion. The only thing he loves more than you is a juicy sprite apple.
A daring rescue from the clutches of the goblin hero Brayflox's minions is the only thing separating this opo-opo from a life of swinging free from tree to tree through the lush jungles of the Longstop...and forever trudging in the wake of the brave adventurer who "saved" him.

These beans are covered in opo-opo droppings!

—Mun Tuy Cellarkeep

Baby Raptor



Independent
Prehistoric Park
Bought from Boughbury Trader after clearing the FATE "Clearing the Hive"
Baby Raptor
Summon your baby raptor minion. Luckily for you, his teeth haven't all grown in...yet.
Taking a hint from goblin merchants who raise raptors to serve as beasts of burden, a shopkeep from the village of Boughbury has begun hatching raptor eggs of his own (stolen from nearby nests). One can only hope the mother raptors are not as clever as the shopkeep thinks he is.

By the gods... This raptor is sublime!

—Nonopesa

Beady Eye



Independent
Eyes on Me
Rank 3 - 90 Days Subscription Veteran Reward
Beady Eye
Summon your beady eye minion. That feeling you get sometimes that you are being watched? More often than not it is him.
One of the most outlandish theories recently posed by scholars of the void is that ahrimans do not reproduce by typical sexual means, but rather by shedding tears which eventually grow into new creatures.

Black scorpion to sharpen one's wit; ahriman membrane for the mind.

Behemoth Heir



Independent
Princely Roar
Bought from Ardolain at The Forgotten Knight
Behemoth Heir
Summon your behemoth heir minion, currently forty-seventh in line to the behemoth throne.
To prove his bravery, a recently inducted member of Clan Centurio journeyed alone into the untamed north and somehow returned unscathed with the broodling of the legendary kaiser behemoth. Not wishing to bring ill fortune on the clan, the pup was quickly passed on...to you.

Yer mistress fights like a bloody behemoth ten times her size!

—Wounded Chocobo Hunter

Bite-sized Pudding



Independent
Silly Pudding
Obtained from chests in The Wanderer's Palace
Bite-sized Pudding
Summon your bite-sized pudding minion. Not intended for consumption.
Unable to reproduce, puddings increase their number solely via mitosis. Because of this, it is widely believed that all Eorzea's puddings descended from a single entity─a proto-pudding, if you will. This, however, leaves us with the question: whence did the first pudding come?

Black Chocobo Chick



Independent
Choco Trap
Rank 2 - 60 Days Subscription Veteran Reward
Black Chocobo Chick
Summon your black chocobo chick minion. Rumors about her being able to fly are completely unfounded...or are they?
This poor chocobo chick was as yellow as an ear of millioncorn before one day being doused in black ink by a random passerby bedecked in silver accessories. Try as the chocobokeeps might, none were able to remove the taint, and thus the realm's first black chocobo was born.

There is no finer feel than that of a chocobo between your legs.

—L'dhakya

Black Coeurl



Independent
Tiny Claw
Bought from Gold Saucer Attendant (Prize Claim)
Black Coeurl
Summon your black coeurl minion. Beware, for if one should cross your path, you will experience seven years of...AWWWWWW.
To the untrained eye, this coeurl appears to be of an entirely new species, when in fact the only thing separating him from his mottled brethren is that his spots are so large, they overlap with one another, rendering him completely black.

Look what the coeurl dragged in.

Blizzaria



Independent
Shiny Snowdrifts
Bought for a varying amount of Yo-kai Medals at Yo-kai Watch (2016)
Blizzaria
Summon your Blizzaria minion. She's a Yo-kai with an immense chilling power.
A Yo-kai with the power to make temperatures drop, Blizzaria can make snow fall in summer and freeze volcanoes.

Summer fever...

Bluebird



Independent
The Blues
Obtained from opening Peisteskin Treasure Map or Dragonskin Treasure Map
Randomly dropped at the Aquapolis
Bluebird
Summon your bluebird minion. Known to retroactively bring good fortune to those who have already experienced good fortune.
Fortunate to hatch before being eaten by lizards. Unfortunate to fall from its nest before learning to fly. Fortunate to land in an empty treasure coffer. Unfortunate to still be in said coffer as it is filled with booty and locked up again. Fortunate to be plundered...by you.

The disbelieving cries of our foe will be as the sweetest birdsong.

—Yadovv Gah

Bom Boko



Independent
Astral Era Racoon Dog War
Obtained from Field Exploration Retainer Venture
Bom Boko
Summon your Bom Boko minion. An adorable raccoon dog pup with a big heart and even bigger testicles.
Supposedly Far Eastern raccoon dogs are nothing like the raccoons of Eorzea, shunning a life of rifling through garbage for one of transmogrification into everyday kitchenware such as tea crocks. Go figure.

Now there's a trick what took some bollocks.

—Perimu Haurimu

Bombfish



Independent
Inflate
Random drop from Shisui of the Violet Tides
Baby Bombfish
Summon your bombfish minion. He will give you an offer that can't be defused.
Given its name after a fisher claimed to witness the wavekin explode after tossing it on a grill, the bombfish is, in fact, neither related to bombs of voidsent origin or even that combustible.

Won't get nowhere up its crack, yunz won't, not with that piddly bomb.

—13th Order Alchemist Ga Zi

Brina



Obedient
Dance
Random drop from the Antitower
Brina
Summon your Brina minion. Collectors warn that one who wishes to complete the set should be well versed in the art of combat.
Tasked to defend the Antitower along with Calca, Brina scurried off to the safety of a treasure coffer after meeting defeat at the hands of adventurers. Impressed that anyone could uncover its hiding place, Brina decided to make itself a gift to the adventurer who found it.

Adorable dolls! Terrible dolls! Yip-ho-ho!

Buffalo Calf



Independent
Bucking Bull
You're Gonna Carry That
Buffalo Calf
Summon your buffalo calf minion. Milk-fed until tender and juicy. Not that anyone would ever think of eating him
When the Scions of the Seventh Dawn began clearing out the Waking Sands in preparation for the move to Revenant's Toll, this wide-eyed calf was discovered hiding in a disused linen closet. Though an inquiry was made by the Antecedent herself, it is still not known who was keeping the beast.

I made the grievous error of visiting a great buffalo with a handsaw.

Bullpup



Independent
Fighting Instinct
Random drop from Baelsar's Wall
Bullpup
Summon your bullpup minion. Runt of the canes pugnaces litter.
The Garleans have a long history of canine breeding that extends far back into the nation's days as a republic. The intent of this practice is to produce fearless, loyal killing machines, and those that fail to display the desired traits are...discarded.

He may be a pup, but he'll likely make a meal of anyone what gets close to him.

—R'kontai

Cactuar Cutting



Independent
Run Amok
Zombies Are People Too
Cactuar Cutting
Summon your cactuar cutting minion. Take care not to suffer 1,000 points of damage...to your heart.
Hab, loneliest zombie in the realm, is certain that this cactuar cutting was taken from his trusty companion Sabotendrick. Or if not, then most positively Sabotendred. What he does not know, is that it is, in fact, from the oft forgotten Sabotendale.

The interior of its arm holds a surprising amount of fresh, drinkable water.

—Common Knowledge

Cait Sith Doll



Independent
Toy Soldier
Pre-order Final Fantasy XIV: A Realm Reborn (Collector's Edition or Standard Edition)
Cait Sith Doll
Summon your Cait Sith minion. The ever-extended tail helps the kitten keep his balance.
The clockwork rendition of an enigmatic cat spirit from the pages of Midlander mythology, Goldsmiths' Guild guildmaster Serendipity crafted this lifelike figurine to bring joy to those children who were orphaned in the Calamity.

What may be a few to you was everything to those who died...

Calamari



Independent
Jet Spray
Random drop from Hullbreaker Isle (Hard)
Calamari
Summon your calamari minion. (Or is it a trap!?)
Academics visiting Hullbreaker Isle determined, upon discovery of this strange creature, this tiny tentacle is a regenerating arm of a slain kraken. Unlike the hostile body from which it was severed, it bears you no ill will. Rather, this appendage seems to have taken a liking to you...

RELEASE THE KRAKEN!

—Captain Madison

Calca



Obedient
Jive
Random drop from the Antitower
Calca
Summon your Calca minion. Whether she is cute or creepy has been oft debated, but all agree it is best not to leave her to her own devices.
Upon realizing the Antitower would require several layers of defenses to keep out unwanted visitors, the spire's creator breathed life into several common dolls. Hairless at first, its maker adorned it with blonde locks, along with other aesthetically pleasing accessories.

Adorable dolls! Terrible dolls! Yip-ho-ho!

Castaway Chocobo Chick



Independent
Tidal Sploosh
Fished from Isle of Endless Summer North Shore
Castaway Chocobo Chick
Summon your castaway chocobo chick. Currently without a name. "Wilson" recommended.
You won't hear this from his beak, but the chocobo chick you rescued from the sea's slippery grasp cannot actually swim─the only thing keeping the bird afloat is a life preserver some kind sailor tossed from his ship before sailing off into the sunset.

You can lead a chocobo to water...

Cherry Bomb



Independent
Self-destruct
Purchased from Bango Zango in Limsa Lominsa, Roarich in Ul'dah, or Maisenta in New Gridania.
Cherry Bomb
Summon your cherry bomb minion─a miniature recreation of a voidsent bomb, created via the thaumaturgical rendering of umbrally charged aetherial energy. Guaranteed never to self-destruct, or your gil back.
To maintain the white-hot temperatures within their cores, bombs will feed upon almost any combustible material, including wood, charcoal, ceruleum, fire crystals, and even dragon peppers.

Brilliant bombs─ breathtaking, beautiful, brilliant!

—Acolyte Ba Go

Chigoe Larva



Independent
Blood Drain
Occupational Hazards
Chigoe Larva
Summon your chigoe larva minion. This tiny vilekin takes the blood pact with his master very seriously.
Chirurgeons of the fallen city of Gelmorra once used chigoes to leech the dark humours of the infirm until it was realized the patients were contracting additional maladies as a result of the treatment.

What am I going to do with a pile of dead vilekin?

—Waltheof

Chocobo Chick Courier



Independent
Choco Trap
Pre-order Final Fantasy XIV: Heavensward
Chocobo Chick Courier
Summon your chocobo chick courier minion. It may not be in your best interest to entrust him with any important missives just yet.
Spiteful claims that this adorable black chocobo hatchling is, in fact, simply another plain yellow chocobo colored with pine tar in a feeble attempt to prey on prospective buyers have only fueled the natural-born flyer's passion to take to the skies.

Clockwork Barrow



Obedient
Wax Fruit
Level 60★ Carpenter recipe
Clockwork Barrow
Summon your clockwork barrow minion and take a load off your shoulders.
This self-propelled handcart was purchased from the Oak Atrium as a prize for the Greatloam Growery's gysahl green growing contest. The cart, however, was never awarded, for on the final day of the competition, it was discovered vilekin had devoured all the entries.

May Zo Ga singe his arse on what's left of the wain!

—Craftsman Bo Gu

Clockwork Twintania



Obedient
Neurolink
Challenge Accepted Achievement
Clockwork Twintania
Summon your clockwork Twintania minion. Another advanced Allagan creation. Is there anything the Allagans couldn't create? The Allagans are believed to have created an instrument to answer this very question.
Despite being thousands of years old, this Allagan-crafted machina still runs as if it were activated yesterday. Tomestone analysis reveals that the automaton was created to celebrate the empire's subjugation of Meracydian territories across the Rhotano Sea.

Do a barrel roll!

—A Slippy Scalekin

Coblyn Larva



Independent
Vulcanize
Unspoiled Deposit, level 46-50 Miner
Coblyn Larva
Summon your coblyn larva minion. Too dangerous to allow to grow any larger...too adorable to condemn to the furnace.
Coblyns will lay their eggs near ore deposits so that when the larvae emerge, they will have a ready supply of nourishment to form their protective outer carapaces. This is a slow process which involves dousing the ore in digestive fluid, waiting for it to clarify, then ingesting the ooze.

The lads go through gear faster'n a coblyn chewin' on a chunk of mythril.

—Wawarukka

Coeurl Kitten



Independent
Tiny Blaster
Curiosity Killed the Coeurl
Coeurl Kitten
Summon your coeurl kitten minion. It will still be several summers before his trademark whiskers grow out.
Coeurls are extremely proud and defiant creatures, even when young. Faced with insurmountable odds, a coeurl will rarely shy away from a fight, choosing rather to perish in combat than run. This characteristic keeps coeurl numbers low, but ensures the strength of those who survive.

Coeurl got your tongue?

Continental Eye



Independent
Single Gaze
Bought from Alluring Peddler at All Saint's Wake (2016)
Continental Eye
Summon your Continental eye minion. I see you. You see me.
Cursed with a weak vessel upon its arrival in the corporeal realm, this malformed and maladroit voidsent was summarily captured and put to work at the Continental Circus...until being sold for a handful of coin to a new owner─ you.

The business of which I speak involves keeping an eye on that troublesome troupe of entertainers.

—Godriquelain

Demon Box



Independent
Jack-out-the-box
Gold or Platinum Eternal Bonding Ceremony reward
Demon Box
Summon your demon box minion. There is no better way to tell a special someone "Thank you for attending my Ceremony of Eternal Bonding" than by giving them a sentient box that may or may not devour their pets.
Lacking the spells required to animate a gift in the same manner in which the ancients animated bricks, the crafter of this quaint creation simply cut a pair of holes into a wooden box and slipped it on a spriggan. Problem solved.

That Miqo'te lass said someone'd be bringin' me a gift what I couldn't refuse.

—Drogo

Demon Brick



Independent
Rebut
First Treasure Coffer in Amdapor Keep
Demon Brick
Summon your demon brick minion. We are all better off not knowing what arcane magicks animate this ordinary stone block.
For many years, modern archaeologists did not understand how a seemingly primitive civilization without clockwork or steam technology could build the massive stone structures of Amdapor. Animated bricks, such as the one that has chosen to follow you, may be the missing link.

Underneath this gear, I'm built like a brick privy!

—Chachabi

Doman Magpie



Independent
Love Song
Bought from Mog Station
Doman Magpie
Summon your Doman magpie minion. Approximately 3.14159 times more intelligent than the average swallow.
Magpies have historically been portrayed as loyal messengers of Menphina, bearing the word of the Lover's favor in war. There are some generals even today who will wait to advance their armies until one of the birds has been sighted on their side of the battlefield.

Fancy some feathers... bird brain?

Dress-up Alisaie



Obedient
Emery-thing I Do
Reward from Wondrous Tails
Dress-up Alisaie
Summon your dress-up Alisaie minion. Now 120% more discernable from the wind-up Alphinaud minion.
After finding that she could simply not tell her wind-up Alisaie and Alphinaud automata apart, Tataru went about modifying the former's garments, creating something both new and bold...all while keeping manufacturing costs at an absolute minimum!

Is it just my imagination, or is Alisaie staring daggers at me?

Dress-up Thancred



Obedient
Going Commando
Reward from Wondrous Tails
Dress-up Thancred
Summon your dress-up Thancred minion. Take a walk on Thancred's wild side...but with fewer nutkins.
Several moons in the wild, removed from civilization and forced to adopt a more bestial means of survival transformed not only Thancred's body, but his mind. Due to the limitations of clockwork technology, this automaton only depicts those changes to the former.

I say, did you not see Thancred anywhere? I'm beginning to fear for the fellow...

Dress-up Y'shtola



Obedient
Aetherial Pulse
Bought from the Rising Vendor at The Rising (2016)
Dress-up Y'shtola
Summon your dress-up Y'shtola minion. Now with more aetheric...enhancements?
This clockwork automaton has been crafted at the behest of the Adventurers' Guild in celebration of the Rising, Eorzea's annual celebration of rebirth. Alphinaud Leveilleur was apparently more than happy to submit a rough sketch for the design, despite never being asked.

Tataru has truly outdone herself this time.

Dress-up Yugiri



Obedient
Assassin's Kiss
Randomly dropped at Kugane Castle
Dress-up Yugiri
Summon your dress-up Yugiri minion. One Yugiri is never enough.
Inspired by an automaton brought across the sea from faraway Aldenard, a Doman dollmaker set out to see if he could replicate the foreign techniques used to breathe life into the creation, the result being this fairly faithful rendition.

Her name is Yugiri. Perchance you know of her?

—Ihanami

Dust Bunny



Independent
Romp
Bought from Auriana at Mor Dhona for Allagan Tomestones of Poetics
Dust Bunny
Summon your dust bunny minion. Despite the striking similarities, spriggans are not related to rabbits. But they have been known to eat them.
It is not fully known why spriggans hoard precious rocks and minerals, though scholars would have us believe that it is the rocks and minerals which are hoarding the spriggans, hence the creatures' scientific classification as soulkin.

Between the four of us, surely we can outsmart a few rogue spriggans.

—Augustiniel

Dwarf Rabbit



Independent
Carrots and Sticks
Randomly dropped at the Aquapolis
Dwarf Rabbit
Summon your dwarf rabbit minion. He may have a penchant for nibbling at your neighbor's garden patches.
After his father was baked into a pie by a farmer's wife for stealing their vegetables, he invoked the time-honored code of rabbit revenge and hopped off to destroy every garden patch he could find.

But know that she who chases two rabbits catches neither one

—J'moldva

Eggplant Knight



Independent
Eggvincible
Gardening Eggplant Knight seeds
Eggplant Knight
Summon your Eggplant Knight minion. His childhood dream to become a wizard was frowned upon by his overbearing father.
Ardashir fashioned this new body utilizing the anima's original soulstone. No longer limited to the immediate vicinity of the anima weapon, it is free to explore the realm at your side. Whether it will grow to become a real boy or girl, however, remains to be seen.

If you eat too many of this vegetable, you will turn into one.

—Common Wives' Tale

Enkidu



Independent
Eerie Soundwave
Obtained in Battle in the Big Keep chest
Enkidu
Summon your Enkidu minion. That green is not coming out, even with multiple washings.
Legend has that Gilgamesh first found Enkidu while searching for a meal. Without the means to make a fire, he attempted to eat the fowl raw, only to find himself the victim of a furious counterattack. Impressed by the bird's tenacity, he promptly made him his pet.

Enkidu, do you hear me!? ENKIIIDUUUUUUUUUUUU!

Faepup



Independent
Teething
How Can I Help III Achievement
Faepup
Summon your faepup minion. Every dog has its fae.
Whelped in the blackness of the void, and raised to be a proud and merciless killer, this deceptively adorable pup does not (obviously) take well to companionship. The rare exception, however, has been made for those who have shown they will not back down in fear.

Pup that he is, having a trophy will mean much to him.

—Bloeidin

Fat Cat



Obedient
Perfect Purr
Obtained from Waterside Exploration Retainer Venture
Fat Cat
Summon your fat cat minion. Despite convincing research by top academics from around the realm and beyond, most Miqo'te scholars refuse to believe that there may be some ancestral connection between their race and cats (fat or not).
Born in an unmarked alley in an unnamed town, this poor creature had to hunt the mean streets just to stay alive...until learning that following retainers and feeding off the slaughter left in their wakes was a safer, easier way to a full belly.

When the master's away, the cat will play.

—Miqo'te Retainer

Faustlet



Obedient
Exemplar
Obtained from Alexander - The Burden of the Son
Faustlet
Summon your faustlet minion. He will shelter you from the sturms.
The Illuminati reportedly designed this minute automaton for the purpose of testing the effectiveness of their newest weapons. Perhaps being used as target practice has filled it with the need to lash out against imagined enemies.

It's only a massive mammet, after all.

Fenrir Pup



Independent
Howling Moon
Randomly obtained from The Feast
Fenrir Pup
Summon your Fenrir pup minion. This stray hoarhound pup is as feisty as the leader of his pack, and just as aloof.
Torn from his mother's teat immediately after birth and weaned on the manblood spilled daily in the Wolves' Den, this young hoarhound with soft blue fur was named after the spirit-beast of legend with hopes that he would grow to become as fierce and powerful.

Wolves. Swivin' wolves...

—Hundred Eyes

Flame Hatchling



Independent
Flame Cry
Purchased for 20,000 Flame Seals
Flame Hatchling
Summon your flame hatchling minion. Not more than a fortnight out of the shell, but his blood already runs Immortal Flames black.
Raised by a flame private from an egg found abandoned in the company stables he was charged with cleaning, this adorable fledgling is a symbol of new beginnings for the Immortal Flames.

Chocobo dander can be a mite ripe.

—Chocobokeep

Fledgling Apkallu



Independent
Waddle
Completing all 80 A Realm Reborn Sightseeing Log Entries
Fledgling Apkallu
Summon your fledgling apkallu minion. Will follow you until you give him a fish. Will continue to follow you after being given a fish.
While the hatchlings of other flightless cloudkin have been observed covered in a dull brown coat of down when they emerge from their eggs, apkallus enter the world covered in the same vivid green plumage they will bear for their entire lives.

Nesting hens do not spear a failed egg thief a score and a half times.

—Frandelont Raimdelle

Fledgling Dodo



Independent
New Nest
Bought from Auriana at Mor Dhona for Allagan Tomestones of Poetics
Fledgling Dodo
Summon your fledgling dodo minion. Properly trained not to eructate, regurgitate, expectorate, or flatulate.
Dodos mature extremely fast, going from fledgling to full-grown fryer in but a few short moons. This, coupled with the fact an adult female can lay up to seven eggs a sennight, makes this particular cloudkin the perfect option for feeding the hungry masses.

Lightning Drools over the Bismarck's Delightful Grilled Dodo!

—The Harbor Herald

Fox Kit



Independent
Crazy
Purchased for 3x Sassho-seki Fragments from Eschina at Rhalgr's Reach
Fox Kit
Summon your fox kit minion. His devotion toward you will prove fair and balanced.
Despite its appearance, this fox kit is actually the offspring of a thousand-year-old vulpine spirit yet incapable of taking on the body of a man that it may seduce its prey into relinquishing their very souls. Or not. There truly is no way to tell.

The hungry fox starves staring at the bull's testicles.

—Cirina

Gaelikitten



Independent
Gaelikick
Randomly obtained from Sohm Al final chest
Gaelikitten
Summon your gaelikitten minion. Rumors that the gods kill one of these adorable creatures every time a young man thinks pleasurable thoughts are unfounded.
Though its wings appear to be constructs of some sort rather than actual body parts, any who draw close are met with a violent flurry of scratching and punching, making it impossible to thoroughly inspect the creature's backside.

Watch it! This kitten has claws!

—Aldis

Garlic Jester



Independent
Irresistible Aroma
Gardening Garlic Jester seeds
Garlic Jester
Summon your Garlic Jester minion. Every breath you take will act as a reminder that your pungent pal is right behind you.
The son of a traveling mummer who performed under the name Garlic Star, the jester swore he would never follow in the footsteps of his father. However, after being deemed too malodorous to serve in the royal guard, he swallowed his pride and fell back on the only trade he knew.

And this irresistible aroma... Mmmmmmmmm...

—Ingham

Gestahl



Independent
Royal Blood
Obtained from Waterside Exploration Retainer Venture
Gestahl
Summon Gestahl. He's a cute puppy dog. Yes, he is. Yes, he is a cute puppy dog. A cute puppy dog, yes, he is. Awww, such a cute puppy dog... Yes...
Despite being found lapping up day-old vomit behind the Forgotten Knight, the air of nobility displayed by this pup as he rolled in the filth was proof enough of his royal bloodline, and before the night was through, an official pedigree was drawn up, changing Gestahl's life forever.

Nothing shall stand in our way!

—Emperor Gestahl

Ghido



Independent
Turtle Infestation
Rare drop from The Sirensong Sea
Ghido
Summon your Ghido minion. There is most likely a logical explanation as to why this aged turtle can navigate the skies. Most likely.
Some say this denizen of the Sirensong Sea has seen upwards of seven hundred summers, and in that time his hate for blue-blazoned armor has only grown. As for why, no one knows.

Matron's teats, those turtles are huge!

—Waemlydir

Gigantpole



Independent
Huge Guts
Fished from The Burning Wall with Topwater Frog
Gigantpole
Summon your gigantpole minion. Yes, it can survive for hours on end without any water, and yes, it can fly. Your argument is invalid.
Over countless generations, the gigantoads of Thanalan have adapted to the arid climes by taking on traits not seen in their cousins to the north, such as thick membranes to keep their skin hydrated out of water, and a set of extra fins which act as wings to propel them over land.

These toads are huge, which means they have huge guts.

—Hamon

Gigi



Independent
Temporal Magicks
If I Could Turn Back Time
Gigi
Summon your Gigi minion. Also known as Vivi...but his secret is safe with you.
The secret to the lost art of temporal magicks is believed to be buried deep within this ancient automaton created by the legendary Sharlayan archmagus Quan. Vitality levels are dangerously low due to a power drainage necessary to save the lives of his companions.

I daresay you have the potential to be an exemplary inspector someday!

Gold Rush Minecart



Obedient
24 Karat
Complete the FATE "On Dangerous Ground" with a gold medal rating
Gold Rush Minecart
Summon your gold rush minecart minion. It is, unsurprisingly, void of gold.
Unbeknownst to their clients, retainers across Eorzea have been secretly using these automated minecarts to help haul about all the materials adventurers have them venture forth to collect. As of yet, however, no adventurer has reported receiving a "rush of gold."

But I don't want to work in the silver mines!

—Gold Saucer Patron

Goobbue Sproutling



Independent
Big Sneeze
It Was a Very Good Year
Goobbue Sproutling
Summon your goobbue sproutling minion. Has been known to attack kittens for no apparent reason.
To achieve their cyclopean size, goobbues must maintain a daily diet of several times their own weight. Luckily, the beastkin are not finicky eaters, and will consume almost anything that cannot outrun them. If rumors are to be believed, this includes Lalafells.

These goobbues are wont to devour anything and everything.

—Aileen

Gravel Golem



Obedient
Gravelskin
Level 50 Goldsmith recipe
Gravel Golem
Summon your gravel golem minion. Only you stand between it and a hard place.
Mage-controlled golems were in such wide use by the end of the Fifth Astral Era that entire battles were waged by armies comprised of nothing but the lifeless soulkin. This recreation, however, is nothing but a standard model #001 mammet outfitted with simple gravel plating.

Gummice pollums? I fear I'm not familiar with them.

—Yhom Epocan

Griffin Hatchling



Independent
Wingbeat
Bought from Ardolain at The Forgotten Knight
Griffin Hatchling
Summon your griffin hatchling minion. Not to be confused with a gryphon hatchling, a griffon hatchling, a gryfon hatchling, or a gryphus hatchling.
One night, after ripping the heart from a griffin's breast and holding it aloft for gods and men to behold, a Clan Centurio hunter turned to see a tiny wide-eyed cub shivering in a now-motherless nest. Unable to deliver the steel peace, he rescued the beast and named it Ben.

You'd be surprised at how many...end up sliced to ribbons by beak and talon.

—Fafafono

Heavy Hatchling



Obedient
Unsatiable
Bought from Gold Saucer Attendant (Prize Claim)
Heavy Hatchling
Summon your heavy hatchling minion. Currently, "baby fat" is the prevailing excuse for this cherubic chick's gigant-like girth.
It would be foolish to believe that a chocobo could achieve this size dining on greens alone, regardless of how many hundreds of bushels were devoured...in a single sitting. Chicken bones found beneath the chick's bedding suggest he may have a taste for his succulent cousins.

I cannot deny what you say is true any more than I can deny a chocobo's arse is yellow.

—Path Companion

Hecteye



Independent
Surveillance
Trade 3 Gelmorran Potsherds from E-Una-Kotor in Quarrymill
Hecteye
Summon your hecteye minion. Got no Hyuran grace, you're an eye without a face.
This single optic detached from a larger mass of hecteyes finds itself in a constant state of restlessness, given the inability to simultaneously survey its surroundings in all directions. Until it grows more, your eyes will have to suffice.

I keep one eye open at all times, an' two more often than not.

Heliodor Carbuncle



Independent
Curl
Included with Topaz Carbuncle Plushie from Square Enix Online Store
Heliodor Carbuncle
Summon your Heliodor Carbuncle minion. If ever unfaithful, return for a full refund.
The pain of being unable to summon her own Topaz Carbuncle still fresh in her heart, Tataru vowed she would never again be discouraged by her own failures and commissioned the Goldsmiths' Guild to craft her an ever-loyal companion. The furry outer shell is a Tataru original.

I hope to...create a new variety of Carbuncle, perhaps.

—Alphinaud

Hellpup



Independent
Yelp
Mama Said Knock You Out III Achievement
Hellpup
Summon your hellpup minion. Not all children are products of their environment. This one, however, is.
Whelped in the blackness of the void, only to be abandoned by her mother, this hellpup survived by devouring the flesh of the litter's remaining hounds. Since then, she has wandered alone, searching for someone to love.

Another wolf pup itchin' to get in the ring, are ye?

—Maelstrom Drill Sergeant

Hoary the Snowman



Obedient
Thumpety Thump
Bought from Mammet Dispensator 012P at Starlight Celebration (2014)
Bought from Mog Station
Hoary the Snowman
Summon your Hoary the Snowman minion. Hoary the Snowman was a jolly happy soul, without a pipe, and without a nose, and two eyes made out of something other than coal. Probably slag.
While no one knows the exact origins of Hoary the Snowman and the legends surrounding this animated mass of ice and snow, the gifting of dolls created in his likeness to good girls and boys is not uncommon during the Starlight Celebration.

On your feet, Hoary!

—Coultenet

Hovernyan



Independent
Gusty Cross Paw
Bought for a varying amount of Yo-kai Medals at Yo-kai Watch (2016)
Hovernyan
Summon your Hovernyan minion. He may be a wanderer, but he's actually quite dependable.
Although he is floating, he is actually very down-to-earth. The white mark on his forehead is an honorable battle scar.

I've got your back!

Hunting Hawk



Independent
Hawk's Eye
Randomly received from completing the Secret of the Lost Legend Boss FATE in The Diadem
Hunting Hawk
Summon your hunting hawk minion. She loves you more than life itself. She's had to.
After losing her master, this raptor expertly trained in the art of falconry wandered the skies in search of purpose, finally arriving in the Diadem where she has since awaited the arrival of one worthy to lead her once more into the field to pursue new quarry.

Our companions gliding proudly through the skies will be as they always have and always will be.

—Josseloux

Infant Imp



Independent
Trick or Treat
Complete the FATE "Go, Go, Gorgimera" with a gold medal rating
Infant Imp
Summon your infant imp minion. Hopes that one day, he will rule the seven hells. But for now, your backside will do.
Scholars believe there are three ways in which voidsent can make the journey from their realm to ours─tearing a hole in the aether on their side, having a hole torn for them on our side, or stumbling into a randomly occurring hole, the latter being the most common for imps.

This bastard's got some nasty spells!

—Stalwart Swordsman

Iron Dwarf



Obedient
Fist of Iron
Level 60★ Armorer recipe
Iron Dwarf
Summon your iron dwarf minion (though he prefers the term "little iron person").
What was reported as a "chance discovery" by your mammet voyager, has actually turned out to be a pet project of the automaton to kill the time while piloting the long journeys to the lonely north.

But if ye've got iron in yer veins...speak up.

—Randwulf

Ivon Coeurlfist Doll



Independent
Spiritfist
Rare drop from the Temple of the Fist.
Ivon Coeurlfist Doll
Summon your Ivon Coeurlfist doll minion. Technically "Coeurlpaw."
A complete dismantling of the coeurl-fisted caricature shows that, unlike the automatons of Ul'dah, the puffered paunch of this poppet contains naught but cotton and straw, leading one to wonder...how in the seven hells does it walk!?

He had a pair o' Sphairai crafted─fists what looked like coeurls.

Jibanyan



Independent
Paws of Fury
Bought for a varying amount of Yo-kai Medals at Yo-kai Watch (2016)
Jibanyan
Summon your Jibanyan minion. He might take his anger out on passing vehicles.
After being run over, Jibanyan was bound to a busy crossroad where he spent his days taking revenge on any passing vehicle that stood in his way.

I'm kind of busy right nyao.

Kidragora



Independent
Head Butt
Unspoiled Node, Level 46-50 Botanist
Kidragora
Summon your kidragora minion. Even in space, everyone can hear this seedkin scream.
One must take care when harvesting mandragoras, for if the roots are disturbed they will emit a high-pitched scream powerful enough to shatter glass over a malm away.

While little is known about them, what is known tends to be disturbing.

—Eorzean Naturalist

Komajiro



Independent
Wild Zaps
Bought for a varying amount of Yo-kai Medals at Yo-kai Watch (2016)
Komajiro
Summon your Komajiro minion. He might as well tag along on your adventures as he searches for his older brother.
Komajiro is Komasan's younger twin. He looks for his runaway brother, but he can't find him anywhere.

Oh my swirls!

Komasan



Independent
Spirit Dance
Bought for a varying amount of Yo-kai Medals at Yo-kai Watch (2016)
Komasan
Summon your Komasan minion. He got bored with guarding his shrine. Now he wants to guard you.
Komasan is a lion-dog that came from a rural area. He often expresses awe when traveling in the city.

Oh my swirls!

Korpokkur Kid



Independent
Seedbed
Rare drop from Saint Mocianne's Arboretum
Korpokkur Kid
Summon your korpokkur kid minion. For best results, keep moist at all times.
Before their exodus back to the Old World, Sharlayan botanists conducted extensive studies on korpokkurs at Saint Mocianne's Arboretum. In their haste, the scientists left behind several samples which have, over the past decades, continued to thrive and reproduce...

Feels so soft and moist as fresh spring shower!

—Ranu Vali

Kyubi



Independent
Inferno
Bought for a varying amount of Yo-kai Medals at Yo-kai Watch (2016)
Kyubi
Summon your Kyubi minion. He's actually quite charming once you get to know him.
This fox Yo-kai is one of the strongest Yo-kai around. He can easily erupt with power, like a volcano.

How ridiculous.

Lesser Panda



Independent
Take a Stand
Reward from Aery
Lesser Panda
Summon your lesser panda minion. Lesser only in size to normal pandas. And in life expectancy. And intelligence. And fluffiness. Well, perhaps not fluffiness.
There are several theories as to how a beastkin native to the mist-covered peaks of southeastern Ilsabard ended up thousands of leagues away from its home...and most involve an unhealthy infatuation with the furry creature by a certain imperial legatus.

Stand up straight, maggot!

—Berkoeya

Littlefoot



Independent
Absolute Zero
Obtained from Woodland Exploration Retainer Venture
Littlefoot
Summon your Littlefoot minion. This particular yeti is content in knowing that bigger is not always necessarily better.
When discovered by your retainer on a foray deep into the highlands of Coerthas, this miniature monstrosity was both cold and hungry (though the former condition most likely did not affect him much), and a bowl of hot broth was all it took to lure him from the forest back home.

It is good to see you on your feet again.

Magic Broom



Independent
Flipp'er Over
Level 50★★★ Carpenter Recipe
Magic Broom
Summon your magic broom minion. For safety reasons, do not fall asleep while it is at work.
While you may not hear many of the realm's mages admit it, magicking a household broom to become a self-propelled sweeping servitor (albeit one which does very little actual cleaning) is far more complicated than it sounds, requiring no fewer than seven cants of binding.

A lancer who fears to attack is naught but a man holding a pole.

Magic Bucket



Obedient
Slippery Floor
Fished from South Banepool with Brute Leech.
Magic Bucket
Summon your magic bucket minion. A fisherman's best friend. He sloshes instead of slobbers.
This curiosity is said to have once belonged to an angler who wanted a bottomless pail that would shadow him hither and yon. Upon releasing a live Nepto Dragon into the markets, he had a change of heart and tossed the bucket back brinewards, never looking back.

Throw back a guppy today, and reel in ten fish tomorrow.

—N'nmulika

Magitek Avenger F1



Independent
Autopilot
Rare drop from Castrum Abania
Magitek Avenger F1
Summon your magitek avenger F1 minion. Avenger, assembled!
It appears the Empire created these faithful reproductions to train field engineers on how to repair actual avenger-class warmachina. The fact that the selfsame models are sold to imperial children as toys is a telling sign of the invaders' mindset.

The desire to protect and the desire to avenge are opposing forces that can ill be reconciled.

Mammet #001



Obedient
Deconstruct
Bought from Bango Zango in Limsa Lominsa, Roarich in Ul'dah, or Maisenta in New Gridania.
Mammet 001
Summon your mammet #001 minion─a fully operational clockwork puppet built in a joint effort by the Alchemists' and Goldsmiths' Guilds.
The standard frill-free #001 model is not only the best-selling mammet on the market, but is the blueprint on which all other clockwork servitors are based.

Mammets can't even taste food!

Mammet #003G



Obedient
Serpent Standard
Bump on a Log: Order of the Twin Adder Achievement
Mammet 003G
Summon your mammet #003G minion─a fully operational clockwork puppet built for the Order of the Twin Adder.
Designed to be a standard-bearer in Order of the Twin Adder company parades, these handcrafted automata were soon decommissioned due to the fact that their small stature ensured that no one could see the flags they carried.

Feelings! Maybe she just doesn't feel like part of the team!?

—Wedge

Mammet #003L



Obedient
Storm Standard
Bump on a Log: Maelstrom Achievement
Mammet 003L
Summon your mammet #003L minion─a fully operational clockwork puppet built for the Maelstrom.
Designed to be a standard-bearer in Maelstrom company parades, these handcrafted automata were soon decommissioned due to the fact that their small stature ensured that no one could see the flags they carried.

Feelings! Maybe she just doesn't feel like part of the team!?

Mammet #003U



Obedient
Flame Standard
Bump on a Log: Immortal Flames Achievement
Mammet 003U
Summon your mammet #003U minion─a fully operational clockwork puppet built for the Immortal Flames.
Designed to be a standard-bearer in Immortal Flames company parades, these handcrafted automata were soon decommissioned due to the fact that their small stature ensured that no one could see the flags they carried.

Feelings! Maybe she just doesn't feel like part of the team!?

—Wedge

Mandragora Queen



Independent
Photosynthesis
Gardening Mandragora Queen seeds
Mandragora Queen
Though wed to the Tomato King in a move to strengthen the bond of houses Tomato and Mandragora, the queen longs to steal away with her one true love─the Eggplant Knight. What will become of this forbidden romance!? Summon the Mandragora Queen minion today and find out!
Destined to a life with a man she did not love, nary a night passed when the Mandragora Queen did not dream of throwing herself into the sea's eternal embrace...until, that is, she laid eyes on the noble Eggplant Knight.

I want to be waist-deep in little white mandragora limbs!

—Yellowjacket

Manjimutt



Independent
Creepy Superbite
Bought for a varying amount of Yo-kai Medals at Yo-kai Watch (2016)
Manjimutt
Summon your Manjimutt minion. He hopes to become a CEO someday.
A man-faced poodle who enjoys scaring people frightened by a poodle with a man's face.

Doggone it!

Midgardsormr



Independent
Open Beta
The Rising Chorus
—
Summon Midgardsormr. Not the big one. The little one.
Father of Dragons, Keeper of the Lake, Bane of the XIVth Legion─while it is difficult to believe the yalm-long pup could be any of these things, he assures you his current form is only temporary while he awaits the reconstruction of a new corporeal vessel.

Midgardsormr was a king amongst kings who reigned for centuries on end...

Mini Mole



Independent
Mountain Maker
Thwack-a-Mole
Mini Mole
Summon your mini mole minion. When not dining on a protein-rich diet of earthworms and grubs, he dreams of making mountains.
Snatched from its hill while still young by infamous naturalist Marcette Manne, this poor creature has suffered countless experiments filled with endless pokings, proddings, potations, and panaceas. Compared to that, following an adventurer around all day is a veritable vacation.

Hear me, you mole bastards? I am steel!

—Eager Red Swallow

Miniature Minecart



Obedient
On Track
Obtained from Highland Exploration Retainer Venture
Miniature Minecart
Summon your miniature minecart minion. Best when ridden in abandoned mines and temples of doom.
Despite adamant claims by Amajina & Sons Mineral Concern that their donation of over five score carts to the orphans of Stonesthrow was a simple act of charity, opponents of the guild insist it was a scheme to recruit inexpensive child labor for Thanalan's myriad mines.

Mines mine! Mines all miiiiiiiiine!

Minion of Light



Obedient
Mayhem*

Warrior


Petit Poppet*

Black Mage


Cure 0*

White Mage

Rank 4 - 180 Days Subscription Veteran Reward
Minion of Light
Summon your Minion of Light and make true the prophecy: "When Darkness veils the world, three Minions of Light shall come."
Ancient records show that almost every Astral Era has had its own Warriors of Light─brave souls who appeared before forthcoming disasters to unite the people of that time...only to disappear once again as catastrophe rained down from the heavens.

Next you'll be telling me you're one of the Warriors of Light.

Minute Mindflayer



Independent
Kind Blast
18-Hour Retainer Venture
Rare drop from the Aquapolis.
Minute Mindflayer
Summon your minute mindflayer minion. Delights folk with its cuteness even as it fills them with an inexplicable sense of dread.
Similar to voidsent dullahans, mindflayers also lack a corporeal form and must possess a host to be able to exert force on our realm. Whereas the dullahan, however, are limited to the possession of inorganic objects such as steel, mindflayers tend to prefer the dead as their vessels.

It has a grisly penchant for sucking out the brains of men.

—Frandelont Raimdelle

Mock-up Grynewaht



Obedient
Gunsaw
Rare drop from Doma Castle
Mock-up Grynewaht
Summon your mock-up Grynewaht minion. Bwahahahaha!
This anatomically accurate simulacrum of the imperial soldier Grynewaht appears to have been built by magitek engineers to determine the most efficient means by which to incorporate magitek implants into the Roegadyn's body.

It's like all my namedays have come at once!

Model Enterprise



Obedient
Aft Crane
Final Fantasy XIV: A Realm Reborn - The Art of Eorzea Bonus Code
Model Enterprise
Summon your model Enterprise minion. Designed to boldly go where you have gone before.
The original Enterprise was designed and built while Garlond family prodigy Cid was still working as a military engineer for the Garlean Empire. The aft crane─intended for the loading of imperial weaponry─was added to the airship in the days before Cid's defection.

Enterprise, engage!

—Alphinaud

Model Magitek Bit



Independent
All-range Attack
Level 50★★★★ Blacksmith recipe
Model Magitek Bit
Summon your model magitek bit minion. An exact 1:9 scale replica of a ceruleum-powered magitek bit (Ultima Weapon action figure not included).
This miracle of modern mechanics is actually a miracle of ancient Allagan mechanics reverse engineered and then modified with advanced Garlean magitek technology.

The Empire owes its might to magitek.

Model Vanguard



Independent
Overcharge
Level 50 Goldsmith recipe
Model Vanguard
Summon your model vanguard minion. An exact 1:9 scale replica of a ceruleum-powered magitek vanguard (imperial pilot action figure not included).
Part of the Guildmaster Series, this high-quality replica is so exact in its rendition of the vanguard's build that Garlemald has banned the item's import into the Empire's outlying provinces, for fear the data gleaned from it will be used by rebel forces still active in these lands.

I'd sooner face a vanguard while naked as my nameday!

—Flame Private

Morbol Seedling



Independent
Bad Breath
Obtained from Aurum Vale
Morbol Seedling
Summon your morbol seedling minion...if you think you can stand his breath.
It is in fashion amongst wealthy Ul'dahn merchants and nobles to bring morbol seedlings to banquets, so that the upper crust might inhale the seedkin's "boot-like" bad breath to induce vomiting, allowing them to engorge themselves for the duration of the gatherings.

Did a morbol just empty its innards? I feel ill...

—Imperial Soldier

Morpho



Independent
Poison Scales
Rare drop from Lost City of Amdapor (Hard)
Morpho
Summon your morpho minion. With blue wings practically glowing, this butterfly feels almost like a spirit. Almost.
The wings of this butterfly were highly sought after during the War of the Magi, as their scales could be used to make poison that inhibited the restoration of magical energy. As a result, they were hunted to near extinction, and now very few remain.

The War of the Magi must have been a conflict of truly terrifying proportions.

Mummy's Little Mummy



Independent
Forty-thousand-year Funk
Rare drop from Sunken Temple of Qarn (Hard)
Mummy's Little Mummy
Summon your mummy's little mummy minion. While as cute as a button, remember, mummies are ultimately embalmed corpses damned to eternal thralldom in the land of the living. Have fun.
It is believed that the ancient technique of mummification─which involved embalming, organ removal, wrapping, and the burial in a multilayered sarcophagus─was an expensive undertaking. That it was performed on a child can attest to his parents' devotion.

"I told you, I'm not your mummy!

Namingway



Independent
Hummingway
Included with Libra Eorzea
Namingway
Summon your Namingway minion. Do not think this means you can now change your character name.
While it is whispered that this cheerful vagrant is the sole surviving member of a tribe hailing from none other than the moon, most see Namingway for who he is─a queer fellow with a penchant for giving all he meets absurd nicknames then jotting them down in his mysterious journal.

I do not expect all moogles to be well versed in Roegadyn naming conventions.

—Klynthota

Nana Bear



Obedient
Stuffed Stomp
Level 50★★★★ Weaver recipe
Nana Bear
Summon your Nana bear minion. Pundits claim bears to be the deadliest beasts in the realm─obviously having never stared into this cute cub's nebulous eyes.
The Nana bear's origins can be traced back to Ul'dahn princess Nanakko who, on her eighth nameday, asked her father for a bear. Despite a realm-wide search, no bears were found, and so the Goldsmiths' Guild was commissioned to craft one from a drawing found in an ancient bestiary.

There isn't enough honey in all the Yard to satisfy that sweet-toothed sellary.

—Honey Yard Hivekeep

Naughty Nanka



Independent
Ninki Nonka
Treasure chest in Hullbreaker Isle
Naughty Nanka
Summon your naughty nanka minion. Like its parent, the ninki nanka, this slippery wavekin will breed like a rabbit if left unsupervised.
Instead of laying her eggs in a pond or river where they might be devoured by predators, the ninki nanka female deposits her offspring upon the back of the father, who then carries and protects the brood until it is ready to face the world on its own. Unless, however, one falls off.

Shiiiiiiny! Preeeeeetty! Need more eeeeeeggs! Eeeeeeggs!

—Giggity the Spriggan

Noko



Independent
Noko Smile
Bought for a varying amount of Yo-kai Medals at Yo-kai Watch (2016)
Noko
Summon your Noko minion. This Yo-kai is one lucky snake!
Noko is always scared of being seen by humans. Which happens a lot, since it's terrible at hiding.

Noko noko!

Nutkin



Independent
Skull Eater
Unhidden Treasure Map
The Aquapolis
Nutkin
Summon your nutkin minion. That nutkins are infamous for being shy and timid creatures shows that this brave beastkin comes complete with a pair of iron acorns on him.
Inspired by the words of Millith Ironheart, this daring squirrel longs to travel the realm in search of the legendary golden acorn, and hopes that trailing in your shadow will ensure that he isn't eaten before he discovers the mother lode.

I had no idea squirrels could bite so hard!

—Arold

Odder Otter



Independent
Backstroke
Obtained from Highland Exploration, Waterside Exploration, or Woodland Exploration Retainer Venture
Odder Otter
Summon your odder otter minion. Is there anything odder than an otter who lives out of water?
Otters of the Far East are highly cunning creatures, some scholars having ventured as far as to claim the rodents' intelligence is, in fact, comparable to that of a Qiqirn, despite lacking the latter's propensity for spoken communication.

He seemed...odd. Well, odder than usual.

—Cocobezi

Onion Prince



Independent
Teary Twirl
Gardening Onion Prince seeds
Onion Prince
Summon your Onion Prince minion. He would die 4 U. Or possibly cry 4 U. Or most likely make U cry. 4 U.
After learning his parents married not for love, but for duty, the Onion Prince vowed he would never walk in the footsteps of his parents, and to this day promises his baseborn sweetheart, the Leek Maid, that they will run away and be wed.

Aw, bloody hells! Who's cutting onions back there!?

—Buscarron

Owlet



Independent
Fundamental Reading
The Fractal Continuum
Owlet
Summon your owlet minion. Who needs eyes in the back of their head when you can spin your head full circle?
Preserved with temporal magicks and placed on display in the Fractal Continuum, this genetically enhanced cloudkin is documented as being one of the genetic components used in the creation of mirrorknights. He appears to have developed the capacity for reading.

It is difficult to even remember the last time I spoke with someone other than my good friends the owls.

—Roiteloin

Page 63



Independent
Censored Passage
The Great Gubal Library
Page 63
Summon your page 63 minion. A detailed recapitulation of the preceding sixty-two pages is not necessary to fully enjoy the content of the sixty-third.
Though unable to read the arcane script penned in blood across this forbidden tome discovered in the Great Gubal Library, you sense much power in the words. Or it could simply be the fact that the book follows you.

No dusty tome doth capture in ink what these terrible beings are now become.

Paissa Brat



Independent
Infinity
Dragonskin Treasure Map
The Aquapolis
Palace of the Dead
Paissa Brat
Summon your paissa brat minion. The eyes of a newborn paissa are said to see only the truth. The truth and food.
In addition to being quite tasty, paissas are often bred by Vanu tribes for fighting. One such creature was given as a gift to the Rose Knights when the Ishgardians were still on good terms with the Sea of Clouds natives...and then subsequently lost in a card game.

Even cowardly paissa cannot hide forever!

—Gundu Warrior

Panda Cub



Obedient
Tasty History
Bought from Mog Station
Panda Cub
Summon your panda cub minion. Untrained in arts both martial and magical, but as scrumptiously adorable as chicken glazed in a tangy orange reduction.
So popular are pandas in the Far East, that there are tales of the creatures being promoted to powerful positions within local governmental agencies. This particular mechanical reproduction is thought to have been brought to Eorzea by a Doman wise man.

Beings held as gods also exist in what you call the Far East.

Pegasus Colt



Independent
Tail 'n Mane
Randomly received from completing the Blood Wings Boss FATE in The Diadem
Bought from Spoils Collector
Pegasus Colt
Summon your pegasus colt minion. Unfortunately does not emit rainbows from any of its orifices.
Having lost his mother, this winged steed from the Diadem has settled upon a decidedly wingless bipedal surrogate to lead him somewhere over the rainbow.

I still don't understand why a horn is so important to you.

—Ohl Deeh

Penguin Prince



Independent
Black Ice
The Road of Verminion I Achievement
Penguin Prince
Summon your penguin prince minion. An empire awaits.
This emperor penguin fledgling dreams of one day ruling his own empire and has set off on a journey to seek the loyal subjects who will make up his imperial court. Or at least that is what the Gold Saucer attendant who found the flightless cloudkin claims.

I am no prince! I am but the privileged brat of an...empire!

—Tataramu

Peridot Carbuncle



Obedient
Backdraft
Included with Emerald Carbuncle Plushie from Square Enix Online Store
Peridot Carbuncle
Summon your Peridot Carbuncle minion. If ever unfaithful, return for a full refund.
The pain of being betrayed by her first summoned pet still fresh in her heart, Tataru vowed she would never again fall victim to the whims of a fickle familiar and commissioned the Goldsmiths' Guild to craft her an ever-loyal companion. The furry outer shell is a Tataru original.

Uwaaah! Come back, Carbuncle! Come baaack!

Piggy



Independent
Oink
Bought from Gold Saucer Attendant (Prize Claim)
Piggy
Summon your Piggy minion. Many have tried casting Esuna on what they thought was a struggling adventurer, only to find they had wasted their magic.
A mysterious bipedal swine given away as a prize after it was discovered gorging itself in the Manderville Gold Saucer kitchens. Assuming he is not a real pig, many have tried poking, unmasking, and dispelling the portly pork's guise... but to no avail.

The sultana's pigs've come to wallow!

—Gisfrid the Grinder

Plush Cushion



Stationary
A Moment's Respite
Level 50★★★ Weaver recipe
Plush Cushion
Summon your plush cushion minion. Ever ready to shield your buttocks from the hardest of places.
Preferring to take a more hands-on approach with his latest project, Redolent Rose of the Weavers' Guild personally researched the resilience and contour of over four score buttocks in order to create a cushion so light and fluffy, even the clouds would darken with envy.

Bumbling one spends all day sleeping on paper- stack pillow, yes?

—Olmxio

Poro Roggo



Independent
Providence
The Word of the Mother
Poro Roggo
Summon your Poro Roggo minion. Enchanted familiar though it may be, kissing it will do nothing to alter its corporeal form.
A product of Matoya's mind-altering magicks, this particular familiar served the mistress for almost fifty summers before becoming struck with a sense of wanderlust following several fetch quests into the wild. Matoya allowed it to accompany you on your journey.

Indeed, there is no end to the tasks that want for doing, ribbit.

—Toro Roggo

Princely Hatchling



Independent
Choco Coronation
Leaving a Good Impression II Achievement
Princely Hatchling
Summon the princely hatchling minion, the chocobo who would be king.
A thoroughbred descended from the legendary Veillantif, this noble bird of Ishgard seeks a rider who will not sully his family's name.

I had a feeling you'd be riding up on your golden chocobo.

—Path Companion

Pudgy Puk



Independent
Excess Baggage
Complete the FATE "The Eyes Have It" with a gold medal rating
Pudgy Puk
Summon your pudgy puk minion. Don't ask what he has eaten to grow so plump.
Fattened from birth to be a succulent snack for the sadistic Steropes, this fledgling puk's excess baggage ensures that even if he attempts to flee, he will not be getting that far.

Ul'dah ain't more'n a sand-crusted pile o' puk dung bakin' in the desert.

Puff of Darkness



Obedient
Nanoparticle Beam
Defeat the Cloud of Darkness in The World of Darkness
Puff of Darkness
Summon your puff of darkness minion. When standing nearby, prithee refrain from coughing, sneezing, waving, flailing, or performing any other means of wild gesticulation, lest the puff be lost for eternity.
When this automaton resembling one crafted by a goldsmith hanged for dabbling in the dark arts was discovered, it prompted authorities to exhume the recently buried body. This, however, only confirmed their worst fears─ that the coffin was empty.

What I do not smother, I devour. What I cannot devour, I destroy.

Pumpkin Butler



Independent
Winter's Call
Joining the Circus at All Saint's Wake (2015)
Pumpkin Butler
Summon your Pumpkin Butler minion. Oft-forgotten member of the Mandragoras, if the Pumpkin Butler harbors any ill will for those who have so easily forsaken him, he does a fine job of hiding it.
Unhappy with his treatment in the Tomato King's court, the Pumpkin Butler fled his place of longtime servitude only to wind up in the hands of the Continental Circus. Here, he worked twice as hard until an Adventurers' Guild investigator freed him once and for all.

Pumpkins sort of remind me of...um... No, it's gone. Never mind!

—Nashu Mhakaracca

Road Sparrow



Independent
Hit the Road
Rare drop from Bardam's Mettle
Road Sparrow
Summon your road sparrow minion. This house sparrow's home is on the road. Sparrow.
Tired of his humdrum life back in Yanxia, this former house sparrow set off on the journey of a lifetime, finally arriving several moons later in Bardam's Mettle, where he fell in with a flock of ferocious yol and learned the true meaning of freedom.

We will need wine...and sparrow-stuffed pheasant.

Robonyan F-type



Independent
I'll Be Blast
Bought for a varying amount of Yo-kai Medals at Yo-kai Watch (2016)
Robonyan F-type
Summon your Robonyan F-type minion. It's an upgraded robot that thinks it's a cat.
An upgraded model of Robonyan, he removed all of his unnecessary functions to become the perfect robot cat.

Activating Sleep Mode...

Serpent Hatchling



Independent
Serpent Cry
Bought from the Serpent Quartermaster
Serpent Hatchling
Summon your serpent hatchling minion. Not more than a fortnight out of the shell, but his blood already runs Twin Adder yellow.
Raised by a serpent private from an egg found abandoned in the company stables he was charged with cleaning, this adorable fledgling is a symbol of new beginnings for the Order of the Twin Adder.

Chocobo dander can be a mite ripe.

—Chocobokeep

Set of Primogs



Obedient
Moogle Madhouse
Included with Before the Fall Soundtrack
The Primogs
Summon your set of Primogs, the only mechanical musicians this side of Black Tea Brook...making them the greatest mechanical musicians this side of Black Tea Brook.
One night, an aspiring moogle bard had a dream─a dream to become the greatest musician in all the realm. But to do it he would need a band of merry moogles to accompany him. The bard had no friends, so instead he decided to create his own band from stolen mammet parts.

Off with their heads!

Shaggy Shoat



Independent
Are You My Mother
Randomly obtained from Xelphatol final chest
Shaggy Shoat
Summon your shaggy shoat minion. This adorable piglet will gore your heart and leave you yearning for more.
The orphaned offspring of one of the many wild boars that inhabit the deep ravines of Xelphatol. Having lost its mother, the tiny beast seeks someone of unmatched strength and boundless courage to teach it the ways of survival. Until that someone is found, you will do most nicely.

He is a giant amongst boars, unrivaled in strength and savagery, and ruler over all his kind.

Shalloweye



Independent
Leer
A Load of Verminion II Achievement
Shalloweye
Summon your shalloweye minion. Please refrain from staring.
While most scholars of the void place deepeyes on the twelfth and final rung of voidsent hierarchy, it has been documented that the stronger the creature the deepeye possesses upon plane crossover, the more power the specimen may exert while within our realm.

They're perfect for scrubbing the soot from this statue.

—Thierremont

Shogunyan



Independent
Bonito Blade
Bought for a varying amount of Yo-kai Medals at Yo-kai Watch (2016)
Shogunyan
Summon your Shogunyan minion. This legendary warrior's armor smells faintly of tuna.
This Yo-kai is Jibanyan's legendary warrior ancestor. He just loves skipjack tuna and carries it around in his armor.

Heart of a Warrior!

Slime Puddle



Independent
Cytoplasm
Rare drop in Copperbell Mines (Hard)
Slime Puddle
Summon your slime puddle minion. Fun for the whole family.
Once stepped upon, slime can be nigh on impossible to remove from the soles of boots, making the shapeless creatures a nuisance to those who mine the mountains in which slimes reside. The Encyclopedia Eorzea recommends a squeeze of sun lemon to loosen their stony grip.

Silence the slimes, lest you succumb to the flames.

—Ancient Proverb

Smallshell



Independent
Tweezer
Complete the FATE "It's Not Lupus" with a gold medal rating
Smallshell
Summon your smallshell minion. The mere sight of this wee wavekin may cause severe psychological trauma to those who spent years of their lives on faraway shores culling his relatives.
As is implied by its name, the smallshell's shell is small. What is not widely known is that unlike normal crabs whose shells grow thicker and, hence, larger as the crabs age, smallshell carapaces actually reduce in size due to erosion over the wavekin's lifespan, until nothing is left but legs.

Got naught but a sea lion's share of crab offal 'twixt them ears, I reckon.

—Ighii Moui

Spoony Bard



Obedient
Bardsong
Included with Heavensward: Final Fantasy XIV Original Soundtrack
Spoony Bard
Summon your spoony bard minion. Although there are many different accounts of what was actually said during the famous altercation, all agree on the single utterance that became his legacy.
This colorfully outfitted automaton was crafted to resemble the legendary Edward Chris von Muir. The proud descendant of a peerless bard, it was said Edward's voice could unravel the very fabric of magic. The prince of a lost kingdom, he stood against darkness in the name of love.

You spoony bard!

Steam-powered Gobwalker G-VII



Independent
Steam Cannon
Level 60★ Armorer recipe
Steam-powered Gobwalker G-VII
Summon your steam-powered gobwalker G-VII minion. Exhaust can be used to steam hams.
This tiny machine is a prototype for the newest model of steam-powered warmachina being mass-produced by the fanatical goblin academics known as the Illuminati. Over a thousand crabs were caught, studied, and subsequently devoured to perfect the current design.

Spill bladder not over unstrong firebooms of Illuminati!

—Brayflox

Storm Hatchling



Independent
Storm Cry
Bought from the Storm Quartermaster
Storm Hatchling
Summon your storm hatchling minion. Not more than a fortnight out of the shell, but his blood already runs Maelstrom red. Till sea swallows all!
Raised by a storm private from an egg found abandoned in the company stables he was charged with cleaning, this adorable fledgling is a symbol of new beginnings for the mighty Maelstrom.

Chocobo dander can be a mite ripe.

—Chocobokeep

Tender Lamb



Independent
Heart of Wool
All's Wool that Ends Wool at Heavensturn (2015)
Bought from Mog Station
Tender Lamb
Summon your tender lamb minion. Mint jelly optional.
As if predestined, your path crossed with that of the tender lamb's after she was brought to Eorzea from the dark reaches of the Far East by a hitsuji bugyo. Since then, you have been inseparable, the fluffy ball of fleece following your every footstep.

But everywhere the little lambs went, lice were sure to go.

—Chartain

Tight-beaked Parrot



Independent
Parley
Rare drop from Sastasha (Hard) final chest
Tight-beaked Parrot
Summon your tight-beaked parrot minion. For best results, summon while wearing an eyepatch.
After witnessing the horrors experienced by his former master, Captain Madison, this once-outspoken oppo has gone silent, opening its beak only when offered a handful of sardines.

Parley! Parley! Parley! Squaaawk!

—Loose-beaked Parrot

Tiny Bulb



Independent
Sow
Obtained from opening Timeworn Toadskin Map
Tiny Bulb
Summon your tiny bulb minion. Some questions, such as why this bulb can walk, are best left unanswered.
To answer the question, "why can this bulb walk," one must trace the seedkin's evolution back thousands of generations. Since this guide lacks the space to do so, let us simply say it has something to do with seeking sunlight under the eternal darkness of the Black Shroud's thick canopy.

Each sapling is another glimpse into the wonder of the world around us.

Tiny Rat



Independent
The Plague
Bought from Chachamun after completing Attack on Highbridge: Act II FATE
Tiny Rat
Summon your tiny rat minion. He may infest your granaries, and he may carry the plague, but he's simply too adorable to condemn to the life-ending jaws of a metal trap.
It was only recently that an enterprising merchant from the Sapphire Avenue Exchange in Ul'dah was tossed into the sultanate's oubliettes for fluffing the tails of rats caught on Pearl Lane and selling prettied pests to tourists as "tiny squirrels."

Pray waste no time chasing rats.

Tiny Tapir



Independent
Sleep Tight
Obtained from Field Exploration Retainer Venture
Tiny Tapir
Summon your tiny tapir minion. Natives of the New World claim that tapirs grow by devouring the dreams of their unsuspecting owners. And now you know what to expect.
Before it was realized that the tapirs were, in fact, consuming the dreams of their owners, several hundred were sold to Ul'dahn nobles seeking a better night's sleep. Surprisingly, there were few complaints from buyers, even after learning the truth.

Our dreams are what sustain us.

—Gundobald

Tiny Tatsunoko



Independent
Trapdoor
Spearfished in the Ruby Sea
Tiny Tatsunoko
Summon your tiny tatsunoko minion. If the Hingan word for seahorse is tatsunoko, would that make this a sea pony? Your little sea pony?
A single ilm to the right or left and this cute creature would have been kebab. Fate, however, intervened, and now the wavekin follows its would-be transfixer─the tiny tyke having taken quite well to the upper world's drier climes.

His tiny minions won't stand a chance!

—Haermaga

Tiny Tortoise



Independent
Baby Stomp
Fished from The Salt Strand using Floating Minnow, Northern Krill, or Yumizuno
Tiny Tortoise
Summon your tiny tortoise minion. Will not carry you to an underwater kingdom if you ride on its back.
Hatched from an egg laid in the ivory sands of La Noscea's Salt Strand, if lucky, this baby adamantoise may live to see as many as ten score summers...that is, if it does not accidentally launch itself off a cliff with its constant spinning.

What is that foul stench!? It's like the inside of an adamantoise's arse!

—Wood Wailer Sentry

Tomato King



Independent
Killer Attack
Gardening Tomato King seeds
Tomato King
Summon your Tomato King minion. Has issued a royal decree for the public defenestration of any and all who mistakenly claim the king is a vegetable.
After the flames of the Calamity rendered Lord Tomato a king without a kingdom, the ruby red regent packed up his seeds and set out on a journey to find a new land to rule. He currently roams the realm recruiting any taproot, tuber, or corm who will follow his standard.

It is apparently a rogue, outcast from its kin, a stranger in a strange land.

—Tomaj

Tora-jiro



Independent
Eye of the Tora
Bought from Estrild or Leuekin using Centurio Seals
Tora-jiro
Summon your Tora-jiro minion. His name suggests that this tiny tiger cub has an older brother. His parents deny everything.
Being saved by the selfsame hunter who brutally slayed your family for a sack of coin and a punny title can be awkward for a growing tiger pup. On one hand, he brutally slayed your family. On the other, he provides you bowls of rich, tasty cream.

It has been too long since I last dined on tiger.

—Masatsuchi

Toy Alexander



Independent
Rise Up
Dropped from Alexander - The Soul of the Creator.
Toy Alexander
Summon your toy Alexander minion. A special something for all good Illuminati gobs and girls.
At first dismissed as a quaint oddity, it has recently been discovered that the Illuminati use this fully functional replica of the primal Alexander to educate young goblins in the fields of metallurgy and engineering.

From what I understand, this "Alexander" was active for no more than a few seconds.

Treasure Box



Independent
Leaden Lid
Bought from Grand Company Hunt vendor for 440 Allied Seals
Treasure Box
Summon your treasure box minion. It is unknown what manner of spirit possesses this tiny treasure chest, but the fact that it will not hesitate to nip at the fingers of any who try and pry it open is painfully evident.
Originally used by an Eorzean Alliance paymaster to store Allied Seals...until the box began eating them. She sold the box in hopes of recouping some of her losses (skimming off adventurer rewards to cover the rest...until she was caught and sentenced to a public flogging).

A pirate don't abandon 'is treasures!

—Ahtzapfyn

Ugly Duckling



Independent
Miserable Company
Randomly dropped from Neverreap Final Chest
Ugly Duckling
Summon your ugly duckling minion. Will he turn into a graceful swan? Inquiring minds want to know.
After suffering countless barbs from his bullying brothers, this tiny cloudkin had enough and left its home in Neverreap to find someplace he'd be called beautiful, too.

Hiss at me, he did; fierce as goose, he was.

—Jezul Ahuatan

Unicolt



Independent
Alicorn
Randomly dropped from The Vault Final Chest
Unicolt
Summon your unicolt minion. Because two horns are not always better than one.
Symbols of purity and innocence, newborn unicorns are kept by the Ishgardian church to create holy water used in sacred rites─a process that involves the creatures dipping their horns in spring water while a sanctified priest blesses it.

Four-legged and tall, with a pristine white coat and a single horn protruding from its brow!

—Braya

USApyon



Independent
Bunny Beam
Bought for a varying amount of Yo-kai Medals at Yo-kai Watch (2016)
USApyon
Summon your USApyon minion. A Yo-kai who aims for the moon.
A Yo-kai from across the sea, USApyon hopes to someday venture into space. He uses Vader mode when he is angry.

Shoot!

Venoct



Independent
Octo Snake
Bought for a varying amount of Yo-kai Medals at Yo-kai Watch (2016)
Venoct
Summon your Venoct minion. All of his abilities are truly first class.
An elite Yo-kai who fights with his dragon scarf.

Hmph...!

Water Imp



Independent
Waterline
Bought from Gold Saucer Attendant (Prize Claim)
Water Imp
Summon your water imp minion. Legend states these strange creatures can only survive on land as long as the plate atop their heads remains wet.
Even a child knows that there are no such things as water imps...but if that is true, then what in the world could this undeniably imp-like creature be? An undocumented species of gigantoad/salamander hybrid? Or perhaps simply the hapless victim of a misdirected Imp spell?

Not more imps! They'll have all our honey!

—Befuddled Beekeeper

Wayward Hatchling



Independent
Choco Shuffle
Bought from Bango Zango in Limsa Lominsa, Roarich in Ul'dah, or Maisenta in New Gridania
Wayward Hatchling
Summon your wayward hatchling minion. Until he finds his real mother, you'll have to suffice.
Even if this orphaned avian were to stumble across his birth parent, chances are he would not even blink an eye, for it is well documented that immediately after hatching, chocobos recognize the first thing they see as their mother─that being you.

Whoa, whoa, whoa! Hooold your chocobos.

—Buscarron

Whisper



Independent
Blabbermouth
Bought for a varying amount of Yo-kai Medals at Yo-kai Watch (2016)
Whisper
Summon your Whisper minion. Your very own Yo-kai butler, at your service.
A self-proclaimed "Yo-kai butler." With the way he talks, you would think him a know-it-all, but he is really a know-nothing.

Hold onto your butler!

Wide-eyed Fawn



Independent
Dilation
Bought from Auriana at Mor Dhona for Allagan Tomestones of Poetics
Wide-eyed Fawn
Summon your wide-eyed fawn minion. His mother was either lost in a terrible hunting accident...or perhaps is just lost.
An easy target for Eorzea's carnivorous fauna, antelopes must use every advantage they have to remain free from death's dripping jaws. One of those is the remarkable ability to run mere minutes from birth. Unfortunately, that trait did not save this specimen from capture.

When making an offering of antelope innards, it is proper they are still warm.

—Common Knowledge

Wind-up Airship



Obedient
Cargo
The Gridanian Envoy, The Lominsan Envoy, or The Ul'dahn Envoy
Wind-up Airship
Summon your wind-up airship minion. A fully operational model of the legendary vessel, the Invincible.
Despite it being the first, and most ambitious undertaking by Highwind Skyways founder Tatanora, the Invincible actually never took flight─its ten-year construction period plagued by accidents, material shortages, sabotage, and outright incompetence.

Up in the sky, look! It's a bird─ No, it's an airship─ No! It's the inspector!

—Nashu Mhakaracca

Wind-up Aldgoat



Obedient
Mouton
Level 50 Weaver recipe
Wind-up Aldgoat
Summon your wind-up aldgoat minion. No aldgoats were harmed in the making of this automaton.
While in Ishgardian folklore the aldgoat is used to represent greed and gluttony, the Dunesfolk believe the insatiable creatures are a symbol of wealth and prosperity, and will present aldgoat fetishes to families with newborn children.

A nice big aldgoat steak should put some color back in 'er cheeks.

—Lyngsath

Wind-up Alisaie



Obedient
Futures Past
Bought from Mog Station
Wind-up Alisaie
Summon your wind-up Alisaie minion. For those who believe the better half deserves more time in the spotlight.
In an attempt to cover the financial losses suffered when creating three score thousand wind-up Alphinauds, the Crystal Braves treasurer took it upon himself to simply swap the mammet's hair bows and rebrand the dolls as wind-up Alisaies.

For the future of Eorzea!

—Alisaie (and Alphinaud)

Wind-up Alphinaud



Obedient
Operation Archon
In Search of Iceheart
Wind-up Alphinaud
Summon your wind-up Alphinaud minion. Perfect for international summits, family get-togethers, pre- or post-battle gatherings, or any other occasion where the recapitulation of past occurrences is absolutely, positively necessary.
In an attempt to secure funding for the financially strapped organization, the Crystal Braves treasurer took it upon himself to have three score thousand crafted and delivered to Rowena's House of Splendors for sale... where they have been collecting dust since...

Coming from an influential family certainly has its advantages!

—Wedge

Wind-up Amalj'aa



Obedient
Harder and Stronger
Bought from Amalj'aa Vendor
Wind-up Amalj'aa
Summon your wind-up Amalj'aa minion. What is burnt may never burn, but rises again, harder and stronger.
Amalj'aa blacksmith Narujj Boh of the Brotherhood of Ash began dabbling in clockwork after rescuing the mammet minion of an adventurer slain near his forges. This particular sample is the product of moons of meticulous calculations made to reproduce the telltale Amalj'aa tail sway.

My people are the Amalj'aa, proud and strong.

—Loonh Gah

Wind-up Aymeric



Independent
True Blue
Litany of Peace
Wind-up Aymeric
Summon your wind-up Aymeric minion. His many obligations prevent him from accompanying you on your journeys, but hopefully this dutiful substitute will suffice.
Noting the popularity of other clockwork leaders, the Temple Knights attempted to make one of their own beloved commander. The face was so far-removed from the true Aymeric's handsome mien, however, that one of the knights' wives volunteered to sew a new one from scratch.

A divided Ishgard will not survive.

Wind-up Bahamut



Independent
Fizzle Flare
Included with Final Fantasy XIV: A Realm Reborn Original Soundtrack
Wind-up Bahamut
Summon your wind-up Bahamut minion. This mysterious being emerged from within a broken wind-up Dalamud, and is nigh inseparable from its former prison.
Despite strict orders from the Goldsmiths' Guild to never open up the Dalamud minion under any circumstances, someone decided to unleash their inner Pandora and release the terrors hidden within─a wind-up Bahamut...which no one from the guild recalls creating!

Bahamut can't live on good wishes and a smile, so why should I?

—Flame Private

Wind-up Bartz



Independent
Boko Bump
Included with Final Fantasy XIV: Stormblood Collector's Edition
Wind-up Bartz
Summon you wind-up Bartz minion. I like small Bartz and I cannot lie.
The legend of Bartz and his trusty chocobo steed Boko is known far and wide, their journeys inspiring entire generations to adventure. Though, disagreement as to the appropriate spelling of the carefree youth's name has led to many a hurt butz.

Since last we spoke, I've spent every spare moment at the butts.

—Barthovieu

Wind-up Bismarck



Obedient
Bubble Puff
Level 60 ★ Weaver recipe
Wind-up Bismarck
Summon your wind-up Bismarck minion. The hairiest whale you will see this fortnight.
Seeing Limsa Lominsa crawling with wind-up Ifrits, Titans, Ramuhs, even Ravanas, the Bismarck proprietor wondered why there were still no automatons designed in the likeness of his establishment's namesake, and so commissioned one made.

The Bismarck is as good as mine.

—H'mhasitia

Wind-up Brickman



Independent
Charge Up
Breaking Brick Mountains during Breaking Brick Mountains (2014)
Wind-up Brickman
Summon your wind-up brickman minion. The brickman gets up and looks over as if it wants to join the party!
One unexpected side effect of the Calamity has been the significant increase in aetherial rifts appearing throughout the realm. As a result, strange creatures not of this world have been popping in and out of existence without warning─ one of those being the bizarre brickman.

Can ye smell it? 'Tis the scent o' profit, my friend!

—Beefy Businessman

Wind-up Calofisteri



Obedient
Split End
Random drop from The Weeping City of Mhach final chest
Wind-up Calofisteri
Summon your wind-up Calofisteri minion. She seems so peaceful. Why don't you keep her with you...FOR ALL ETERNITY!
This clockwork creation is similar to others made by a deranged Gridanian goldsmith, whose body went missing after he was executed for conjuring the dark arts. Found in the remnants of the city of Mhach, an explorer swore he could hear cackling from behind the crumbling walls.

By the blood of voidsent have I ascended to the sublime...

—Calofisteri

Wind-up Cheerleader



Independent
Rallying Cheer
Bought from Storm Sergeant (Materia Provisioner)
Wind-up Cheerleader
Summon your wind-up cheerleader minion. Oh, I think that you've found yourself a cheerleader.
Commissioned by officers stationed in the Wolves' Den, the cheerleader was designed to enkindle the spirits of the arena's competitors. Some have noticed, however, that if a match begins to stagnate, her chants devolve from little lady cheers into Lominsan sailor jeers.

Oh, do cheer up. Better to die once than live ever in shame.

—Hunt Billmaster

Wind-up Chimera



Obedient
Night Terror
???
Wind-up Chimera
Summon your wind-up chimera minion. Crafted by piecing together the remnants of unsold automatons.
It is hard to imagine anyone taking pleasure in creating to-scale replicas of the very abominations that contributed to the end of an entire civilization. Then again, it is so utterly adorable.

That chimera must be his latest prize.

—Hildibran

Wind-up Cid



Obedient
Magitrap
A Difference of Opinion
Wind-up Cid
Summon your wind-up Cid minion. When asked, if he had a granddaughter, what would he like to see her named, the Ironworks founder replied, "Gertrude."
When faced with a lack of coin to fund projects, Garlond Ironworks engineers designed the wind-up Cid, with hopes that sales of the automaton would fill their coffers. Indeed, sales have been impressive, the item bringing in just enough gil to pay for the founder's debts.

Run, Cid. Or stay. It makes no matter. You cannot escape the past.

Wind-up Cursor



Obedient
The Finger
Rank 1 - 30 Days Subscription Veteran Reward
Wind-up Cursor
Summon your wind-up cursor minion. Modeled after the ivory glove of Oschon, the Wanderer, does this clockwork hand follow you...or guide you?
If we are to believe the slurred ravings of a self-proclaimed goblin theologian deep in his cups, this seemingly inconspicuous white glove is actually the "Hand of Fate" by which all of us are controlled from a dimension beyond the aether.

I trust ye had enough fingers to help ye through the tallyin'.

—Yulgi Honalgi

Wind-up Dalamud



Obedient
Disable Limiter
Included with Before Meteor soundtrack
Wind-up Dalamud
Summon your wind-up Dalamud minion. Do not attempt to pry open under any circumstances.
After Dalamud's fall, a wealthy Ul'dahn noble commissioned a famous troupe of musicians to write a dirge for the heroes of Carteneau and play it across Eorzea so that the deeds of the fallen would not be forgotten. This wind-up model of the red moon has naught to do with the dirge.

The lifeblood spilled in Dalamud's name shall be blessed upon his return.

—Foxe

Wind-up Delivery Moogle



Obedient
Chain Letter
Included with Delivery Moogle Plushie from Square Enix Online Store
Wind-up Delivery Moogle
Summon your wind-up delivery moogle minion. For when you absolutely, positively require moogle accompaniment.
The never-ending flow of adventurers into Eorzea has placed quite a burden on the realm's little letter carriers. To help lighten their load, several acolytes at the Goldsmiths' Guild volunteered their time to create a veritable army of miniature mail moogles.

Behold, for I shall now perform for you the moogle dance of inimitable integrity!

—Delivery Moogle

Wind-up Dezul Qualan



Obedient
Fly Like the Wind
Bought from Ixali Vendor
Wind-up Dezul Qualan
Summon your wind-up Dezul Qualan minion. It is said Ixali engineer Dezul Qualan began crafting war dirigibles after having a vision of ninety-nine red balloons floating over the Black Shroud.
The last time Ixali engineer Dezul Qualan was seen was the day he boarded his greatest creation─a war balloon thrice the size of any ever built, and equipped with enough provisions to last a man a full moon in the clouds. His destination: the floating continent of Ayatlan.

Soar once again, we shall. Within Dezul Qualan, our salvation lies!

—Sezul Totoloc

Wind-up Dragonet



Obedient
Dragon Puff
Bought from Mogmul Mogbelly
Wind-up Dragonet
Summon your wind-up dragonet minion. For the adventurer who has always longed to be a mother of dragons.
After learning of Ishgardian artistry, the Moghome moogles' first endeavor was to create a wind-up automaton similar. A plucky dragonet named Kal Myhk volunteered to serve as the model, and even offered some of his scales to provide it a more lifelike texture.

Mother asks that I hunt, but I have never dared to hunt alone.

—Kal Myhk

Wind-up Dullahan



Obedient
Wandering Armor
Level 50 Armorer recipe
Wind-up Dullahan
Summon your wind-up dullahan minion. Warning: may contain sharp parts.
Some dullahans are believed to be shapeless entities who must first inhabit an inanimate host (such as a suit of armor) before gaining the ability to exert force upon the corporeal plane. Luckily, the only things inhabiting this wind-up contraption are manifold gears and rods.

Pray retrieve the gift ere it is crushed beneath the iron feet of the dullahans!

—G'raha Tia

Wind-up Echidna



Obedient
Death Knell
Random drop from The Void Ark final chest
Wind-up Echidna
Summon your wind-up Echidna minion. A remarkably lifelike recreation of the shape-shifting seductress. Perhaps a tad too lifelike...
Possibly one of countless clockwork servitors crafted by a Gridanian goldsmith whose body went missing after being hanged for the crime of ritual summoning. Upon the doll's back is carved the following: "And in the endless darkness I found her. Or was it she found me?"

Advances in Mhachi sorcery were made for one reason only: cataclysmic destructive power.

Wind-up Edda



Obedient
Dead Weight
Random reward from The Palace of the Dead
Wind-up Edda
Summon your wind-up Edda minion. Because true love never dies.
While not confirmed, it is thought this eerily lifelike replica of Edda Blackbosom was created by a former companion of the now-deceased(?) adventurer. Those who have possessed the dark fetish assert that its hair grows at night when no one is looking.

Edda, you're so slow, you'd lose a footrace to a tree slug.

—Liavinne

Wind-up Edvya



Obedient
Curious Crafting Craze
A Real Peach at Little Ladies' Day (2014)
Wind-up Edvya
Summon your wind-up Edvya minion. Sometimes moonlights as a miller girl, much to her father the sultan's chagrin.
Forty years after the founding of the Thorne Dynasty, Sultan Baldric Thorne was blessed by the gods with a single daughter, Edvya, whom he loved fiercely. The history surrounding the two, now known as the "Legend of the Lost Lady" gave rise to the festival of Little Ladies' Day.

Did Princess Edvya concern herself with glory and riches? I think not!

—Gossiping Girl

Wind-up Estinien



Obedient
Super Jump
Reward from Wondrous Tails
Wind-up Estinien
Summon your wind-up Estinien minion. Absolutely, positively not possessed by an evil dragon bent on ridding the world of mankind.
It is said the creators of this lifelike replica spent several days quarreling over what color to paint the now-infamous dragoon's armor─blue or red. After consultation with Vault officials, the decision was made to proceed with the former.

Wind-up Exdeath



Obedient
Power of the Void
Dropped from Deltascape V4.0
Wind-up Exdeath
Summon your wind-up Exdeath minion. Most maniacal tree beings bent on world domination are usually not intimidated by turtles. This one is.
Retrieved in the Deltascape, this full-metal automaton is a recreation of a terrible villain appearing in ancient legend. While its scintillant blue armor suggests the figure is a knight, Exdeath was believed to be a powerful warlock born from a tree.

Death is but the blissful terminus of the lives of the weak.

—Nhazaa Jaab

Wind-up Firion



Obedient
Name of the Rose
Rank 12 - 960 Days Subscription Veteran Reward
Wind-up Firion
Summon your wind-up Firion minion. Free is a very good price.
The craftsmanship used in creating this clockwork automaton is far more impressive than anything you have ever seen...which poses the question: why would anyone part with the doll without asking anything in return?

I can't believe he's just giving them away free of charge, kupo!

—Mogzun

Wind-up Founder



Obedient
Undefeated
Bought from Amalj'aa Vendor
Wind-up Founder
Summon your wind-up founder minion. Four score and many more years ago, the Amalj'aa founding fathers dreamed of a day when in their footsteps would walk adorable minions. That day has finally come.
Amalj'aa legend tells of Whiteknuckle Kerigg Roh─undefeated on the battlefield, he is a hero to many, including Warleader Hamujj Gah. The champion is also father of the brawling style of martial arts utilized by the beast tribe to this day.

Do you know, honored ally, what is most distasteful to the Amalj'aa?

—Narujj Boh

Wind-up Garuda



Obedient
Airy Blast
Level 60★ Weaver Recipe
Wind-up Garuda
Summon your wind-up Garuda minion. Hopefully she will not HEEHEE haha HEEE!!! too loudly in your ear.
Understandably, many in Gridania opposed the manufacture of an automaton depicting the Ixal's chosen primal. However, since the publication of an article in The Raven espousing the puppet's efficacy as a good luck charm, production can barely keep up with demand.

Heehee HAHA hahaha HEEHEE haha HEEEEEE!!!

Wind-up Gentleman



Obedient
Power of Deduction
Her Last Vow
Wind-up Gentleman
Summon your wind-up gentleman minion. If "clockwork Hildibrand" doesn't quite roll off the tongue, both "minion of enquiry" and "mammet extraordinaire" are acceptable alternatives.
Though he has once more taken to the heavens in a selfless act of sacrifice, Inspector Hildibrand lives on in the hearts of all whose lives he touched with his inimitable brand of gallantry, perception, and panache. Wind him up and let him follow you as only a Manderville can.

I have peeled away the foul scab of uncertainty to reveal the truth within!

—Hildibrand

Wind-up Gilgamesh



Obedient
Bitter End
Rank 8 - 540 Days Subscription Veteran Reward
Wind-up Gilgamesh
Summon your wind-up Gilgamesh minion. Several arms appear to be missing, but that does not seem to otherwise hinder basic functionality.
The masterwork of one of Eorzea's finest goldsmiths, this wind-up automaton, designed to resemble a close acquaintance of the smith's son, was pieced together using parts left over from other projects─his only regret being that he was unable to incorporate hip-gyrating functionality.

For Gilgamesh... It is embiggening time!

Wind-up Gnath



Obedient
Carapace
Bought from Vath Stickpeddler
Wind-up Gnath
Summon your wind-up Gnath minion. <click> <click> He will obey.
The designer of this automaton chose to convey the Gnath's utter devotion to the Onemind through its facial expression, and went to great efforts to craft a countenance that conveyed a lack of individuality. However, for most, the color of its clothing says enough.

Return to the colony. Rejoin. Repent.

—The Overmind

Wind-up Goblin



Obedient
Gobjammer
Rank 7 - 450 Days Subscription Veteran Reward
Wind-up Goblin
Summon your wind-up goblin minion. Even this automaton's gobbiebag is bigger than yours.
Designed to resemble goblin hero Brayflox Alltalks, you cannot help but wonder at the symbol carved into the sole of its left foot─the mark of the dreaded Illuminati.

Illuminati brainfruit is frontmost!

—Illuminati Member

Wind-up Gosetsu



Obedient
Iai
A Reoccurring Bug during The Rising (2017)
Wind-up Gosetsu
Summon your wind-up Gosetsu minion. Wanted by the Empire...and good little boys and girls across Othard.
Crafted to honor Gosetsu─hero and leader of the oppressed peoples of Far Eastern Doma─this miniature replica is faithful down to the blademaster's sword, Samonji.

Notorious fugitive wanted dead or alive by the Empire!

Wind-up Gundu Warrior



Obedient
Sunrise Dance
Bought from Luna Vanu
Wind-up Gundu Warrior
Summon your wind-up Gundu warrior minion. He weighs far less than he appears.
Created by a Gundu shaman using techniques similar to those employed to craft battle totems, this animated doll contains no wheels or gears, but is rather propelled by an ancient Gundu enchantment known only to a handful of village elders.

Like breeze guides leaves to rest, come and lay down your burdens, netherlings!

—Lonu Vanu

Wind-up Haurchefant



Obedient
E
As Goes Light, So Goes Darkness
Wind-up Haurchefant
Summon your wind-up Haurchefant minion. What isn't dead (or is recreated in a goldsmith's workshop) can never die.
Crafted by the first son of House Haillenarte to honor the passing of one of House Fortemps's greatest knights, this miniature replica of the great Haurchefant Greystone only begins to tell the tale of a man who devoted his life to the service of his nation and his friends.

Lord Haurchefant is, from all indications, quite fond of you.

—Discomposed Cataloger

Wind-up Hraesvelgr



Obedient
Holy Covenant
Included with Heavensward - The Scars of War
Wind-up Hraesvelgr
Summon your wind-up Hraesvelgr minion. Comes complete with overhead nameplate to help with spelling.
An uncanny attention to detail has been paid in the creation of this automaton, commissioned to help Ishgardians remember a time when hate did not rule the hearts of man and dragon. This is especially true of Hraesvelgr's eyes in which can be seen both love and sadness.

I somehow doubt that Hraesvelgr will be pleased to see us.

—Alphinaud

Wind-up Iceheart



Obedient
Dreams of Ice
A World Away during The Rising (2015)
Wind-up Iceheart
Summon your wind-up Iceheart minion. Too hot to handle, too cold to hold.
The brainchild of one of Lady Iceheart's fanatical followers, this lifelike automaton was to be sold in Ishgardian toy shoppes under the name "Ice Princess" with hopes of secretly indoctrinating young children in the ways of the heretics.

Whether it takes days, weeks, moons, or even years, my knights will find her.

—Aymeric

Wind-up Ifrit



Obedient
Hellfire
Level 60★ Weaver recipe
Wind-up Ifrit
Summon your wind-up Ifrit minion. It doesn't bleed. You cannot kill it. (But you may discard it at your leisure.)
To celebrate your slaying of the fell primal, the Weavers' Guild crafted scores of these lifelike replicas which were, much to the chagrin of Ul'dah's youth, immediately snatched up by wealthy collectors and locked away for no one to see.

Ifrit's fiery piss! Just how many of these damned rogues are there!?

—Quimperain

Wind-up Illuminatus



Obedient
Birdlime
Level 60★ Weaver recipe
Wind-up Illuminatus
Summon your wind-up Illuminatus minion. Comes complete with two hands, both blue as an Illuminati baby's bum.
Originally conceived by Illuminati machinists as a means of displaying their society's scientific superiority, the schematics for this automaton were stolen along with the secret recipe for goblin cheese during Brayflox's now legendary raid of an Illuminati stronghold.

Illuminati can never be trusted.

—Backrix

Wind-up Ixal



Obedient
All for Nine
Bought from Ixali Vendor
Wind-up Ixal
Summon your wind-up Ixal minion. He believes he can fly. He believes he can touch the sky. Unfortunately he cannot.
Using a mammet obtained from the Goldsmiths' Guild by the ever-resourceful Tataramu, members of the Ehcatl Nine have succeeded in creating an automaton of their own...who also happens to be as grounded as their brethren.

I heard a Wood Wailer telling Mummy that an Ixal teared his face off.

—Gridanian Child

Wind-up Kain



Obedient
Dragoon's Might
Included with Heavensward Collector's Edition
Wind-up Kain
Summon your wind-up Kain minion. A few moments may be needed to allow him to regain control of himself.
The tale of Kain─the dragoon who abandoned his duty for honor─is well known amongst Ishgardian children. To maximize the height on his jumps, the craftsman of this clockwork automaton lined the main control springs with over-aspected wind crystals.

It's all right. I...I'm back in control of myself.

Wind-up Khloe



Obedient
Wondrous Tale
Reward from Wondrous Tails
Wind-up Khloe
Summon your wind-up Khloe minion. Because there is nothing wrong with a fully automated mechanical reconstruction of a young girl of ten summers.
Ever since she began receiving them on her doorstep─one a day, every day, without fail─Khloe Aliapoh can't help but think there is something seriously wrong with whoever is sending her these disturbingly lifelike automatons.

This will make Khloe's best friend so happy!

Wind-up Kobold



Obedient
Adulation
Bought from Kobold Vendor
Wind-up Kobold
Summon your wind-up kobold minion. With you, she will koboldly go where no kobold has gone before.
Another of 789th Order Acolyte Ba Go's masterpieces, this cuddly kobold miniature in fact houses several onzes of highly flammable firesand, designed to ignite when outward pressure is applied...such as with a tender hug.

Honestly, I will never understand the kobolds' sense of aesthetics.

—R'ashaht

Wind-up Kobolder



Obedient
Untested Prototype
Bought from Kobold Vendor
Wind-up Kobolder
Summon your wind-up kobolder minion. Bolder than a wind-up kobold, yet not any older.
Unsatisfied with the explosive power of his first creation, 789th Order Acolyte Ba Go returned to his laboratories deep within the faction dig to create the "kobolder" (a name he was quite pleased with), only to see it sold for scrap by his dim-witted brethren.

Doings of small minds and grubby hands are of no interest to Ba Go.

—Acolyte Ba Go

Wind-up Krile



Obedient
Rejoinder
After the Curtain Falls during The Rising (2016)
Wind-up Krile
Summon your wind-up Krile minion. She is terribly, terribly sorry to have kept you waiting.
This clockwork contraption has been crafted at the behest of the Adventurers' Guild in celebration of the Rising, Eorzea's annual celebration of rebirth. The enormous feline ears attached to her hood are thought to represent Krile's ability to hear the whispers of the soul.

Would you care to attempt a more dextrous deflection?

Wind-up Lakshmi



Obedient
Peck on the Cheek
Level 70★ Weaver recipe
Wind-up Lakshmi
Summon your wind-up Lakshmi minion. Your, your, your serpentine.
Created to epitomize Lakshmi's flawless beauty, a certain minstrel prone to wandering flippantly deemed it "not to his liking," ultimately driving the original craftsman to take his own life, and leaving his apprentice to hastily touch up the features.

There isss naught She would not give.

—Sarisha

Wind-up Leader



Obedient
Claustrum*

Kan-E-Senna


Annihilator*

Merlwyb


Tizona*

Raubahn

Rank 5 - 270 Days Subscription Veteran Reward
Wind-up Leader
Summon your wind-up leader minion, who will follow you unquestioningly─for coin and country; for serenity, purity, sanctity─till sea swallows all.*The minion summoned will vary depending on your Grand Company allegiance.
This minion can only be summoned when enlisted in a Grand Company.
Originally crafted to promote the Grand Companies of Eorzea, these clockwork dolls are often rewarded to company members for exceptional service. There are three models of wind-up leaders, one to represent each of the three heads of Limsa Lominsa, Gridania, and Ul'dah.

The leaders of Eorzea had lost their way─I merely helped them find it again.

—Minfilia

Wind-up Leviathan



Obedient
Leviath
Level 60★ Weaver Recipe
Wind-up Leviathan
Summon your wind-up Leviathan minion. Your flesh cannot feed this minion of the deep.
Following the release of their wind-up Titan, the Weavers' Guild once again approached Trachtoum for consultation─a task to which he eagerly "rose," providing the guild with a crude sketch of a certain body part he insists is identical in length and girth to "the" Leviathan.

Leviathan's scaly arse!

—Wilfalk

Wind-up Louisoix



Obedient
Flames of Rebirth
Out of a Bind I Achievement
Wind-up Louisoix
Summon your wind-up Louisoix minion. The Seventh Astral Era is secure as long as the Archon is ever at our sides.
When asked why the Goldsmiths' Guild began manufacture of the wind-up delivery moogles before even drawing up designs for their wind-up Louisoix─the single greatest hero in the history of history─Guildmaster Serendipity replied, "Moogles are cuter."

I swear by Louisoix's beard, I'll tear the skin from his─

—Geva

Wind-up Lulu



Obedient
Black Magicks
Tokyo Fan Fest 2016 bonus code
Wind-up Lulu
Summon your wind-up Lulu minion. "Magic has no limits." Nor does the list of exciting things you can do with this automaton.
Peoples of the Far East tell the tale of a powerful mage and master of puppets who would rain destruction down on any that might harm her companions as they made their journey to save the world. Her name was Lulu...

Let's see how tough you are.

Wind-up Lyse



Obedient
Final Heaven
A Reoccurring Bug during The Rising (2017)
Wind-up Lyse
Summon your wind-up Lyse minion. Most certainly not a repurposed wind-up Yda.
Tataru's choice of raiment for this lifelike recreation of Ala Mhigo's newest heroine was, by no means, made with the sole intention of confusing the public into believing Lyse was a dancer by profession. Honest.

It was brave of Lyse to remove her mask after so long...

—Alphinaud

Wind-up Meateater



Obedient
Tiny Intuition
Bought from Estrild or Leuekin using Centurio Seals
Wind-up Meateater
Summon your wind-up meateater minion. Watch out boys, he'll (literally) chew you up.
This fully functioning automaton was discovered in the pack of a Qiqirn bandit slain on the Hunt. Why a Qiqirn was carrying a copy of itself on its person is a question you could ask yourself, but as they say, "ignorance is bliss."

Empty bellies send blood aboiling!

—Qiqirn Bandit

Wind-up Minfilia



Obedient
Hello Hell
Bought from the Rising Vendor at The Rising (2014)
Bought from Mog Station
Wind-up Minfilia
Summon your wind-up Minfilia minion. Unlike the real Minfilia, this one actually accompanies you on your adventures.
This clockwork automaton has been crafted at the behest of the Adventurer's Guild in celebration of the Rising, Eorzea's annual celebration of rebirth. All linkshell privileges have been revoked so one not need dread incessant calls in the small hours of the night.

...Hello? Hello? Can you hear me? It is I, Minfilia.

—Minfilia

Wind-up Moenbryda



Obedient
Dual Haken
An Ending to Mark a New Beginning
Wind-up Moenbryda
Summon your wind-up Moenbryda minion. Destined to die a hero...and live on as a mechanized servitor.
This anatomically accurate representation of Moenbryda was secretly crafted by none other than Urianger immediately following the untimely passing of his beloved companion. What he did with it before it passed to your hands is a tale best left untold.

I shall allow no foe to harm the lovely Moenbryda.

—Thancred

Wind-up Moogle



Obedient
Morose Mogdance
Included with A Realm Reborn Collector's Edition
Bought from Mog Station
Wind-up Moogle
Summon your wind-up moogle minion. With its button nose and fluffy pom, this clockwork moogle will make you the envy of all your friends.
A creation born of 90% love and 10% jealousy (or was that 90% jealousy and 10% love?), this clockwork masterpiece was conceived after the moogles of the Black Shroud began noticing all the adventurers with their new shiny minions, and decided they were not about to be left out.

What the moogles lack in grace, they amply make up for in wit.

—Jehantel

Wind-up Moon



Stationary
Moonlight
Trade 1 Hi-Elixir to the Magic Pot on Western La Noscea#The Isles of UmbraThe Isles of Umbra
Wind-up Moon
Summon your wind-up moon minion. /poke to adjust elevation. /point to inform others of its location. /blowkiss to get strange looks from passersby.
Following a report that excessive exposure to the bright light emitted by wind-up suns may be causing the very blemishes that Ul'dahn mesdames thought to hide, demand for a less-radiant alternative skyrocketed, ultimately giving rise to the wind-up moon.

"I am but the moon which reflects his radiance."

—Lebrassoir

Wind-up Namazu



Obedient
Catty Cunning
Obtained from opening Timeworn Gazelleskin Map
Wind-up Namazu
Summon your wind-up Namazu minion. Half cat. Half fish. All fish.
Not too many summers past, there wasn't a house in all Radz-at-Han that didn't echo with the pitter-patter of Hingan-made wind-up Namazu dolls, their misplaced eyes and bewhiskered lips the source of much mirth in the Near Eastern nation.

He's not heavy, but gods, the smell...

—Lyse

Wind-up Nanamo



Obedient
Bloodline
Rank 9 - 630 Days Subscription Veteran Reward
Wind-up Nanamo
Summon your wind-up Nanamo minion. She vehemently refuses to sit upon any shoulder but Raubahn's...and yours.
This clockwork doll is a reproduction of a model first crafted in the year of the Calamity to celebrate the tenth anniversary of Nanamo Ul Namo's ascendance to the Ul'dahn throne. Seventeenth in her line, the sultana was crowned when she had seen but five summers.

Take me, Raubahn... I am your sultana... <snore>

—Slumbering Lalafell

Wind-up Nero tol Scaeva



Obedient
Reverse Engineering
Bought from Gold Saucer Attendant (Prize Claim)
Wind-up Nero tol Scaeva
Summon your wind-up Nero tol Scaeva minion. Better engineered than the wind-up Cid. In every way.
This automaton incorporates a special mechanism that allows it to grip its weapon more effectively. This revolutionary innovation puts it above any wind-up toy currently in production, especially those crafted by the Garlond Ironworks.

If it were up to me, I'd lock him up and throw the key into Silvertear Lake.

—Biggs

Wind-up Nidhogg



Obedient
Dragonsong
Included with The Far Edge of Fate: Original Soundtrack
Wind-up Nidhogg
Summon your wind-up Nidhogg minion. Now with more eyes.
An enemy of the Holy See for over a thousand years, it is difficult for the people of Ishgard to not experience feelings of intense loathing when setting their eyes upon this harmless replica.

Eternal is a dragon's rage, Dread Nidhogg's wrath did span an age.

—The Wandering Minstrel

Wind-up Odin



Obedient
Non-tetsuken
Rank 6 - 360 Days Subscription Veteran Reward
Wind-up Odin
Summon your wind-up Odin minion. Guaranteed not to wipe out your entire party in one fell stroke.
Many have pondered why a Dark Divinity with roots in northern mythology would wield a blade with a decidedly Far Eastern name. A popular theory is that Odin acquired the blade upon slaying an Auri warrior who was the first ever to notch his thereto- fore unsullied plate.

If Odin is truly come to the Shroud, time is not on our side.

—Lewin

Wind-up Ohl Deeh



Obedient
Mischief
Bought from Mogmul Mogbelly
Wind-up Ohl Deeh
Summon your wind-up Ohl Deeh minion. 100% less subject to violent mood swings than its living counterpart.
This remarkably true-to-life replica of his bosom buddy Ohl Deeh was carefully handcrafted by Master Mogzin not as an expression of his undying friendship, but "to scare his wits all the way to Weston Waters."

Ohl Deeh, I was made to believe you could hurl boulders through the skies with but a flick of your powerful claws.

—Tarresson

Wind-up Onion Knight



Obedient
Onion Skin
Rare drop from Syrcus Tower final chest.
Wind-up Onion Knight
Summon your magic wind-up onion knight minion. An accurate representation of the soldiers who once made up the greater portion of the Allagan Imperial Army.
If Sons of Saint Coinach anthropogeographer Rammbroes is to be believed, towards the end of their civilization, the Allagans began using automata such as this to fight their wars (which had been deemed inhumane, yet ultimately necessary to spread imperial peace).

Wind-up Papalymo



Obedient
Sparkler
Bought from Mog Station
Wind-up Papalymo
Summon your wind-up Papalymo minion. Comes complete with irremovable smirk.
After a clerical error resulted in a sizable windfall for the organization, Scions of the Seventh Dawn coinkeeper Tataru took it upon herself to use the funds to commission wind-up automata crafted in the likeness of her own favorite members─ Papalymo being the first.

He'd sooner swallow his staff than admit that he's wrong.

—Yda

Wind-up Qiqirn



Obedient
Sparkly Shine
Level 50 Weaver recipe
Wind-up Qiqirn
Summon your wind-up Qiqirn minion. As adorable as the real thing, without the ratty odor.
Once upon a time, there was not a man, woman, or child in all of Limsa Lominsa who did not know the name Zazaroon, mummer extraordinaire. However, a taste for spiced rum, a failed marriage, and several run-ins with the Barracudas saw the Qiqirn fall from the limelight into oblivion.

The Qiqirn are a nuisance at the best of times.

—Roseline

Wind-up Ramuh



Obedient
Judgment Sparkle
Level 60★ Weaver Recipe
Wind-up Ramuh
Summon your wind-up Ramuh minion. He's silently judging you.
While Garuda-themed automata flew from the shelves of the Shaded Bower, the Weavers' Guild had already begun work on another local primal. Sylphs were interviewed regarding Ramuh's wizened visage, but none could agree on the length and fullness of his beard.

By the radiance of eld be thee judged!

Wind-up Red Mage



Independent
Return to Garlaige
Pre-order Final Fantasy XIV: Stormblood
Wind-up Red Mage
Summon you wind-up red mage minion. He'd rather be red than dead.
Tales of mages dabbling in the schools of both black and white abound, but most end in the adept realizing that she should have focused on a single art rather than allowing hubris to drive her to believe that she might excel in both.

A red mage must strive to achieve the greatest good.

—X'rhun Tia

Wind-up Relm



Obedient
Enchanted Artistry
Included with The Art of Ishgard: Stone and Steel art book
Wind-up Relm
Summon your wind-up Relm minion. Come on now, you stubborn old bag of bones!
This automaton was crafted to resemble one of the characters appearing in an ancient Eorzean faerie tale. In the story, a young girl named Relm is able to conjure the images of great beasts simply by sketching them─ a feature this doll unfortunately lacks.

Wind-up Rikku



Obedient
Mix
Las Vegas Fan Fest 2016 bonus code
Wind-up Rikku
Summon your wind-up Rikku minion. "Victory is ours!" This automaton is yours.
Peoples of the Far East tell the tale of a plucky young lass with a fiery heart and questionable taste in finery who accompanied a summoner on her journey to bring peace to the world. That young lass's name was Rikku...

Bring it on!

Wind-up Sahagin



Obedient
Pshhh
Bought from Sahagin Vendor
Wind-up Sahagin
Summon your wind-up Sahagin minion. He's got a trident and he's not afraid to use it.
Ever the loving clutchfather, Novv had this toy crafted, complete with sharpened trident, for his infant spawnlings. When wound up, it displays various thrusts and parries to prepare the spawn for battle with their enemies.

A Sssahagin does not flail and sssplash about so─ he rolls with the waves.

—Clutchfather Novv

Wind-up Sasquatch



Obedient
Agitation
Bought from E-Una-Kotor using Gelmorran Potsherds
Wind-up Sasquatch
Summon your wind-up sasquatch minion. It thankfully cannot pelt you with its steaming stool.
Crafted by the Leatherworkers' Guild, this lifelike clockwork replica of a sasquatch is hoped to bring attention to the creatures' dwindling numbers in the wild.

I've decided to follow in your footsteps.

—Sisipu

Wind-up Scathach



Obedient
Pitch Slap
Random drop from Dun Scaith
Wind-up Scathach
Summon your wind-up Scathach minion. Surprisingly visible despite being a queen of the shadows.
On the sole of her left foot can be seen the inscription, "With this, I profess my love to thee." The lettering, however, does not match the Eorzean used during the latter Fourth Astral Era, suggesting that the automaton was crafted far after the fall of Mhach.

If the Shadow Queen were to return, it would have dire consequences for this entire star!

—Cait Sith

Wind-up Sea Devil



Obedient
Trident
Bought from Sahagin Vendor
Wind-up Sea Devil
Summon your wind-up Sea Devil minion. A clockwork automaton expertly crafted to resemble the infamous Scarlet Sea Devil, leader of the Coral Tridents.
Ever the loving clutchfather, Novv had this toy crafted, complete with blood red accents, for his infant spawnlings. When wound up, it displays the ferocity and cunning that was the clutch's first patriarch─the Scarlet Sea Devil.

The white coral necklace he wore was stained perpetually red with blood.

—Ururu Kogururu

Wind-up Shantotto



Obedient
Play Rough
Burgeoning Dread during Burgeoning Dread
Wind-up Shantotto
Summon your wind-up Shantotto minion. But remember: If you fail to treat her right, she will set your pants alight.
If it looks like a Lalafell, rhymes like a Lalafell, and alliterates like a Lalafell, then it is probably a Lalafell...except when it is a wind-up Shantotto. Then it is not a Lalafell.

Your judgment is quite wise─you may yet stave off an untimely demise.

Wind-up Shiva



Obedient
Diamond Speck
Level 60★ Weaver Recipe
Wind-up Shiva
Summon your wind-up Shiva minion. Renounce the hatreds that consume you, and she will scatter them like sawdust into the wind.
When followers of Iceheart heard the Weavers' Guild was creating clockwork effigies, they made the long trek from Ishgard to commission one in the likeness of Saint Shiva. However, the final product was so endearing, they puzzled over whether to pay it solemn tribute or cuddle it.

Is it I who am elated... or Saint Shiva?

—Ysayle

Wind-up Succubus



Obedient
Carnal Knowledge
Bought from Grand Company Hunt vendor
Wind-up Succubus
Summon your wind-up succubus minion. 100% anatomically correct. Handle with tender loving care.
One of countless clockwork servitors discovered in the home of a Gridanian goldsmith recently hanged for the crime of ritual summoning. It is believed while crafting the automata, he became increasingly obsessed with the void, until the darkness bid him do the unthinkable.

That succubus will drain you to a lifeless husk!

—Cocobygo

Wind-up Sun



Stationary
Sunbathe
Trade 1 Elixir to the Magic Pot on Western La Noscea#The Isles of UmbraThe Isles of Umbra
Wind-up Sun
Summon your wind-up sun minion. May the sun never go down on you. /poke to adjust elevation.
Designed to provide light for road repairmen toiling during the small hours of the night, wind-up suns have become all the talk amongst Ul'dahn mesdames ever since it was discovered the extra light worked wonders at hiding unsightly blemishes and wrinkles.

We find the pages of our memories are blank, as if bleached by the sun.

Wind-up Susano



Obedient
Mini Murakumo
Level 70★ Weaver recipe
Wind-up Susano
Summon your wind-up Susano minion. If the Kojin believe that within every item resides a deity, then who exactly resides inside this automaton?
With an itsy Yata-no-Kagami in his left hand and a bitsy Ame-no-Murakumo in his right, one might almost forget the miniature Magatama throbbing wildly in this liliputian Lord of the Revel's breast. Almost.

We are Susano, and in revelry do we rejoice!

—Lord of the Revel

Wind-up Sylph



Obedient
Sylphic Incantation
Bought from Sylphic Vendor
Wind-up Sylph
Summon your wind-up sylph minion. If he could speak, it would be in the third person.
Unlike most species in which the female bears the offspring, only sylph males are capable of reproduction, and they do so via the single flower found upon their heads. After the flower is fertilized, it will eventually fall off, giving rise to a child known as a podling.

Helping sylphs with their problems is a jolly fine way to make friends.

—Path Companion

Wind-up Tataru



Obedient
Special Tonic
Bought from Mog Station
Wind-up Tataru
Summon your wind-up Tataru minion and prepare to have your heart melt.
A routine inspection of Scion spending ledgers uncovered an order placed for ten score automata crafted in Tataru's image. When probed about the unauthorized use of organization funds for personal use, the receptionist merely smiled and struck an adorable pose.

Hmm. Tataru has ever been full of surprises.

—Minfilia

Wind-up Thancred



Obedient
Love, Eventually
Bought from the Rising Vendor at The Rising (2014)
Bought from Mog Station
Wind-up Thancred
Summon your wind-up Thancred minion. 200% more dreamy than previous models.
This clockwork automaton has been crafted at the behest of the Adventurers' Guild in celebration of the Rising, Eorzea's annual celebration of rebirth. Reports of crazed Thancred fans stalking the summoned servitors are more common than one might believe.

I suppose any name is as good as another, though most call me Thancred.

—Thancred

Wind-up Titan



Obedient
Crag Prison
Level 60★ Weaver recipe
Wind-up Titan
Summon your wind-up Titan minion. Placing this puppet on an elevated surface may compel it to knock everything else to the ground.
The second in the Weavers' Guild's popular series of primal automata. The guild consulted with Trachtoum─a master axeman from the Company of Heroes─whose firsthand account of his battle against "Tidus" formed the basis of this true-to-life design.

Aye, we defeated him─in the end─but he took from us some of our very best.

—Wheiskaet

Wind-up Tonberry



Obedient
Everybody's Grudge
Boarskin Treasure Map
The Aquapolis
Palace of the Dead
Wind-up Tonberry
Summon your wind-up tonberry minion. Now with 100% less rancor.
While merely a clockwork toy crafted to resemble the twisted survivors of Nym, owners of similar creations claim waking to find their wind-up tonberries propped upon their chests, wooden knives pressed firmly against their throats.

I came expectin' to fight one tonberry, not a whole bloody mess of 'em.

—Soft Marauder

Wind-up Ultros



Obedient
Tentacle
Dropped from The Dragon's Neck
Wind-up Ultros
Summon your wind-up Ultros minion. A fraction of the size, yet every bit as annoying as the real thing. Be forewarned: once Ultros shows up, he's liable to stick around.
One can only imagine the time and effort master goldsmith Godbert put into the creation of this lifelike recreation of a lecherous purple octopus.

Muscle-heads? Hate 'em!

Wind-up Urianger



Obedient
Big Words
Bought from Mog Station
Wind-up Urianger
Summon your wind-up Urianger minion. When the senary moon did wane, there sounded a garrulous and convoluted monologue. A new minion had roused, one whose identity lieth within our ken.
After commissioning several other wind-up Archons, the Scions of the Seventh Dawn coinkeeper realized that she had almost enough gil to order a seventh... almost. And so the robed and hooded Urianger was crafted without hair or other anatomical features to keep the cost down.

Frustratingly, Urianger's words leave rather a lot to interpretation.

—Papalymo

Wind-up Vath



Obedient
Fleetfeet
Bought from Vath Stickpeddler
Wind-up Vath
Summon your wind-up Vath minion. <click> <click> He seeks purpose. So he will follow you. Everywhere.
The idea for this design came when a Vath observed an automaton following on the heels of a fleshling he encountered. So impressed was the Vath by the gadget's intricacy that he endeavored to create his own, after which he started calling himself "Needleclaw."

We are not of the Onemind. We are Vath!

—The Nameless One

Wind-up Violet



Obedient
Squee
Bought from Sylphic Vendor
Wind-up Violet
Summon your wind-up Violet minion. Touched by a primal and corrupted to the core...yet adorable nonetheless.
After being harried by their hostile sylvan cousins one time too many, the sylphs of Little Solace turned to a traveling goldsmith from faraway Ul'dah to help them create an automated decoy that might keep the touched ones away.

This one is in the mood for dancing! And prancing!

—Hostile Sylph

Wind-up Warrior of Light



Obedient
Life Rush
Rank 6 - 360 Days Subscription Veteran Reward
Wind-up Warrior of Light
Summon your wind-up Warrior of Light minion. "Wheresoever thou goest, so too shall Light follow." ─Ancient benediction
The brilliant blue suit of armor worn by the wind-up Warrior of Light is based upon ancient Allagan designs rediscovered in recent years by adventurers returned from the Crystal Tower.

There will be no Warriors of Light to save you this time.

—Gaius van Baelsar

Wind-up Y'shtola



Obedient
Aetherial Field
Bought from Mog Station
Wind-up Y'shtola
Summon your wind-up Y'shtola minion. If we are to take her word for it, the Circle of Knowing Archon has seen but twenty-three summers.
Nearly half of the coin provided to the Goldsmiths' Guild for the crafting of this wind-up doll bearing the likeness of Scion of the Seventh Dawn Y'shtola was paid to Atelier Fen-Yll for hand-sewn leather boots matching those worn by the enigmatic Archon.

Wind-up Yda



Obedient
Final Hell
Bought from Mog Station
Wind-up Yda
Summon your wind-up Yda minion. Comes complete with irremovable mask.
Due to her apparent lack of wit and tendency to be in the wrong place at the wrong time, people are quick to forget that Yda is not only a Scion of the Seventh Dawn, but also an Archon of the Circle of Knowing, handpicked by the legendary Louisoix to serve Eorzea.

The great beyond! I do believe we're dead, Papalymo.

—Yda

Wind-up Yugiri



Independent
Suiyaku
A World Away during The Rising (2015)
Bought from Mog Station
Wind-up Yugiri
Summon your wind-up Yugiri, her mask no longer holding any mystery.
In an effort to see his skills remain sharp, a displaced Doman dollmaker now working in the crystal quarries near Revenant's Toll spends his nights crafting wind-up automata, Yugiri serving as his sole model.

She's really good at hide-and-seek, too!

—Koharu

Wind-up Yuna



Obedient
Way of the Summoner
Frankfurt Fan Fest 2017 bonus code
Wind-up Yuna
Summon your wind-up Yuna minion. "My will is strong!" So is this automaton's resistance to rust.
Peoples of the Far East tell the tale of a beautiful summoner who embarked on a perilous journey to deliver restless souls to the afterlife and thus bring peace to the world. Her name was Yuna...

Wind-up Zundu Warrior



Obedient
Sundrop Dance
Bought from Luna Vanu
Wind-up Zundu Warrior
Summon your wind-up Zundu warrior minion. Like a spring wind, the Zundu warrior is strong...until he winds down.
A sign of friendship between the Zundu and Gundu tribes, this animated doll was created using a myriad of sacred items enchanted by an elder shaman. It is unclear how, without clockwork, the warrior can walk on its own, but its maker remains silent on the techniques he employed.

Like the most precious of crystals, Gundu culture possesses many facets.

—Sonu Vanu

Wolf Pup



Independent
Teen Pup
Man's Best Friend
Wolf Pup
Summon your wolf pup minion. Idolizes one Gaius van Baelsar for obvious reasons.
Bred to serve as a war wolf in the Imperial Garlean Army, this pup was rescued before any permanent damage could be done to its playful spirit. He will follow you to the end of the world and back...as long as you toss him an occasional biscuit.

I've got no words to mince with whelps...unless you're here to become a wolf.

Zu Hatchling



Independent
Nasty Peck
Bought from Gold Saucer Attendant (Prize Claim)
Zu Hatchling
Summon your zu hatchling minion. This newborn zu has yet to exhibit aggressive or territorial behavior, but when it gets bigger...
While native to the scorching deserts of the Near East, the zu will migrate to a cooler Eorzea after hatching its fledglings in the spring. Since the Calamity, however, there have been an increasing number of cases where the giant cloudkin remain in Eorzea year-round.

These birds move slow, but they've a nasty peck!

—Jacke
Other appearances
Edit