Minerva (Final Fantasy VII)
17,807 pages on
this wiki
Talk

27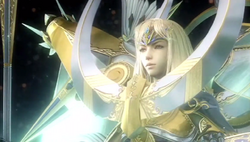 When the war of the beasts brings about the world's end, The goddess descends from the sky, Wings of light and dark spread afar, She guides us to bliss, her gift everlasting.
—LOVELESS
Minerva (ミネルヴァ, Mineruva?) is a character from Crisis Core -Final Fantasy VII-. She is implied to be related to Gaia's consciousness, and is interpreted by Genesis Rhapsodos as the goddess of LOVELESS.
Main article: Minerva (Boss)
Minerva is the game's superboss, appearing in Mission 9-6-6 as the final opponent in the Great Cavern of Wonders. Defeating her earns the Divine Slayer accessory. Re-challenging the mission allows players to battle her again.

Musical Themes
Edit
Main article: Fight On!
The battle for the fight against Minerva is "The Summoned", a remix of the Final Fantasy VII boss theme that is used for battles with summoned monsters in Crisis Core.

Other Appearances
Edit
Minerva appears with her Tetsuya Nomura artwork in a shine-elemental card.

Etymology and Symbolism
Edit
[view  · edit  · purge]Minerva is the Roman pantheon equivalent to the Greek goddess Athena. Her name is thought to be a mishearing and a corruption of the Latin word "mens", meaning "mind."
Minerva's presence as the personification of the Lifestream reflects the role of Sophia in Gnostic belief, an Aeon made from the pure energy of the divine realm of light known as the Absolute, who was fragmented and trapped inside the bodies of human beings.
A goddess-like statue holding an orb is placed in the Banora Underground where the light breaks through the cave ceiling. The Crisis Core Complete Guide states the statue was part of Genesis's plan to reenact LOVELESS. This statue shatters after Minerva's meeting with Genesis.
The Minerva Statue seen in the Banora Underground was redesigned from the Japanese version of the game for its English release, as the original model was deemed to look too much like depictions of the Virgin Mary.
References
Edit