Mind Blast
18,487 pages on
this wiki
Talk

0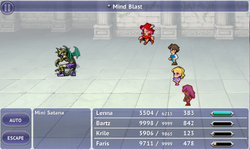 Disrupt the psyche, destroying the rational mind.
—Description, Final Fantasy Tactics.
Mind Blast (マインドブラスト, Maindo Burasuto?), also called MindBlst, is a mind-altering spell usually associated with the Mindflayer enemy. It usually inflicts non-elemental damage as well as the Paralyze status.
Appearances
Edit
Mind Blast, known as TRANCE in the original NES version, is used by the Squidraken and Mindflayer enemy, and inflicts Paralyze to the entire party.
Ramuh uses Mind Blast as one of his summon effects. The attack paralyzes enemies.
Used by the Mindflayer as an enemy and also as a summon from Rydia. It causes non-elemental damage, Sap, and temporarily paralyzes the target.
Mind Blast returns as an enemy ability, and retains the same properties as in Final Fantasy IV.
Attacks one enemy and causes paralysis and sap status.
—Description
Mind is being drained!
—In-battle flavor text
A Blue Magic spell learned from Mindflayer, Azulmagia, and Wendigo. Mind Blast causes non-elemental damage, Sap, and temporarily paralyzes the target at the cost of 6 MP. The player may utilize this ability by catching and releasing a Mindflayer.
Mind Blast inflicts Blind, Zombie, Poison, Imp, Petrify, Doom, Silence, Berserk, Confuse, Sap, Sleep, Slow, or Stop on four random opponents. It has a Hit Rate of 110, and cost 20 MP for the enemy to use. It is only used by Ultima Weapon in the original releases but is sported by Kaiser Dragon and Omega Weapon in the Advance release.
Mind Blast is used by Drakans. It causes confusion on a single target and "absorbs the brain".
Yunalesca's third form can use Mind Blast, which inflicts damage, Confuse, and Curse (for aeons only).
Final Fantasy XI

Spell


Mind Blast

MP:
82
Effect:
Deals lightning damage to an enemy. Additional effect: Paralysis.
Duration:
Casting Time:
3 seconds
Recast Time:
30 seconds
Magic Type:
Blue Magic
Element:
Lightning
Jobs:
BLU 73
Mind Blast is a Blue Magic spell learned from Soulflayers. It deals Lightning damage and causes Paralysis to one target. It costs four Blue Magic Points to set. Setting this spell gives +1 to MND and +5 MP.
When used by Soulflayers, it affects all players in a cone-shaped area instead of only a single target.

Mindflayer is the only enemy that can naturally use Mind Blast; however, Squidraken can also use it when an ally with the Monster Skill ability is next to it. Inflicts Confuse or Berserk (randomly decided).
Its success rate is as follows:

Other appearances
Edit