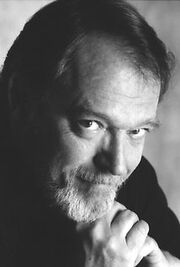 Michael McConnohie (born July 23rd, 1951) is an American voice actor. He is the voice of Fusoya, Zeromus and Cagnazzo in the 3D remake of Final Fantasy IV, and Jegran in Final Fantasy Crystal Chronicles: The Crystal Bearers.
Background
Edit
Outside of the series, McConnohie is best known for numerous narration roles in anime and video games, including the Mass Effect series and Bobobo-bo Bo-bobo. He is also the voice of Barry Burton in Resident Evil: Revelations 2.
External links
Edit
Ad blocker interference detected!
Wikia is a free-to-use site that makes money from advertising. We have a modified experience for viewers using ad blockers

Wikia is not accessible if you've made further modifications. Remove the custom ad blocker rule(s) and the page will load as expected.