Michael-Christopher Koji Fox, often known as Koji Fox and M.C. Fox, is a translator working for Square Enix. He is also a co-lead world and lore developer for Final Fantasy XIV.
Biography
Edit
Works in the Series
Edit
Voice Acting Roles
Edit
Fox voices the Black Mage character in Mario Hoops 3-on-3, co-developed by Square Enix.
He did the voices for the Moogles in the "Good King Moggle Mog XII" theme song in Final Fantasy XIV.
In-game Appearances
Edit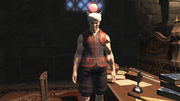 Fox appears in the 2015 edition of The Rising event, as one of the staff in the Eighteenth Floor.

External links
Edit
Ad blocker interference detected!
Wikia is a free-to-use site that makes money from advertising. We have a modified experience for viewers using ad blockers

Wikia is not accessible if you've made further modifications. Remove the custom ad blocker rule(s) and the page will load as expected.