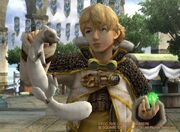 Mia is Althea Sol Alfitaria's pet ferret in Final Fantasy Crystal Chronicles: The Crystal Bearers.
Rather troublesome, she seems to have a fondness for treasures, especially the Crystal Idol that Layle obtains from Amidatelion early in the game. Layle pursues the ferret through Alfitaria, and upon catching her and getting the Crystal Idol back, meets Althea for the first time.
Ad blocker interference detected!
Wikia is a free-to-use site that makes money from advertising. We have a modified experience for viewers using ad blockers

Wikia is not accessible if you've made further modifications. Remove the custom ad blocker rule(s) and the page will load as expected.