Ad blocker interference detected!
Wikia is a free-to-use site that makes money from advertising. We have a modified experience for viewers using ad blockers

Wikia is not accessible if you've made further modifications. Remove the custom ad blocker rule(s) and the page will load as expected.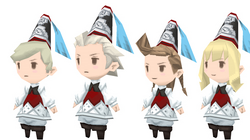 Find more gems!
—In-game description.
The Merchant (商人, Shōnin?) is a crown in Final Fantasy: The 4 Heroes of Light obtained after defeating the Arch Demon in Urbeth.
The crown's special ability makes Gems more likely to fall after battle. The Merchant's abilities allow them to find gems in battle and use money to their own advantage. The Merchant is a good source for obtaining many gems to upgrade crowns and obtaining gil.
Including additional Merchants in a party doesn't increase the chance of gems falling after battle. The crown has no actual proficiency with any type of weapon and their stat multipliers are average. The job's special armor, Merchant Tunic, provides a 10% boost to the user's Intellect and Spirit.
| HP | Strength | Intellect | Spirit |
| --- | --- | --- | --- |
| 1.3 | 1.1 | 1.3 | 1.2 |
| Short Sword | Sword | Bow | Staff | Spear | Axe | Book | Harp |
| --- | --- | --- | --- | --- | --- | --- | --- |
| C | C | C | C | C | C | C | C |
| Offensive Magic | Recovery Magic | Evade | Magic Evade |
| --- | --- | --- | --- |
| C | C | C | C |
Abilities
Edit
Name
Description
AP
Gems Needed
Image

Finder

Find gems in the midst of battle.
1
None

Keeper

Find gems more effectively than Finder.
2
Ruby ×5
Emerald ×5

Ransom

Every time the character is struck with an attack, pay a ransom instead of taking damage.
3
Ruby ×6
Topaz ×2
Aquamarine ×6
Amethyst ×1

Money Talks

Inflict damage in proportion to the amount of money the player has; it costs 1,000 gil to use, and its damage is equal to 1% of player's current gil.
4
Ruby ×7
Lapis ×3
Sapphire ×7
Amethyst ×2
Diamond ×1