Menrva
Talk

11
13,960 pages on
this wiki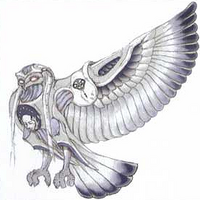 Menrva (ミネルヴァ, Mineruva?) is a Non-Player Character in Final Fantasy XIII. It is Galenth Dysley's rukh familiar, having the appearance of a light gray, owl-like bird with the Cocoon fal'Cie brand on its wing and the face of Orphan on its chest. It is really an extension of Dysley's power, absorbed back into its master whenever he assumes his true fal'Cie form Barthandelus. Menrva is also used as Barthandelus's means to spy on Lightning and her group's progress. Menrva is first seen at Lake Bresha, and it is seen frequently from then.
Menrva has the ability to turn into an airship, which the party uses twice during the game's course: once to get the l'Cie out of the sinking Palamecia and take them to the Fifth Ark, and the second time to give them a mean to return to Cocoon from Oerba. In the end, after its master is defeated and sinks into Orphan's pool, Menrva flies into the pool to fully revive Orphan as it assimilated Barthandelus unto its body.
The Final Fantasy XIII Ultimania Omega reveals Menrva is a type of fal'Cie.
Etymology
Edit
Menrva (also spelled Menerva, Menfra, Merva, and Mera) was an Etruscan goddess of war, art, wisdom, and health. She contributed a lot of her character to the Roman goddess of wisdom, Minerva, whose symbol was the owl; Minerva is also Menrva's Japanese name. Menrva also seems to be associated with weather phenomena.