Meliadoul Tengille
Talk

0
13,971 pages on
this wiki
"What is love? Mayhap it is when you care more about someone else than you do about yourself."
—Meliadoul Tengille
Meliadoul Tengille, also known as Meliadoul Tingel, is the daughter of Folmarv Tengille in Final Fantasy Tactics. She, her father Folmarv, and her brother Isilud, are Knights Templar in service to the Church of Glabados. She eventually becomes a renegade, siding with Ramza upon discovering the Lucavi plot. Her birthday is December 24.
Vendetta Against Ramza
Edit
"A Lucavi? So the Lucavi again walk among us, killing for their own delight? Ha! A splendid tale! But a lie less fanciful might better persuade."
—Meliadoul
Isilud is killed at Riovanes Castle when Folmarv transforms into Hashmal and goes on a rampage. Not knowing of the Lucavi, Meliadoul comes to believe Ramza Beoulve, who had been labelled a heretic, had killed her brother. She sets out for revenge, waiting for Ramza on the road to Zeltennia Castle.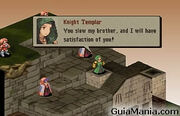 When Meliadoul confronts Ramza, he tries to explain the truth, but she won't listen. She attacks, but Ramza and his friends overpower her. Meliadoul vows she would strike at Ramza again and teleports away.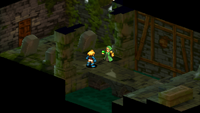 Meliadoul later prepares to strike at Ramza again as he approaches Limberry Castle to deal with Marquis Elmdore. Following Ramza into the castle, she makes her way to the underground portion where Ramza has cornered Elmdore. As she enters the room, she witnesses a horrifying sight: Elmdore pulls out the Gemini Stone and transforms into Zalera, one of the Lucavi demons. Meliadoul gets Zalera to admit Folmarv was also possessed by Lucavi and realizing the truth, she helps Ramza defeat Zalera.
Meliadoul Against Folmarv
Edit
"Those sins will be atoned for. There shall be no mercy - not even for you."
—Meliadoul
Following the battle, Meliadoul joins forces with Ramza, alerting him to the fact that his brother Dycedarg Beoulve has been given the Capricorn Stone. Ramza and Meliadoul rush to Eagrose Castle where they fight and defeated Adrammelech, the Lucavi possessing Dycedarg. Their next destination is Mullonde Cathedral, where they run into Folmarv. Meliadoul confronts her father, asking if he had killed Isilud. Folmarv, surprised to see Meliadoul fighting on Ramza's side, demands to know what she is doing. She explains she had learned of the Lucavi and she knows Folmarv is possessed.
Folmarv proves a powerful opponent, as he has the same powerful sword moves as Meliadoul, and is backed up by two other Knights Templar, Loffrey Wodring and Cletienne Duroi. Ramza and Meliadoul prevail, however, and Folmarv is forced to summon Zalbaag Beoulve from the dead to distract Ramza long enough to escape. Meliadoul then accompanies Ramza on the final stage of his quest to stop Ultima's resurrection.
An additional battle in War of the Lions includes Meliadoul confronting Cletienne about her father. Meliadoul will fight as an ally, even if the player does not recruit her after the battle with Zalera.
When she joins the party, her level is dependent on the party's level, but she starts with 67 Bravery and 68 Faith, as well as equipped with the Save the Queen, Aegis Shield, Circlet, Luminous Robe, and Hermes Shoes.
Meliadoul is fought once in the story, at Free City of Bervenia. She starts at level 35 with 67 Bravery and 68 Faith, and comes equipped with the Defender, Platinum Shield, Platinum Helm, Carabineer Mail, and the ultra-rare Chantage. She has access to the Unyielding Blade command as well as random Squire abilities and a random action ability. It is important to steal both the Defender and Chantage, as they are very rare and powerful pieces of equipment. Defeating all of the enemies or KO'ing Meliadoul is not required; simply reducing Meliadoul's HP to less than 20% of her Max HP is enough to end the battle.
When fought in Rendezvous Missions #11: All-Star Melee, she is 2 levels higher than the highest level deployed character, and starts with 67 Bravery and 78 Faith. She is in her default Divine Knight class, and is equipped with the Defender, a full set of Crystal Equipment, and the Septiéme. She has access to the Unyielding Blade and Item commands, as well as the abilities Shirahadori, Attack Boost, and Lifefont.
When fought in Rendezvous Missions #14: Brave Story, she is level 99 and starts with 97 Bravery and 63 Faith. She comes equipped with the Excalibur, Crystal Shield, Circlet, Luminous Robe, and Septie'me. She has access to the Unyielding Blade command, as well as the abilities Counter, Attack Boost, Ignore Elevation, and a random other ability.