Mega Tonberry
Talk

1
13,971 pages on
this wiki
Final Fantasy X-2 Enemy
Mega Tonberry
メガトンベリ (Mega Tonberi)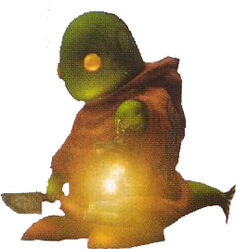 Tonberry
Statistics
Level
HP
MP
90
48,600
0
Strength
Magic
Defense
255
200
67
M. Defense
Agility
Accuracy
200
104
12
Evasion
Luck
0
0
EXP
AP
Gil
2,600
2
600
| | |
| --- | --- |
| Location | Via Infinito |
| Chapters | 5 |
| Common Steal | Turbo Ether |
| Rare Steal | Turbo Ether x2 |
| Gil Steal | 3,300 |
| Common Drop | Twin Stars |
| Rare Drop | Power Gloves |
| Common Bribe | Sword Lore x3 |
| Rare Bribe | Sword Lore x4 |
| Abilities | Chef's Knife, Karma |
| Blue Bullet | None |
| Status Resist | Eject (150), Zantetsu (100) |
| Status Immunity | Death, Petrification, Sleep, Silence, Darkness, Poison, Confusion, Curse, Slow, Stop, Strength Down, Magic Down, Defense Down, Magic Def Down, Accuracy Down, Evasion Down, Luck Down, Doom, Delay, Preparation Interruption, Multiple Damage, Haste |
| Other Information | N/A |
Mega Tonberry
メガトンベリ (Mega Tonberi)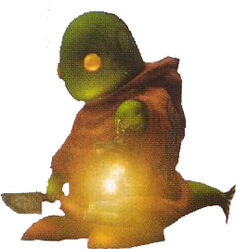 Tonberry
Statistics
Level
HP
MP
99
51,030
0
Strength
Magic
Defense
255
200
67
M. Defense
Agility
Accuracy
200
135
15
Evasion
Luck
0
0
EXP
AP
Gil
3,300
3
1,800
| | |
| --- | --- |
| Location | Via Infinito |
| Chapters | 5 |
| Common Steal | Turbo Ether |
| Rare Steal | Turbo Ether x2 |
| Gil Steal | 6,000 |
| Common Drop | Twin Stars x2 |
| Rare Drop | Power Gloves x2 |
| Common Bribe | Sword Lore x6 |
| Rare Bribe | Sword Lore x8 |
| Abilities | Chef's Knife, Cry in the Night, Firaga, Flare, Karma |
| Blue Bullet | Cry in the Night |
| Status Resist | Eject (250), Zantetsu (150) |
| Status Immunity | Death, Petrification, Sleep, Silence, Darkness, Poison, Confusion, Berserk, Curse, Slow, Stop, Strength Down, Magic Down, Defense Down, Magic Def Down, Accuracy Down, Evasion Down, Luck Down, Doom, Delay, Preparation Interruption, Multiple Damage, Haste |
| Other Information | N/A |
Normal: "A fiend that roams about by the light of its lantern. Don't be fooled by its tranquil demeanor. It's a vicious and persistent attacker--and also really BIG."
Oversoul: "A fiend that roams about by the light of its lantern. It uses an assortment of abilities, but when it gets in trouble, it pulls out the BIG guns."
— Scan
Mega Tonberries are enemies in Final Fantasy X-2. They are only found wandering the halls of Via Infinito. They cannot be encountered in random battles, and they are one of the strongest enemies in the game. A regular Tonberry is always fought alongside a Mega. Mega Tonberry is the only enemy to teach the Blue Bullet skill, Cry in the Night when Oversouled and low HP.
High health and Defense will be needed, so it is recommendable to use two Dark Knights together with the Valiant Lustre Garment Grid. One should give the two girls all the Defense and HP possible with any accessories available. The third girl should equip the Gunner dressphere with the ability Trigger Happy mastered for maximum combo time and the Highroad Winds Garment Grid for its First Strike auto-ability. She should equip the Cat Nip accessory and have critical health upon entering the battle. Haste will be extremely beneficial, so one should grant it to the Gunner by any means possible. This will drastically increase the amount of hits dealt with the Trigger Happy salvo.
When the battle begins, the two Dark Knights should concentrate mainly on healing and buffing the party, whereas the Gunner should do nothing but execute Trigger Happy. It should not take too long before the Mega Tonberry is dead. However, if the Gunner gets killed, reviving her is the first thing to do, as she is the only character capable of inflicting sufficient damage to kill the foe.
Related enemies