Master Tonberry (Final Fantasy VII)
Talk

0
13,972 pages on
this wiki
Final Fantasy VII Enemy
Master Tonberry
マスタートンベリ (Masutā Tonberi)

?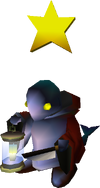 Statistics
Level
HP
MP
77
44,444
100
Attack
Magic
Defense
150
130
136
M. Defense
Dexterity
Evade
150
70
1
EXP
AP
Gil
6,000
200
6,800
Location
Northern Cave
Steal
Elixir
Item Drop
Megalixir
Morph
Ribbon
Abilities
Everyone's Grudge, Knife, Move, Move Left, Move Right
Enemy Skill
N/A
Status immunity
Death, Slow Numb, Berserk, Petrify, Sleep, Confusion, Frog, Silence, Small, Manipulate
Manipulate
Couldn't manipulate.
Other information

-Abilities which names are not shown when used are highlighted in italics.
None
Master Tonberry is a rare enemy in Final Fantasy VII, found only in the Northern Cave.
Like many other Tonberries of past and present, it will counterattack with Everyone's Grudge, which will cause damage equal to the number of kills a character has amassed x10. It gradually moves forward until it is in front of a character and then uses Knife to instantly KO them. It can be morphed into a Ribbon, one of the best accessories in the game.
One of the easiest strategies for dealing with the Master Tonberry is to only attack it up to twice per turn. This will prevent it from countering with Everyone's Grudge until it has taken a step. At the start of the fight, using Bio spells (or even better, Bad Breath) will help tremendously as Poison will help dealing damage. Dazers will also help as they inflict Paralysis on the target. Also Stop works to make this battle easier.
AI Script
Edit
AI: Setup {
TempVar:LRPos = 1
} AI: Main {
TempVar:DontMove = 0
TempVar:HitCounter = 0
TempVar:RightTarget = 1st Opponent
TempVar:MiddleTarget = 2nd Opponent
TempVar:LeftTarget:= 3rd Opponent
If (TempVar:LRPos == 0) Then
{

If (TempVar:Distance == 0) Then
{

Nothing

} Else If (TempVar:Distance == 1 or 2) Then {

Choose Self
If (3/8 Chance) Then
{

Use <Move Left> on Target
TempVar:LRPos = TempVar:LRPos + 1

}

} Else {

If ((TempVar:RightTarget doesn't have Death Status)

& (1/2 Chance)) Then

{

Choose TempVar:RightTarget
Use Knife on Target
TempVar:Distance = 0
TempVar:LRPos = 1

} Else {

Choose Self
Use <Move Left> on Target
TempVar:LRPos = TempVar:LRPos + 1

}
TempVar:DontMove = 1

}

} Else If (TempVar:LRPos == 1) Then {

If (TempVar:Distance == 0) Then
{

Nothing

} Else If (TempVar:Distance == 1) Then {

Choose Self
1/4 Chance:
{

Use <Move Right> on Target
TempVar:LRPos = TempVar:LRPos - 1
TempVar:DontMove = 1

}
1/4 Chance:
{

Use <Move Left> on Target
TempVar:LRPos = TempVar:LRPos + 1
TempVar:DontMove = 1

}
1/2 Chance: Nothing

} Else If (TempVar:Distance == 2) Then {

Choose Self
3/8 Chance:
{

Use <Move Right> on Target
TempVar:LRPos = TempVar:LRPos - 1
TempVar:DontMove = 1

}
3/8 Chance:
{

Use <Move Left> on Target
TempVar:LRPos = TempVar:LRPos + 1
TempVar:DontMove = 1

}
1/4 Chance: Nothing

} Else {

If (TempVar:MiddleTarget doesn't have Death Status)

& (1/2 Chance) Then

{

Choose TempVar:MiddleTarget
Use Knife on Target
TempVar:Distance = 0
TempVar:LRPos = 1

} Else {

Choose Self
If (1/2 Chance) Then
{

Use <Move Right> on Target
TempVar:LRPos = TempVar:LRPos - 1

} Else {

Use <Move Left> on Target
TempVar:LRPos = TempVar:LRPos + 1

}

}
TempVar:DontMove = 1

}

} Else {

If (TempVar:Distance == 0) Then
{

Nothing

} Else If (TempVar:Distance == 1 or 2) Then {

Choose Self
If (3/8 Chance) Then
{

Use <Move Right> on Target
TempVar:LRPos = TempVar:LRPos - 1
TempVar:DontMove = 1

}

} Else {

If ((TempVar:LeftTarget doesn't have Death Status)

& (1/2 Chance)) Then

{

Choose TempVar:LeftTarget
Use Knife on Target
TempVar:Distance = 0
TempVar:LRPos = 1

} Else {

Choose Self
Use <Move Right> on Target
TempVar:LRPos = TempVar:LRPos - 1

}
TempVar:DontMove = 1

}

}
If (TempVar:DontMove == 0) Then
{

Use <Move> on Target
TempVar:Distance = TempVar:Distance + 1

}
} AI: Counter - General {
TempVar:HitCounter = TempVar:HitCounter + 1
If (TempVar:HitCounter == 2) Then
{

TempVar:HitCounter = 0
Choose Tonberry's Last Attacker (General)
Use Everyone's Grudge on Target

}
}
Related Enemies
Edit