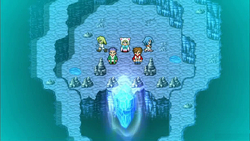 Massive Cavern (巨大空洞, Kyodai Kūdō?) is a location in Final Fantasy Dimensions. It's located to the north of Mysidia when it has returned to the ground. After the Dimensional Shift, the cave ceases to exist.
After returning to the surface, Sophia tells the Warriors of Light to explore a cave to the north and see things with their own eyes. Deep inside the cavern, there is a crystal. Sophia performs a ritual and transfer her Seer power into the warriors, granting them the Seer job. Suddenly, Shango and several imperial soldiers appear. He reveals that Mysidia has fallen and all the mages are captured. Shango orders the warriors to stand down but they refuse to do so. Meanwhile, the Dimensional Shift takes place, merging two worlds and teleporting the Warriors of Light out of the cavern. Also, the Massive Cavern and a large number of people around the world disappear.
Ad blocker interference detected!
Wikia is a free-to-use site that makes money from advertising. We have a modified experience for viewers using ad blockers

Wikia is not accessible if you've made further modifications. Remove the custom ad blocker rule(s) and the page will load as expected.