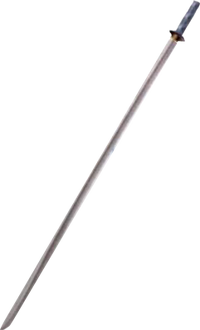 A perfect copy of Sephiroth's sword!
Masamune Blade (マサムネブレード, Masamune Burēdo?) is a recurring weapon in the series. Originally appearing as a joke item in Final Fantasy VII, it has since appeared as an unique weapon for Sephiroth in later games in the series, often being weaker than his traditional Masamune.
Appearances
Edit
VII Masamune Blade is a special item obtained from the Gold Saucer at the Speed Square. It does nothing at all.
Dissidia Masamune Blade is a level 53 exclusive weapon for Sephiroth, providing +37 Attack and Damage +5%. It can be obtained from the shop by trading 15,460 gil, Uchigatana, Wyvern Horn x3, and Oath Shard x2.
Dissidia012 Masamune Blade returns as a level 30 exclusive weapon for Sephiroth, providing +40 Attack, +2 Defense, +41 Bravery, and Damage +5%. It can be obtained from the shop by trading 61,000 gil, Claymore, Scarletite, and Champion's Desire x5.

This article or section is a stub about equipment in Final Fantasy Airborne Brigade. You can help the Final Fantasy Wiki by expanding it.
Weapon
Category
Level
Attack
Magic
Mind
Masamune Blade (VII)

Katanas
1
42
0
0
15
63
0
0
25
77
0
0
30
85
0
0
Additional stats: Accuracy +95
Etymology
Edit
[view · edit · purge]The Masamune is named after Masamune Okazaki, who is the most defined out of the many legendary Japanese blacksmiths of the Kamakura Era, where it is considered the greatest/golden age of katana for having pioneered long lost and secretively kept methods allowing for both aesthetic and artistic brilliance and durable design to never fail their wielder. His works were of the Soshu tradition, and are defined by prominent temper lines of nie, golden lightning like lines of kintsuji, dark merging grain lines of chikei to help emphasize the temper line, and of his famous forging process of soshu kitae, historically proven and renowned for being the strongest method for the body of the blade; however, many of his works lack signatures, which was common for high class blacksmiths in service to nobility. His works were often compared to those of Muramasa, though always the better of the two. According to legend, Masamunes are marks of an internal peaceful and calm warrior, the exact opposite of Muramasas.
Ad blocker interference detected!
Wikia is a free-to-use site that makes money from advertising. We have a modified experience for viewers using ad blockers

Wikia is not accessible if you've made further modifications. Remove the custom ad blocker rule(s) and the page will load as expected.