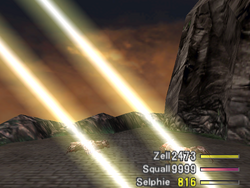 Masamune (正宗, Masamune?), also known as Masmune, is a recurring ability in the series. It is one of the trademark attacks for Gilgamesh, and usually inflicts heavy non-elemental damage while ignoring the target's Defense. It is generally one of four abilities that Gilgamesh will use at random.
Appearances
Edit
VI Masamune is one of the abilities of Gilgamesh that is chosen at random. It deals heavy non-elemental damage to all enemies, having a Spell Power of 99 and ignoring the target's defense. It costs 99 MP to use as with all of Gilgamesh's abilities. Masamune is the second sword to drop onto the battlefield, and if Gilgamesh uses this attack. Masamune will glow yellow before Gilgamesh attacks the enemy party with it.
VIII Masamune is one of the abilities of Gilgamesh chosen at random, and it deals heavy non-elemental damage to all enemies, having a base power of 100. The damage formula for Masamune is:[1]

FFXIIRW Masamune is the special ability of Gilgamesh, which inflicts heavy non-elemental physical damage to one enemy while ignoring defense.
FFT Masamune is an Iaido skill usable by the Samurai job. When used, it causes the effect Ethereal Embrace, which bestows Regen and Haste upon all allies in an area of effect of 3 with no charge time. It costs 900 JP (740 in the PSX version), and in the PSX version, the wielder may shout, "Sword of fury, inject power! Masamune!"
FFL2 Masmune has unlimited uses; it increases a Robot's HP by 99 and Str by 22 when equipped on them. It can be found in Valhalla Palace after defeating Odin. Masmune deals at least 500 damage or more damage regardless defense or modifiers the target possess.
Etymology
Edit
[view · edit · purge]The Masamune is named after Masamune Okazaki, who is the most defined out of the many legendary Japanese blacksmiths of the Kamakura Era, where it is considered the greatest/golden age of katana for having pioneered long lost and secretively kept methods allowing for both aesthetic and artistic brilliance and durable design to never fail their wielder. His works were of the Soshu tradition, and are defined by prominent temper lines of nie, golden lightning like lines of kintsuji, dark merging grain lines of chikei to help emphasize the temper line, and of his famous forging process of soshu kitae, historically proven and renowned for being the strongest method for the body of the blade; however, many of his works lack signatures, which was common for high class blacksmiths in service to nobility. His works were often compared to those of Muramasa, though always the better of the two. According to legend, Masamunes are marks of an internal peaceful and calm warrior, the exact opposite of Muramasas.
References
Edit
Ad blocker interference detected!
Wikia is a free-to-use site that makes money from advertising. We have a modified experience for viewers using ad blockers

Wikia is not accessible if you've made further modifications. Remove the custom ad blocker rule(s) and the page will load as expected.