Maqui
Talk

19
13,965 pages on
this wiki

Maqui (マーキー, Mākī?) is a character in Final Fantasy XIII and Final Fantasy XIII-2. He is 17 years old in Final Fantasy XIII and 20 in Final Fantasy XIII-2.[1] In Final Fantasy XIII-2 it is revealed that Maqui operates a shop called Lenora's Garage; this is a shop the player can use in the Retail Network in Final Fantasy XIII.
Maqui is voiced by Makoto Naruse in the Japanese version and by Daniel Samonas in the English version.
See also: Datalog/People.
Maqui joined the ranks of NORA out of his admiration for Snow. He loves to tinker with machinery and serves as the group's mechanic. His talent for taking junk and using it to upgrade machines has provided NORA with a source of income.
One day Maqui wants to be a reliable, heroic type like Snow, but he still has a long way to go.
See also: Datalog/Significant Persons.
NORA is a vigilante group of young do-gooders from the Cocoon town of Bodhum. No strangers to fending for themselves, the group went on to found the settlement of New Bodhum in the harsh environment of Pulse.
NORA consists of four core members: the intimidating Gadot, Snow's right-hand man; the amiable mood maker, Yuj; the mechanical genius, Maqui; and the NORA House resident chef, Lebreau.
Snow, NORA's founding member, is presently away from New Bodhum.
Appearance and Personality
Edit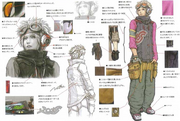 Maqui has blond hair, blue eyes, and round face. He wears goggles on his head, and a pair of headphones he uses to communicate with his fellow NORA members. His jacket has a black body and pink sleeves, with a red symbol across the side. He also wears khaki pants with large, brown pouches on the hips, and a pair of silver and purple shoes. His designer, Nao Ikeda, said his appearance was based on the type of clothing snowboarders wear.
Maqui has kind of a boyish personality, and a more cheerful and upbeat disposition compared to the others in NORA. It is said that he was an introvert, until he met Snow Villiers, whom he now idolizes, and tries to emulate in the way he dresses; he and Snow act like brothers. Maqui and his best friend, Yuj, are the youngest members of NORA. He is also good friends with Snow's fiancée, Serah Farron. Despite his young age, he is a skilled mechanic.
Maqui lives in the seaside town of Bodhum, and is part of Team NORA alongside Snow, Gadot, Lebreau and Yuj. When the Purge was initiated to all Bodhum residents due to the discovery of a Pulse fal'Cie at the Pulse Vestige ruins nearby. Team NORA took up arms and followed the Purge train in hopes of liberating the Purgees, as well as helping Snow rescue Serah, who was trapped inside the Vestige. They manage to derail the train in the Hanging Edge, and rescue some of the Purgees.
Maqui appears again with the other NORA members in Eden. Despite Snow being a l'Cie, they remain loyal to their leader, and work on evacuating the Eden citizens whilst the party proceed on to find Orphan.
Maqui, along with Gadot, Yuj, and Lebreau, defend New Bodhum when it is attacked by monsters. When Serah, Mog, and Noel travel to the Meteorite Impact Site, he complains about how the plants grew so quickly, but with Serah and Noel comes to a conclusion that different timelines overlap New Bodhum.
The next day, Rhett, a student of Serah's, stole Snow's pendant from Maqui as he was polishing it in his workshop. He, Gadot and Yuj are caught by Lebreau when they eavesdropped on Serah and Noel as they are about to leave using a Time Gate.
Other Appearances
Edit
Maqui appears in Trading Card Game in his artwork appearance. His card is part of the "Lightning" element.
Etymology
Edit
Maqui shares his name with a species of tree found in the rain forests of Chile; the berries and leaves of which are used for medicinal purposes. "Maquis" also refers to places in Corsica, where groups who were part of the French resistance against the German occupation of France, hid during World War II. This may be a reference to Maqui's importance in NORA during the Purge, fighting along Snow against PSICOM.
References
Edit