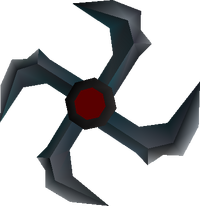 Manji Shuriken (卍手裏剣, Manji Shuriken?), also known as Spiral Shuriken, is a recurring throwing weapon in the series.
Appearances
Edit
FFIVTAY Manji Shuriken is the second type of throwing weapon that Edge can use in battle. It has an attack of 40 and can be bought for 20,000 gil at the Depths or outside the Lunar Whale.
VII Manji Shuriken is a mid to high-ranked weapon for Yuffie which provides 68 Attack, 110 Attack%, 18 Magic, Critical +2%, one linked materia slot and six unlinked materia slots with normal growth. It can be bought for 14,000 gil at Costa del Sol (disc 2/3).
Etymology
Edit
[view · edit · purge]A shuriken is a traditional Japanese concealed weapon that was generally used for throwing, and sometimes stabbing or slashing.