Mandragora (Creature)
Talk

4
15,567 pages on
this wiki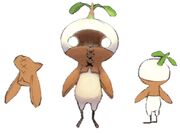 Mandragora is a recurring enemy in the Final Fantasy series that has appeared as a summon, and is always plant-like in appearance. The Mandragoras' sizes range from relatively diminutive to gigantic depending on the game.
Appearances
Edit
Mandragoras can be fought outside of the Chocobo Farm and are weak monsters to fight. They are of no threat to the party.


The Mandragora enemies take the same appearance as the ones from Final Fantasy VII. They usually appear in swarms but can easily be dispatched in a few attacks.

Mandragoras can be fought in a forest near Quan's Dwelling. They are rather powerful enemies that can easily knock out an underleveled party with their Chestnut special attack, which deals damage equal to the amount of damage the Mandragora has taken. Aside from that, they aren't too much of a threat.

A member of the Ochu family, mandragoras are fought outside of the Zanarkand Dome and are relatively powerful foes to fight. They have access to the powerful Earthquake ability, and its Ochu Dance can inflict Confuse, Blind, Slow, and Silence on all characters. Its physical attack can also inflicts Poison on each hit.

Mandragora are a plantoid enemy, and a familiar sight on Mindartia and Elshimo Island. Most of them are white with a green leaf on their head, but there are a few malicious ones colored black with an autumn red leaf on their head. A third type, the Lycopodium, have a flower instead of a leaf, and have been seen on the war-torn battlefields during the Crystal War.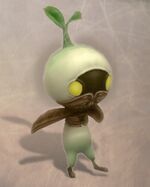 The Mandragora is a class of enemies commonly found throughout the world of Ivalice, as well as a separate enemy identical in appearance to the Mandragora of Final Fantasy XI.
Enemies that are of the Mandragora class are: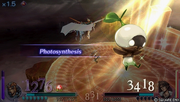 The Mandragora appears as a summon. When summoned, it shows an artwork of its Final Fantasy XII and Final Fantasy XI appearances, and during a certain period of time, rapidly returns the summoner's base Bravery value to the minimal value it may reach should it fall below that value. Mandragora can be obtained as a Stage Bonus on the Destiny Odyssey I storyline.
It returns in Dissidia 012 Final Fantasy as a summon with the same functions, but now must be purchased from from certain Moogle Shops for 20 KP.
The Mandragora Royalty bosses from Final Fantasy XII appears as enemies. Another Mandragora can be spotted in the background of the Sarutabaruta FMS.

The Mandragoras appear in Final Fantasy Airborne Brigade as an enemy during an event called "Showdown". In battle, the Mandragoras use Ram.
Mandragora is a plant-type enemy that appears in groups in the Eternia region.
Other Appearances
Edit
The Mandragora appears in this game.
Etymology
Edit
Mandragora is a plant belonging to the nightshade family. According to some legends surrounding witchcraft, when Mandragoras (Mandrake plants) are uprooted, they emit a piercing scream which kills all who hear it. This legend is referenced in Final Fantasy XII with the Screamroot item, which can be dropped or stolen by some monsters of the Mandragora class.