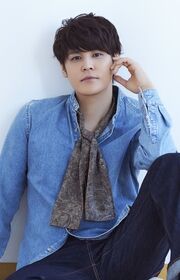 Mamoru Miyano (宮野 真守, Miyano Mamoru?), born Wednesday, June 8, 1983, is a Japanese voice actor, actor, and singer from Saitama Prefecture. He voices Ignis Scientia from the Final Fantasy XV series.
Background
Edit
He is best known for voicing Setsuna F Seiei (Soran Ibrahim) in Mobile Suit Gundam 00, Light Yagami from Death Note, Rin Matsuoka in Free! series, Gilthunder in Nanatsu No Taizai and Leo in Fire Emblem Fates. He also voiced Death The Kid from Soul Eater, Riku from Kingdom Hearts series and Masaomi Kida from Durarara!! series, all three projects being from Square Enix.
Ad blocker interference detected!
Wikia is a free-to-use site that makes money from advertising. We have a modified experience for viewers using ad blockers

Wikia is not accessible if you've made further modifications. Remove the custom ad blocker rule(s) and the page will load as expected.