Maliris
Talk

2
13,972 pages on
this wiki
Final Fantasy IX Enemy
Maliris
マリリス (Maririsu)
Statistics
Level
HP
MP
72
59,497
3,881
Strength
Defense
Evade
25
44
7
Magic
M. Defense
M. Evade
25
10
9
Attack
Spirit
Speed
92
45
49
EXP
AP
Gil
0
10
8,532
| | |
| --- | --- |
| Location | Memoria |
| Class | Demon |
| Steal | Genji Armor, Ultima Sword, Masamune |
| Item Dropped | Phoenix Pinion, Phoenix Down, Ether, Elixir |
| Card Dropped | none |
| Abilities | Sword Quiver, Flame Slash, Mustard Bomb, Raining Swords, Reflect, Firaga, Esuna |
| Status Immunity | Petrify, Trouble, Berserk, Regen, Vanish, Venom, Zombie, Stop, Float, Doom, Silence, Death, Poison, Heat, Mini, Darkness, Confusion, Sleep, Freeze |
| Eat | {{{Eat1}}} |
| Other Information | Uses Raining Swords when her HP reaches 0 |
Maliris
マリリス (Maririsu)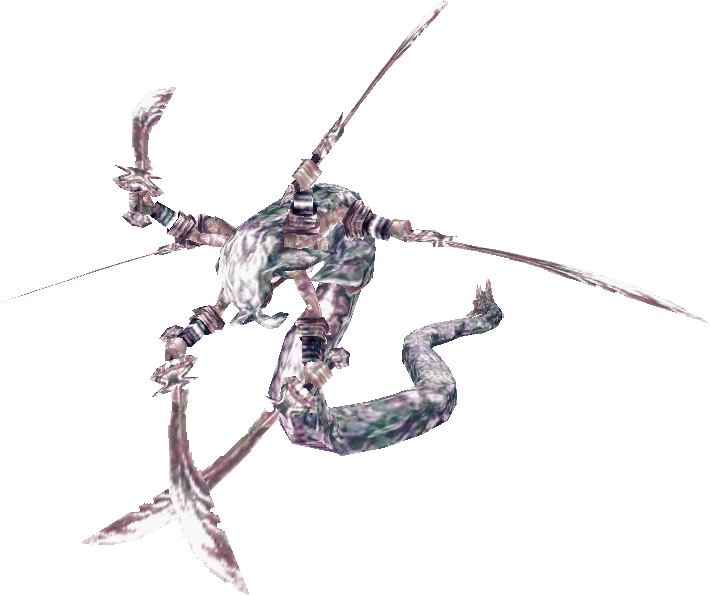 Statistics
Level
HP
MP
69
22,535
3,127
Strength
Defense
Evade
24
45
7
Magic
M. Defense
M. Evade
24
10
9
Attack
Spirit
Speed
88
44
48
EXP
AP
Gil
0
7
2,860
| | |
| --- | --- |
| Location | Crystal World |
| Class | Demon |
| Steal | Phoenix Pinion, Phoenix Down, Ether |
| Item Dropped | Phoenix Pinion, Phoenix Down, Ether, Elixir |
| Card Dropped | Ifrit |
| Abilities | Sword Quiver, Flame Slash, Mustard Bomb, Reflect, Firaga, Esuna |
| Status Immunity | Darkness, Heat, Confusion |
| Eat | Mustard Bomb |
| Other Information | {{{Other Information2}}} |
Maliris
マリリス (Maririsu)
Statistics
Level
HP
MP
{{{level3}}}
{{{HP3}}}
{{{MP3}}}
Strength
Defense
Evade
{{{Strength3}}}
{{{Defense3}}}
{{{Evade3}}}
Magic
M. Defense
M. Evade
{{{Magic3}}}
{{{Magic Defense3}}}
{{{Magic Evade3}}}
Attack
Spirit
Speed
{{{Attack Power3}}}
{{{Spirit3}}}
{{{Speed3}}}
EXP
AP
Gil
{{{Exp3}}}
{{{AP3}}}
{{{Gil3}}}
| | |
| --- | --- |
| Location | {{{Location3}}} |
| Class | {{{Class3}}} |
| Steal | {{{Steal3}}} |
| Item Dropped | {{{Win3}}} |
| Card Dropped | {{{Card3}}} |
| Abilities | {{{Attack3}}} |
| Status Immunity | {{{Status3}}} |
| Eat | {{{Eat3}}} |
| Other Information | {{{Other Information3}}} |
Maliris
マリリス (Maririsu)
Statistics
Level
HP
MP
{{{level4}}}
{{{HP4}}}
{{{MP4}}}
Strength
Defense
Evade
{{{Strength4}}}
{{{Defense4}}}
{{{Evade4}}}
Magic
M. Defense
M. Evade
{{{Magic4}}}
{{{Magic Defense4}}}
{{{Magic Evade4}}}
Attack
Spirit
Speed
{{{Attack Power4}}}
{{{Spirit4}}}
{{{Speed4}}}
EXP
AP
Gil
{{{Exp4}}}
{{{AP4}}}
{{{Gil4}}}
| | |
| --- | --- |
| Location | {{{Location4}}} |
| Class | {{{Class4}}} |
| Steal | {{{Steal4}}} |
| Item Dropped | {{{Win4}}} |
| Card Dropped | {{{Card4}}} |
| Abilities | {{{Attack4}}} |
| Status Immunity | {{{Status4}}} |
| Eat | {{{Eat4}}} |
| Other Information | {{{Other Information4}}} |
See also: Marilith.
Maliris is a boss from Final Fantasy IX. The party fights it in Memoria.
Maliris is first seen as the Fire Guardian in the Fire Shrine. While she isn't fought then, she challenges Freya and Amarant and they fight her to place the mirror.
Maliris appears again in Memoria on the bridge leading to the memory of Alexandria being destroyed.
Maliris frequently uses Fire magic on the party and especially with her sword attacks. Maliris also likes to cast Mustard Bomb on the party, which inflicts the Heat status. Quina can learn this technique, but not from her. She casts Reflect on herself and will reflect Fire spells off herself to hit the party. When defeated, Maliris attacks with Raining Swords that will do about 4000 HP to all characters.
Ice and Water magic is useful here, as are eidolons such as Shiva and Leviathan.
If the party has Auto-Reflect, the player doesn't need to Dispel Maliris's Reflect status, merely reflect Blizzaga or Water off a character, or the whole party for a stronger effect. Zidane should steals all the items Maliris has, as they are hard to find elsewhere.
Most of the party should have their HP almost fully healed by the end of the battle to survive Maliris's Raining Swords attack, although it is recommendeded at least one of the player characters has Auto-Life.
The translucent form of Maliris is considerably weaker, as she does not perform Raining Swords upon her defeat and has a substantially lesser amount of HP. A constant barrage of Ice-elemental magic and physical attacks charged with the Devil Killer ability should be enough to bring this snake down quickly. Crystal Maliris doesn't give EXP.
Related Enemies
Edit