Malboro Vine
Talk

0
13,962 pages on
this wiki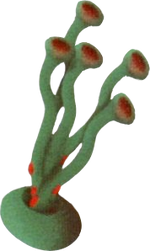 "This malboro tendril was dried in the sun, removing much of its scent. Used as a material in basket weaving and other handcrafts."
—Description, Final Fantasy Tactics A2: Grimoire of the Rift
Malboro Vine (モルボルの触手, Moruboru no Shokushu?), also called M-Tentacle or Malboro Tentacle, is a recurring item in the Final Fantasy series. It is, as its name implies, typically acquired from the Malboro enemy and has varying uses, mostly associated with Poison.
Appearances
Edit
The M-Tentacles is a battle item, which deals Poison-elemental damage to all enemies with 48% chance of inflicting target with the Poison status, in essence being the item version of the spell Bio3. It can be obtained either by winning it from the Malboro or Sneaky Step, or by stealing it from the Malboro.
The Malboro Tentacle is one of the required items to use the Solomon Ring to get the GF Doomtrain, six in all needed with the other items. It also teaches Quistis the Bad Breath spell and is used to get her ultimate weapon, Save the Queen. For refining purposes, 100 Malboro Tentacles can be refined into 1 Moon Curtain, 1 Malboro Tentacle can be refined into 40 Bios, and 1 Malboro Tentacle can be refined into 2 Remedies.
Malboro Tentacle can be obtained by stealing or winning it from the Malboro, or by Card Modding 4 Malboro Cards into 1 Malboro Tentacle.
Malboro Vines are dropped from members of the Malboro family, and are used by Alchemists to synthesize goods such as Hi-Potions. A variant is the Ameretat Vine, dropped from the eponymous relatives in the Near East; these vines are used in production of special high-level swords exclusive to Blue Mages.
The Malboro Vine is a piece of loot needed to unlock the Flametongue at the bazaar, along with a value pack of Hi-Potions and Smelling Salts. They are dropped by Malboros and Great Malboros.
"A slender, scissile tentacle. Usually shipped by the Malboro Vine bunch."
—Description
The Malboro Vine is a high-ranked Material. It can be obtained during Mission 4-2, Summoning Melee (Cebe, Isle Of The Treasures), Mission 4-3, Mission 5-2, Monster Melee (Gugoza Falls), The Sword In The Shell, Monster Melee (The Ymir Qul Range), and bought in the Material Shop during Chapter 8 and later.
Malboro Vine is a Loot material, obtained by completing the missions Pirate Attack, Wanted: Floraxion, and Open Wide. It is required to make the Malbow, Green Beret, and Nail Bow.
Dissidia Final Fantasy makes mention of Malboro Tentacles being used in many things in the summon files for the Malboro. Malboro wine is among the most famous of the products refined from the tentacles due to its pungent scent.