Welcome to the Final Fantasy Wiki,
the Final Fantasy resource that anyone can edit.
Started March 13, 2005, the wiki has more information than Cid could research!
Spoilers are appropriately enclosed in spoiler tags. See our policy for details.
The Final Fantasy Wiki's featured article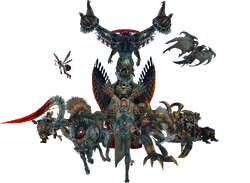 The Dark Aeons (ダーク召喚獣, Dāku Shōkanjū?, lit. Dark Summon Beasts) are dark counterparts of aeons in Final Fantasy X. They are superbosses and one of the extra features included in the International, PAL, and HD Remaster versions of Final Fantasy X. Each has a red spot somewhere on their body and appear as darker-colored palette swaps of the aeons Yuna can summon. Though the possessed aeons during the final battles use the same models, they are not referred to as "Dark Aeons".
In the Japanese versions the enemies' names are prefixed with "Heretic" (ヘレティック, Heretikku?), but the collective is still referred to as "Dark Aeons" in Japanese publications. (more...)
This week's featured image
Model of Sephiroth from World of Final Fantasy. World of Final Fantasy, which will be released on October 25th, has a "Day 1 Edition", which includes an exclusive Sephiroth summon. When summoned, he appears surrounded by flames, reminiscent of the Nibelheim Incident, then rises up into the air, covered in formulas ranging in complexity to the area of a circle, to equations that appear to be from celestial mechanics and relativity, similar to Super Nova. Sephiroth then unleashes Meteor upon the player's enemies.
The Final Fantasy Wiki held a podcast about World of Final Fantasy recently, and reached the conclusion that though World is clearly meant for a younger audience, the game may draw affection from fans of the older games of the series, who may not appreciate how seriously recent games have taken themselves, and who may appreciate the content drawn from classic games like Final Fantasy VII. Though to be sure, while Sephiroth may have been terrifying to young fans playing the game for the first time in the late 1990s, nobody is going to have nightmares about this incarnation of Sephiroth.
We are affiliated with many other Square Enix websites!
JRPG Games
Go to these sites for info or for help with your own wiki!
Atelier • Breath of Fire • Chrono • Disgaea • Dragon Quest • EarthBound • Etrian Odyssey • Fairy Fencer F • Final Fantasy • Golden Sun • Grandia • Hyperdimension Neptunia • Hyperdimension Neptunia • Japanese PC Games • Kingdom Hearts • Megami Tensei • Mugen Souls • Parasite Eve • Phantasy Star • Pokémon • Radiant Historia • SaGa • Suikoden • Valkyria Chronicles • Valkyrie Profile • The World Ends With You • Xenoblade • Xenosaga • Yo-Kai Watch
Want your community included? See how!