Welcome to the Final Fantasy Wiki,
the Final Fantasy resource that anyone can edit.
Started March 13, 2005, the wiki has more information than Cid could research!
Spoilers are appropriately enclosed in spoiler tags. See our policy for details.
The Final Fantasy Wiki's featured article
Final Fantasy Dimensions (ファイナルファンタジー レジェンズ 光と闇の戦士, Fainaru Fantajī Rejenzu Hikari to Yami no Senshi?, lit. Final Fantasy Legends: Warriors of Light and Darkness) is a Final Fantasy game for mobile devices. It is an episodic game, released starting in September 2010 on the i-mode distribution service and winter 2010 for the EZweb distribution service. Final Fantasy Dimensions features 2D graphics and a job ability system, and returns to classic Final Fantasy plot elements focusing on a conflict between light and darkness over the Crystals. On May 30, 2012, it was announced the game would be localized as Final Fantasy Dimensions for iOS and Android.
In November 2014, Square Enix announced a new Final Fantasy Dimensions game titled Final Fantasy Legends: Toki no Suishō where soundtracks from the original game were incorporated. No localization has been announced. In November 2016, following the conclusion of the game's first storyline, Square Enix rebranded Final Fanasy Legends: Toki no Suishō to Final Fantasy Legends II. (more...)
Featured image
Artwork of Zidane Tribal in Trance from Puzzle & Dragons. Puzzle & Dragons (PAD) is a mobile puzzle game which involves matching tiles; increasing numbers of matches empowers the monsters controlled by the player, which they may then use to fight through dungeons. PAD, which has been so successful that there is an anime based on it, heavily collaborates with other media, especially anime and role-playing games. In particular, PAD draws heavily from Final Fantasy source material. Here, we see card no. 2038, Trance Zidane. Trance is the Limit Break system of Final Fantasy IX, and, aside from serving as a plot device, is indicated in gameplay by the character turning gray (or pink, in Zidane's case -- an allusion to the Trance of Terra Branford in Final Fantasy VI) and gaining new abilities.
Here Zidane appears to be wielding the Ultima Weapon, the most powerful weapon accessible to Zidane in IX, distinguishable by the helm-like discs at the hilt of each blade. It is unclear which Dyne he is casting -- it seems closest to Shift Break, but the color scheme is unlike any Dyne in IX. In the background are the twin moons of Gaia. The twin moons are an allusion to the Red Moon of Final Fantasy IV whose astronomy is elaborated upon in the Final Fantasy IX Ultimania. Zidane's "anime face" is characteristic of PAD cards.
We are affiliated with many other Square Enix websites!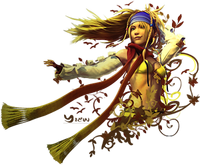 JRPG Games
Go to these sites for info or for help with your own wiki!
Aselia • Atelier • Battle Chasers: Nightwar • Blade and Soul • Breath of Fire • Chrono • Devilian • Disgaea • Dragon Quest • EarthBound • Etrian Odyssey • Final Fantasy • Golden Sun • Hyperdimension Neptunia • Kingdom Hearts • Mana / Seiken Densetsu • Megami Tensei • Parasite Eve • Phantasy Star • Pokémon • Riders of Icarus • Star Ocean • Suikoden • Valkyria Chronicles • The World Ends With You • Xenoblade • Xenosaga • Yo-Kai Watch • Ys
Want your community included? See how!