Welcome to the Final Fantasy Wiki,
the Final Fantasy resource that anyone can edit.
Started March 13, 2005, the wiki has more information than Cid could research!
Spoilers are appropriately enclosed in spoiler tags. See our policy for details.
Help
Learning how to edit?
Helping out
Did you know that…
…Final Fantasy II on the NES has the smallest inventory in the series, allowing for only 32 individual items? This is further exacerbated with Key Items being stored in the inventory, leading to a total of merely 18 available items that can be stored by end game.
…Cloud Strife and Aerith Gainsborough appear in the PlayStation 3 tech demo, which recreates the opening sequence of Final Fantasy VII in advanced graphics?
…Crusader was called "Jihad" in the Japanese version of Final Fantasy VI and renamed due to censorship?
…the Blood Sword heals its holder when used?
We are affiliated with many other Square Enix websites!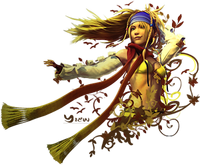 JRPG Games
Go to these sites for info or for help with your own wiki!
Aselia • Atelier • Breath of Fire • Chrono • Dinosaur King • Disgaea • Dragon Quest • EarthBound • Etrian Odyssey • Final Fantasy • Golden Sun • Hyperdimension Neptunia • Kingdom Hearts • Mana / Seiken Densetsu • Megami Tensei • Parasite Eve • Phantasy Star • Pokémon • Radiant Historia • Radiata Storys • SaGa • Star Ocean • Suikoden • Valkyria Chronicles • Valkyrie Profile • The World Ends With You • Xenoblade • Xenosaga • Yo-Kai Watch • Ys
Want your community included? See how!
See all of our JRPG gaming wikis!