Welcome to the Final Fantasy Wiki,
the Final Fantasy resource that anyone can edit.
Started March 13, 2005, the wiki has more information than Cid could research!
Spoilers are appropriately enclosed in spoiler tags. See our policy for details.
The Final Fantasy Wiki's featured article
Our clan has a very strict entrance examination. We should begin yours at once... And you pass. Moogles are quick to make up their minds, kupo.
—Montblanc.
Clan Centurio (セントリオ, Sentorio?) is one of the many clans in the world of Ivalice. Starting out small, they expand to become one of the largest clans. Some of the members can be found in the Japanese version of Final Fantasy Tactics Advance as the first members of Clan Nutsy.
In Final Fantasy XII, Clan Centurio is a recently founded Elite Mark hunting group. Its leader and founder is the moogle Montblanc who receives bills for some of the toughest Marks for Vaan and company to track down and defeat, offering prizes along the way. (more...)
This week's featured image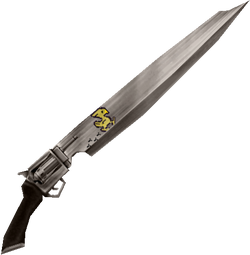 Model of Gilgamesh's counterfeit Revolver from Final Fantasy XII. Gilgamesh is a traveling swordsman and recurring character in most Final Fantasy games since Final Fantasy V. In V, he wielded the Excalipoor, a sword that always dealt one damage, believing that it was the legendary blade Excalibur, and in every game since then, Gilgamesh has traveled the realms, searching for legendary weapons, only for them to always turn out to be counterfeit. (Humorously, in Final Fantasy IX, he turns down the Excalibur II, arguably the most difficult weapon to obtain in the entire series, for the Excalipur, a variation of the Excalipoor).
In Gilgamesh's boss fight in XII, he wields a number of "legendary" weapons across the series, including Squall Leonhart's Revolver, a gunblade engraved with Griever, a lion crest that, according to Squall, symbolizes strength and courage. Unfortunately for Gilgamesh, his Revolver is instead engraved with a Chocobo. Aside from being amusing, Gilgamesh's collection of weapons, which in XII includes the Buster Sword of Final Fantasy VII, the Orichalcum of Final Fantasy IX, and Ivalician weapons like the Zantetsuken, Tournesol, and Wyrmhero Blade, helps tie together the continuity of the Final Fantasy series, which takes place in many different universes of multiple genres, but still has a shared history of recurring characters ... and mediocre swords.
JRPG Games
Go to these sites for info or for help with your own wiki!
Atelier • Breath of Fire • Chrono • Disgaea • Dragon Quest • EarthBound • Etrian Odyssey • Fairy Fencer F • Final Fantasy • Golden Sun • Grandia • Hyperdimension Neptunia • Hyperdimension Neptunia • Japanese PC Games • Kingdom Hearts • Megami Tensei • Mugen Souls • Parasite Eve • Phantasy Star • Pokémon • Radiant Historia • SaGa • Suikoden • Valkyria Chronicles • Valkyrie Profile • The World Ends With You • Xenoblade • Xenosaga • Yo-Kai Watch
Want your community included? See how!