Welcome to the Final Fantasy Wiki,
the Final Fantasy resource that anyone can edit.
Started March 13, 2005, the wiki has more information than Cid could research!
Spoilers are appropriately enclosed in spoiler tags. See our policy for details.
The Final Fantasy Wiki's Featured Article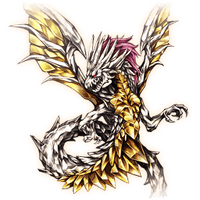 An ancient dragon dwelling in the Dimensional Rift. A massively strong will once consigned it to a certain task, but all details are unknown. It often rains devastation on those who would destroy it, causing even gods to fear its strength.
—Dissidia description.
Shinryu (しんりゅう, Shinryū?) is a powerful entity and enemy exclusive summon in Dissidia Final Fantasy and Dissidia 012 Final Fantasy. Originally appearing as a superboss in Final Fantasy V, Shinryu is a summon used by Chaos and the only one that cannot be controlled by the player. It also plays a role in the story as the facilitator of the cycles of war. (more...)
This Week's Featured Image
Screenshot of Noctis and his friends playing Justice Monsters Five from the Stand By Me trailer from Uncovered: Final Fantasy XV. Justice Monsters Five is a pinball game that will be playable in-game in Final Fantasy XV, but will also be playable standalone on the iOS, Android and Windows 10. Over 90,000 players have registered to play Justice Monsters Five, and it will be released later in 2016.
The trailer features a recording Stand By Me, one of the game's main themes, sung by Florence + The Machine. The song, a cover of the classic Ben E. King song from the 1960s, is about Noctis's love for his friends, which he is unable to express in prose, and features the Prelude in its instrumentation. Along with two other songs, Too Much Is Never Enough and I Will Be, Stand By Me was released on Florence's album Songs from Final Fantasy XV on August 12.
Life and death, victory and defeat, honor and disgrace... Each of these go hand in hand. There's only one way or the other. How 'bout it? Are you still up for it?

―
Headmaster Cid
,
Final Fantasy VIII