Magitek Research Facility
Talk

0
13,964 pages on
this wiki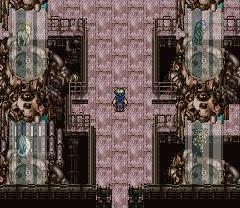 The Magitek Research Facility (魔導研究所, Madō Kenkyūjo?) is an unrevisitable location in Final Fantasy VI located in the Imperial capital of Vector, and is where experiments on espers are carried out, as well as where the Empire's Magitek weapons are produced. The facility was developed sixteen years prior to the events of the game.
The Returners infiltrate the facility with the help of a Returner member stationed in Vector, and make their way through the facility to try and find the captive espers used to power the Empire's Magitek weapons. They spy Kefka torturing two espers before throwing them into a garbage chute, laughing at the power he has gained from them, as well as hinting at his plans to restore the Warring Triad using the espers' magic.
After acquiring the help of the two as magicite, the Returners climb up to the main lab where six espers are held captive. The Returners shut down the machine, but the espers are already too weak from the Empire's experiments, and turn themselves to magicite. Cid arrives and speaks to Celes and Locke, inquiring about rumors that Celes is an Imperial spy. Kefka appears and insists the rumors are true, and has two Imperial soldiers attack the group. To prove her loyalty, Celes teleports the Imperials, herself and Kefka away.
The fighting causes the machinery in the room to begin to explode, and Cid and the other Returners flee to a mine cart. The Returners ride it to safety, meeting up with Setzer and escaping Vector successfully on the Blackjack. The events in the facility triggers a massive shift in the war - the Empire's supply of magic is cut off, but they acquire the knowledge that magicite is a much more powerful source of magical energy than their forced extractions from live espers. With this information, and due to the devastation caused by the Returner raid, the Magitek Research Facility is dismantled soon after, but pieces of the facility make up the debris used to form Kefka's Tower in the World of Ruin.
The first area of the facility is the Magitek Factory, where the Empire's weapons are produced. Many one-way lifts, cranes and conveyor belts make for a complex maze, and there are a handful of Hidden Passages. A garbage chute where Kefka dumps the espers Shiva and Ifrit has two doors: one to a Save Point, the other leads to a long stairwell that leads up to the Magitek Research Facility, where the espers are being kept. A lift from the facility leads to a mine cart track leading out of the facility.
Monster formations
Edit
Magitek Factory

Garbage chute

Stairwell and hallway

Mine cart

Outside
"Magitek Research Facility", also known as "Devil's Lab" in Kefka's Domain, is the background theme of the Magitek Research Facility.