Magic Pot
Talk

1
13,957 pages on
this wiki
"A mysterious being that hides within a pot, patiently staring out."
—Dissidia Final Fantasy Summon Compendium
Magic Pot (マジックポット, Magikku Potto?), also known as Magic Urn and Magick Pot, is a recurring enemy in the Final Fantasy series. They are usually immune to all magical and physical attacks. The most common way to defeat them is with the use of an Elixir, as they are often invincible until the item is used on it. If not appeased, they are difficult if not impossible to defeat. Magic Pots also often give large rewards when defeated.
Appearances
Edit
Main article: Magic Pot (Final Fantasy V)
Magic Pots can be found in the Phoenix Tower. They demand Elixirs and reward the party with 100 AP when given enough.
An artwork of a similar monster hiding under a box rather than in a pot was made for the game, but was never used for an enemy design.

Main article: Magic Urn (Final Fantasy VI)
Magic Urns can be found in the Cultists' Tower. Glutturns appear in the Soul Shrine in the Advance release. The original Magic Urn casts curative spells on the party and flees, and Glutturns demand rare items or else they attack the party. If the party is able to endure their attacks while refusing to give them the items they want, the Glutturns each have rare equipment pieces to be stolen.
Glutturn (Elixir)
Glutturn (Ether)
Glutturn (Hi-Ether)
Glutturn (X-Ether)
Main article: Magic Pot (Final Fantasy VII)
Magic Pot is an enemy found in the Northern Cave. They are immune to damage until an Elixir is used, and give large amounts of gil and 1000 AP when defeated.

For the battle information, see: Magic Pot (Crisis Core)
Magic Pots appear as enemies and as a Summon for the Digital Mind Wave's Chocobo Mode, and are found in several specific missions. When encountered, they will ask the player to use predetermined commands which differ depending on the mission.
For example, in mission 10-2-3 Magic Pot will ask for Jump, Fira, Gravity, and Assault Twister in that order. If obliged, the Magic Pot will be added to the DMW in Chocobo Mode. Repeating the task will grant the player rare items instead. In mission 7-6-6 following the Magic Pot's instructions will get the player a Genji Shield.
As a DMW ability, Magic Pot gives Zack certain items depending on the ability level. Higher levels will give rarer items.
| Level | Obtainable Items |
| --- | --- |
| Level 1 | Curaga Materia, Drain Materia, Graviga Materia, Libra Materia |
| Level 2 | Iron Bangle, Titanium Bangle, Carbon Bangle, Platinum Bangle |
| Level 3 | Kaiser Knuckles, Shinra Beta Plus, Royal Crown, Crystal Orb |
| Level 4 | Elixir x5, Elixir x10, Phoenix Down x1, Phoenix Down x3 |
| Level 5 | Ribbon, Gold Rolling Pin x1, Gold Rolling Pin x3, Gold Rolling Pin x5 |
Main article: Magic Urn (Final Fantasy X)
Magic Urns can be found at the Cavern of the Stolen Fayth. They cannot be killed (unless Zanmato is used), and the player must target one of the pot's seven eyes. Targeting the correct eye earns a rare item, but the more times the player targets the correct eye, the more difficult it is to do so subsequently. When the player attacks the wrong eye, the Magic Urn explodes and damages the party.
Magic Urns can be seen during one of the Cactuar shooting games, where shooting them will yield items. Magic Urns also appear as shopkeepers in the Last Mission mode of the International version.
Magic Urn Coin
Coin No.
30
Coin Value
5
Trait
Gil x2
Location
Found in the Eastern or Northern Expanses of the Bikanel Desert.
Main article: Magic Pot (Final Fantasy XI)
In Final Fantasy XI Magic Pots do not house the familiar impish creatures of the other series' titles, lack the Elixir gimmick, and show no unusual resistance to any form of damage. In fact, they have a weakness to blunt damage such as that of Hand-to-Hand weapons and Staves. They are members of the Arcana family, and as such are hostile to players casting magic.


Main article: Magick Pot (Final Fantasy XII)
Magick Pots can be fought at the Subterra floors of the Pharos at Ridorana. They are almost invincible to damage, but if the player doesn't attack it, it asks for an Elixir, and once given one becomes more vulnerable to damage. The player can steal the Elixir back before killing it.

Main article: Magick Pot (Tactics A2)
Giving the Magic Pot an Elixir makes it use an ability called Reward, in which it disappears and gives out loot.

Main article: Magic Pot (Echoes of Time)
Magic Pots attack by rolling on their sides and charging at the player(s).

For the battle information, see: Magic Pot (Dimensions)
Magic Pots can be found in the Castle Burtgang. They demand Elixirs and reward the party with 777 gil, 15,555 exp and 77 AP when given one. An Elixir can be stolen from it, then given back to it. They might also ask for Hi-potion or Ethers instead of Elixirs.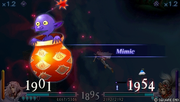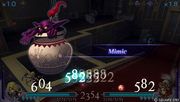 Magic Pot appears as a summon in Dissidia. When summoned, in both Auto and normal modes, it uses Mimic to equal the summoner's Bravery points with their opponent's.
Like some summons, Magic Pot can be summoned by two distinct ways: Automatically, which summons it immediately when the opponent's current Bravery is three times his Bravery base value, and shows its Final Fantasy X artwork, and manually, where an artwork of its Final Fantasy VII appearance appears. Magic Pot's auto version can be obtained in the third stage of the Destiny Odyssey VII storyline, and its manual version can be obtained in the second stage of the Destiny Odyssey VII storyline. If the summoner is affected by Break, they cannot copy the opponent's bravery.
Magic Pot returns as a summonstone, with the same function as in Dissidia. His auto version is now found in Chapter Seven: Ally of Scenario 012. The manual version can be purchased from certain Moogle Shops for 40 KP.

Magic Pots appear as enemies in Theatrhythm Final Fantasy.

Magic Pots are an enemy in Final Fantasy Airborne Brigade. They are found in every quest location, but only while the player's brigade is engaged in battle with an enemy. It replaces Gate Crystal encounters, and it runs away when attacked, dropping an item for the player. A Magic Pot will drop either a Fey Drink, which increases the player's BP by one, or a Hero Drink, which doubles the contribution points the player's brigade earns for the next five minutes.

"What if... What if all that these pots ever truly wanted...was a nice warm hug?"
—In-game description.
Main article: List of Final Fantasy All the Bravest Enemies#Magic_Pot
The Magic Pot appears in Final Fantasy All the Bravest as an enemy encountered on the Bridge of Moore. It uses Elixir Thirst and drops the Lamia Harp.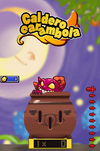 The game has a minigame related with the Magic Pot in which knives must be inserted into the pot in order to obtain points.
The Magic Pot appears as an enemy in the Guardian of the Light Dungeon, where it tries to steal items from Chocobo. Unlike in other games, the Magic Pot is vulnerable to attack and can be defeated easily.
The Magic Pot appears as a card in the Final Fantasy Trading Card Game.