VII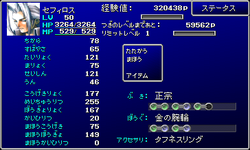 The Magic Defense bug is a bug in Final Fantasy VII, which is similar to the Evade bug found in Final Fantasy VI. This bug prevents the Magic Defense stat of any armor equipped from being added to a character's Spirit stat, effectively making the Magic Defense of all armor worthless.
This was fixed in the 2012 PC re-release.
Ad blocker interference detected!
Wikia is a free-to-use site that makes money from advertising. We have a modified experience for viewers using ad blockers

Wikia is not accessible if you've made further modifications. Remove the custom ad blocker rule(s) and the page will load as expected.