Mad Rush
Talk

0
13,963 pages on
this wiki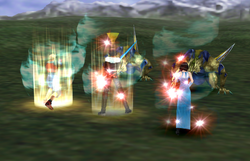 Mad Rush (とつげき, Totsugeki, or つっこむ, Tsukkomu?) is an ability in Final Fantasy VIII and Final Fantasy X-2.
Appearances
Edit
Mad Rush is a command ability that can be learned from the Guardian Forces Ifrit and Eden. It adds Haste, Protect, Shell, and Berserk statuses on all party members, even those with a 100% status defense against Berserk status.
The Berserker dressphere can learn Mad Rush as part of the Instinct skillset. Madrush requires to be learned Cripple first and then earning 30 AP to master it. The user inflicts a powerful critical hit on the enemy for the cost of 6 MP, but it has a rather low success rate.