Ad blocker interference detected!
Wikia is a free-to-use site that makes money from advertising. We have a modified experience for viewers using ad blockers

Wikia is not accessible if you've made further modifications. Remove the custom ad blocker rule(s) and the page will load as expected.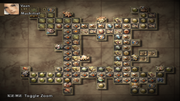 Machinist (機工士, Kikō Shi?) is a License Board in Final Fantasy XII International, represented by the Zodiac Sign of Gemini.
They are a Ranged class, using Guns as their primary weapon, and come equipped with Light Armor. Machinists have a large amount of versatility, being able to attack from a distance with their long ranged weapons and use some Time Magick. They can also use some Green Magicks, as well as equip Measures and Hand-bombs
However, they are ineffective against enemies that use Guns and Measures, and are unable to learn recovery magicks, as well as conditional stat boosting skills, such as Focus and Last Stand.
The Machinist has access to 127 licenses, which require 7,341 LP to unlock, as well as up to 9 additional licenses through summon licenses costing 780 LP, and 3 additional licenses costing 150 LP through quickening licenses.
License Board
Edit
Legend
edged weapons
blunt weapons
piercing weapons
Armor
Accessory
Magick
Technick
Augment
Command
Gambit
Summon
Quickening
| | A | B | C | D | E | F | G | H | I | J | K | L | M | N | O | P | Q | R |
| --- | --- | --- | --- | --- | --- | --- | --- | --- | --- | --- | --- | --- | --- | --- | --- | --- | --- | --- |
| 1 | | | | | | | | | | | | | | | | | | |
| 2 | | | | | | | | | | | | | | | | | | |
| 3 | | | | | | | | | | | | | | | | | | |
| 4 | | | | | | | | | | | | | | | | | | |
| 5 | | | | | | | | | | | | | | | | | | |
| 6 | | | | | | | | | | | | | | | | | | |
| 7 | | | | | | | | | | | | | | | | | | |
| 8 | | | | | | | | | | | | | | | | | | |
| 9 | | | | | | | | | | | | | | | | | | |
| 10 | | | | | | | | | | | | | | | | | | |
| 11 | | | | | | | | | | | | | | | | | | |
| 12 | | | | | | | | | | | | | | | | | | |
| 13 | | | | | | | | | | | | | | | | | | |
| 14 | | | | | | | | | | | | | | | | | | |
| 15 | | | | | | | | | | | | | | | | | | |
| 16 | | | | | | | | | | | | | | | | | | |
| 17 | | | | | | | | | | | | | | | | | | |
| 18 | | | | | | | | | | | | | | | | | | |
| 19 | | | | | | | | | | | | | | | | | | |
License list
Edit
Equipment
Edit
| Name | Description | LP cost |
| --- | --- | --- |
| Guns (1) | Lets the character equip the Altair. | 30 |
| Guns (2) | Lets the character equip the Capella and Vega. | 50 |
| Guns (3) | Lets the character equip the Sirius and Betelgeuse. | 60 |
| Guns (4) | Lets the character equip the Ras Algethi and Aldebaran. | 70 |
| Guns (5) | Lets the character equip the Spica and Antares. | 90 |
| Guns (6) | Lets the character equip the Arcturus and Fomalhaut. | 100 |
| Guns (7) | Lets the character equip the Aldebaran Y. | 190 |
| Measures (1) | Lets the character equip the Gilt Measure. | 40 |
| Measures (2) | Lets the character equip the Arc Scale and Multi Scale. | 50 |
| Measures (3) | Lets the character equip the Cross Scale and Caliper. | 70 |
| Measures (4) | Lets the character equip the Euclid's Sextant. | 100 |
| Hand-bombs (3) | Lets the character equip Caldera and Volcano. | 75 |
| Hand-bombs (4) | Lets the character equip Volcano T. | 105 |
| Light Armor (1) | Lets the character equip the Leather Cap and the Leather Clothing. | 10 |
| Light Armor (2) | Lets the character equip the Headgear, Headguard, the Chromed Leathers and Leather Breastplate. | 15 |
| Light Armor (3) | Lets the character equip the Leather Headgear, Horned Hat, the Bronze Chestplate and Ringmail. | 20 |
| Light Armor (4) | Lets the character equip the Balaclava, Soldier's Cap, Windbreaker and Heavy Coat. | 25 |
| Light Armor (5) | Lets the character equip the Green Beret, Red Cap, Survival Vest and the Brigandine. | 30 |
| Light Armor (6) | Lets the character equip Headband, Pirate Hat, Jujitsu Gi and Viking Coat. | 40 |
| Light Armor (7) | Lets the character equip Goggle Mask, Adamant Hat, Metal Jerkin and Adamant Vest. | 50 |
| Light Armor (8) | Lets the character equip Officer's Hat, Chakra Band, Barrel Coat and Power Vest. | 60 |
| Light Armor (9) | Lets the character equip the Thief's Cap, Gigas Hat, Ninja Gear and Gigas Chestplate. | 70 |
| Light Armor (10) | Lets the character equip the Chaperon and the Minerva Bustier. | 75 |
| Light Armor (11) | Lets the character equip the Crown of Laurels, Rubber Suit. | 80 |
| Light Armor (12) | Lets the character equip the Renewing Morion and the Mirage Vest. | 90 |
| Light Armor (13) | Lets the character equip the Dueling Mask and the Brave Suit. | 110 |
| Accessory (1) | Lets the character equip Orrachea Armlet. | 5 |
| Accessory (2) | Lets the character equip Bangle and Firefly. | 20 |
| Accessory (3) | Lets the character equip Diamond Armlet and Argyle Armlet. | 25 |
| Accessory (4) | Lets the character equip Battle Harness and Steel Gorget. | 35 |
| Accessory (5) | Lets the character equip Tourmaline Ring and Embroidered Tippet. | 35 |
| Accessory (6) | Lets the character equip Golden Amulet and Leather Gorget. | 35 |
| Accessory (7) | Lets the character equip Rose Corsage and Turtleshell Choker. | 40 |
| Accessory (8) | Lets the character equip Thief's Cuffs and Gauntlets. | 45 |
| Accessory (9) | Lets the character equip Amber Armlet and Black Belt. | 30 |
| Accessory (10) | Lets the character equip Jade Collar and Nishijin Belt. | 40 |
| Accessory (11) | Lets the character equip Pheasant Netsuke and Blazer Gloves. | 45 |
| Accessory (12) | Lets the character equip Gillie Boots and Steel Poleyns. | 60 |
| Accessory (13) | Lets the character equip Berserker and Magick Gloves. | 60 |
| Accessory (14) | Lets the character equip Sage Ring's and Agate Ring. | 70 |
| Accessory (15) | Lets the character equip Ruby Ring and Bowline Sash. | 70 |
| Accessory (16) | Lets the character equip Cameo Belt and Cat-ear Hood. | 70 |
| Accessory (17) | Lets the character equip Bubble Belt and Fuzzy Mitre. | 80 |
| Accessory (18) | Lets the character equip Sash and Power Armlet. | 80 |
| Accessory (19) | Lets the character equip Indigo Pendant and Winged Boots. | 100 |
| Accessory (20) | Lets the character equip Opal Ring and Hermes Sandals. | 115 |
| Accessory (21) | Lets the character equip Quasimodo Boots and Nihopalaoa. | 130 |
| Accessory (22) | Lets the character equip Germinas Boots and Ring of Renewal. | 160 |
| Equip Ribbon | Lets the character equip a Ribbon. | 215 |
| Name | Description | LP cost |
| --- | --- | --- |
| Time Magick 8 | Lets the character cast Vanishga and Warp. | 90 |
| Time Magick 9 | Lets the character cast Reflectga and Slowga. | 100 |
| Time Magick 10 | Lets the character cast Graviga and Hastega. | 125 |
| Green Magick 1 | Lets the character cast Decoy and Oil. | 40 |
| Name | Description | LP cost |
| --- | --- | --- |
| Achilles | Adds one additional elemental weakness to one enemy. | 40 |
| Charm | Causes Confuse to one enemy. | 30 |
| Gil Toss | Throw Gil to damage all enemies in range. | 30 |
| Horology | Damages all enemies in range based on game time. | 50 |
| Libra | Makes user able to view detailed information of a targeted enemy, as well as hidden traps. | 25 |
| Numerology | Deal damage that increases with successive hits. | 40 |
| Steal | Steal item(s) from an enemy. | 20 |
| Poach | Captures a HP critical foe to obtain loot. | 30 |
| Stamp | Moves an active status effect from the user to another target. | 40 |
| Traveler | Deals damage to all enemies in range based on total steps taken. | 50 |
| Name | Description | Amount | LP cost |
| --- | --- | --- | --- |
| Martyr | Recover MP after taking damage. | 1 | 30 |
| Phoenix Lore | Greater amount of HP restored with use. | 1 | 30 |
| HP+30/70/110/150/190/230/270/310/350/390 | Increases HP by numbered amount. | 10 | 20/30/40/50/60/70/80/90/100/115 |
| Spellbound | Positive buffs last 50% longer. | 1 | 30 |
| Remedy Lore 1-2-3 | Increases Remedy potency to include curing more status effects. | 3 | 20/30/70 |
| Battle Lore | Increases Strength, making physical damage stronger. | 3 | 30/30/30 |
| Magick Lore | Increases Magick Power, making spells stronger. | 7 | 30/30/30/30/50/50/50 |
| Potion Lore 1-2-3 | Potions restore 10% more HP per augment. | 3 | 20/35/70 |
| Headsman | Recover MP when you kill an enemy. | 1 | 30 |
| Inquisitor | Recover MP after dealing damage. | 1 | 30 |
| Ether Lore 1 | Ethers restore 10% more MP per augment. | 1 | 20 |
| Last Stand | Defense increases when HP critical. | 1 | 70 |
| Swiftness | Action time is reduced by 10%. | 3 | 30/50/80 |