Machina Maw
18,481 pages on
this wiki
Talk

4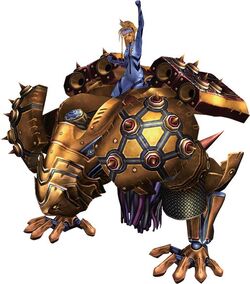 Special dressphere bristling with incredible machina power.
—In-Game "Help" Description.
Activate super duper mega ultra assault mode!
—Rikku

Machina Maw (マキナマズル, Makina Mazuru?, lit. Machina Muzzle) is Rikku's special dressphere in Final Fantasy X-2. It is obtained at the Oasis in the Bikanel Desert while chasing the Leblanc Syndicate in Chapter 2. An advanced Al Bhed machina weapon, Maw resembles a large Helm-type fiend.
The abilities Break HP Limit and Break Dmg. Limit are only available if the player has found the Machina Reactor and Machina Booster Key items, respectively. Machina Reactor is inside a chest in the Ruin Depths dungeon. Machina Booster is found in a chest near the lift leading to the Youth League Headquarters in Mushroom Rock Road. Both can only be obtained in Chapter 5.
Appearance
Edit
Rikku wears a tight, full body blue outfit with dark blue accents. Her blue headband has dark blue spots on it. She rides atop a large, gold machina beast with missile launchers on its back and spike on the front shoulders.
Rikku

Machinations
Vajra
Revival
Item

Smasher-R

Smash
Homing Ray
HP Repair
MP Repair

Crusher-L

Crush
Homing Ray
HP Repair
MP Repair
Abilities
Edit
Machina Maw (Rikku)
Edit
Command Abilities
Edit
| Name | AP | MP | Description | Prerequisite | Image |
| --- | --- | --- | --- | --- | --- |
| Attack | Initial | N/A | Attack one enemy. | None | |
| Revival | 10 | N/A | Revive one KO'd character. | None | |
| Death Missile | Initial | 12 | Instantly defeat one enemy. Sometimes fails. | None | |
| Bio Missile | Initial | 12 | Inflict damage and Poison on one enemy. | None | |
| Break Missile | Initial | 12 | Inflict damage and Petrification on one enemy. | None | |
| Berserk Missile | 10 | 12 | Inflict damage and Berserk on one enemy. | None | |
| Stop Missile | 10 | 12 | Inflict damage and Stop on one enemy. | Berserk Missile | |
| Confuse Missile | 10 | 12 | Inflict damage and Confusion on one enemy. | Stop Missile | |
| Shockwave | 20 | 36 | Damage all enemies. | None | |
| Shockstorm | 20 | 36 | Damage all enemies and delay their actions. | Shockwave | |
| Vajra | 30 | N/A | Damage all enemies. | Shockstorm | |
Auto Abilities
Edit
Smash (Smasher-R)
Edit
Command Abilities
Edit
| Name | AP | MP | Description | Prerequisite | Image |
| --- | --- | --- | --- | --- | --- |
| Howitzer | Initial | 12 | Damage one enemy. | None | |
| Sleep Shell | 10 | 12 | Inflict damage and Sleep on one enemy. | None | |
| Slow Shell | 10 | 12 | Inflict damage and Slow on one enemy. | Sleep Shell | |
| Anti-Power Shell | 10 | 12 | Damage one enemy and lower its Strength. | Slow Shell | |
| Anti-Armor Shell | 10 | 12 | Damage one enemy and lower its Defense. | Anti-Power Shell | |
| Scan | 10 | N/A | View detailed information about one enemy. | None | |
| Shellter | 20 | 10 | Cast Shell on the party. | None | |
| Protector | 20 | 10 | Cast Protect on the party. | Shelter | |
| HP Repair | Initial | N/A | Restore HP to one character. | None | |
| MP Repair | Initial | N/A | Restore MP to one character. | None | |
| Homing Ray | Initial | N/A | Damage one enemy. | None | |
Auto Abilities
Edit
Command Abilities
Edit
| Name | AP | MP | Description | Prerequisite | Image |
| --- | --- | --- | --- | --- | --- |
| Howitzer | Initial | 12 | Damage one enemy. | None | |
| Blind Shell | 10 | 12 | Inflict damage and Darkness on one enemy. | None | |
| Silence Shell | 10 | 12 | Inflict damage and Silence on one enemy. | Blind Shell | |
| Anti-Magic Shell | 10 | 12 | Damage one enemy and lower its Magic. | Silence Shell | |
| Anti-Mental Shell | 10 | 12 | Damage one enemy and lower its Magic Defense. | Anti-Magic Shell | |
| Booster | 20 | 30 | Cast Haste on the party. | None | |
| Offense | 20 | 10 | Raise one character's Strength. | None | |
| Defense | 20 | 10 | Raise one character's Defense. | Offense | |
| HP Repair | Initial | N/A | Restore HP to one character. | None | |
| MP Repair | Initial | N/A | Restore MP to one character. | None | |
| Homing Ray | Initial | N/A | Damage one enemy. | None | |
Auto Abilities
Edit
Other appearances
Edit