Lv 4 Flare
Talk

2
13,972 pages on
this wiki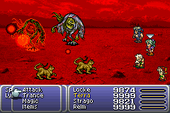 Level 4 Flare (レベル4フレア, Reberu 4 Furea?), Lv.4 Flare and Lv 4 Flare, is a Lore spell from Final Fantasy VI that deals non-elemental magic damage to all enemies whose level is a multiple of four. It can be learned from Trapper, Apocrypha, Devil, and Dueller. It costs 42 MP to cast, has a spell power of 66, ignores defense, and no split damage.
See also: Level 3 Flare, Megaflare, Gigaflare, Shadow Flare, and Flare Star.
See also: Flare (Ability) and Ardor.
Bosses who are vulnerable to a this spell, but can never be used against them will not been listed below, such as Vargas. There's a total of 74 enemies that can be damage by this spell, enemies affected by Lv.4 Flare are as follow: