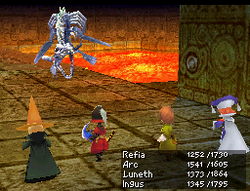 Lust Dagger (ラストダガー, Rasutodagaa?) is a recurring weapon in the series.
Appearances
Edit
I The Lust Dagger is the strongest dagger in the PSP/iOS versions, providing 50 attack, 90 accuracy, 20 critical, +20 Agility and Evasion, and casts ???? when used as an item in battle. It can be equipped by the Ninja and Black Wizard, and only obtained from the Labyrinth of Time.
III The Lust Dagger is the second-strongest dagger in the 3D remake, being bested by the Gladius. It provides 110 attack, +8 Agility, and can be equipped by the Onion Knight, Thief, and Ninja classes. It can only be found in Doga's Grotto.
XI The Lust Dagger is a level 51 dagger with damage of 20, delay of 201, +7 to Agility, and -1 to Strength, Dexterity, Vitality, Mind, Intelligence, and Charisma. The Lust Dagger made its first appearance in the series, as one of a set of seven weapons each associated with one of the Seven Deadly Sins. It is dropped by a Skeleton Notorious Monster named "Skull of (name of sin)" located in Eldieme Necropolis that are spawned when all seven tallow candles are alight simultaneously. Of the seven weapons, only the Lust Dagger and the Gluttony Sword have gone on to appear in other games, although the Wrath Tabar was dummied out of Final Fantasy III.