Lunar Curtain
Talk

2
13,964 pages on
this wiki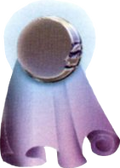 The Lunar Curtain (月のカーテン, Tsuki no Kāten?), also known as Moon Curtain, is recurring item in the series. It generally casts positive status effects upon the player party, usually Shell.
Appearances
Edit
The Lunar Curtain only appears in the GBA/PSP/iOS remakes. It is dropped by several powerful enemies and can be bought in the Red Mage village of the Whisperwind Cove. It casts NulDeath upon the whole party when used.
The Conch Shell acts as the Lunar Curtain, casting Shell on a party member.
The Lunar Curtain appears in the PlayStation, Advance remake, and the PSP release. It casts Reflect upon the character using the item. Its effects last longer than that of the Light Curtain. It also grants the Barrier status, which gives immunity to physical attacks.
The Lunar Curtain casts Reflect and Protect. It is found in Lunarians' Tale chapter Challenge Dungeon 2 and The Crystals chapter SubterraneB12 and Depths B6. It is dropped by Black Flan, Eukaryote, Lunar Virus, Micaliote, Nescaliote, Prokaryote, Proto Deathmask and Silver Dragon.
Known as the Moon Curtain in this game.
Effect
Teaches a GF the "Auto-Shell" ability.
Location
N/A
Find
N/A
Steal from
N/A
Won from
N/A
Refine From
100 Malboro Tentacles into 1 Moon Curtain (GF Med-RF)
20 Magic Armlet into 1 Moon Curtain (GF Med-RF)
1 Alexander card into 3 Moon Curtain
Cost
N/A
| | |
| --- | --- |
| Effect | Casts Shell on the party. |
| Buy in | Argent (Calm Lands) for 70 points |
| Find in | Kilika (Chapter 1 - Resident Area; Chapter 3 - Resident Area x2; Chapter 5 - Resident Area x3), Luca (Chapter 1 - Outskirts x2; Chapter 3 - Outskirts x3), Zanarkand (Chapter 2 - Cloister 1; Chapter 3 - Cloister 1 x2) |
| Steal from | Gemini (Normal and Oversoul), Barbuta (Coliseum - International only) |
| Won from | N/A |
| Bribe From | N/A |
| Other | N/A |
| Cost | N/A |