Lumoria
Talk

2
16,211 pages on
this wiki
Lumoria is a celestial region in Final Fantasy XI. Once situated on Qufim Island[1], it has now separated from Vana'diel and floats in space above it[2]. This is the event that gave Qufim Island its crescent shape[3].
Lumoria contains the ruins of the Celestial Capital Al'Taieu, a legendary Zilart city lost over ten thousand years before the beginning of the game's story. It is the ultimate destination of the Chains of Promathia expansion, accessible once "Chapter 8: Emptiness Bleeds" is started.
Abyssea's Lumoria
Edit
In the alternate realm of Abyssea, the Celestial Capital did indeed separate from Qufim Island as in Vana'diel, but rather than floating directly above the planet, when Shinryu was manifested from Promathia Al'Taieu situated itself on the surface of Abyssea's moon and the Empyreal Paradox separated from the rest of the region. Now disconnected from both Abyssea and the rest of Lumoria, Abyssea - Empyreal Paradox has both a view of the planet Abyssea in the distance and Lumoria situated on Abyssea's moon below.[4]
Other Appearances
Edit
The Empyreal Paradox appears as the representative arena for Final Fantasy XI in Dissidia 012. The arena is a large flat expanse with a giant orange crystal in the center. Several smaller crystals line the arena on the outside perimeter, and the world of Final Fantasy XI can be seen below the stage. In the stage's Omega version, orbs of light float from this world up to the crystal in the center of the stage. Characters too close to this center crystal steadily lose Bravery the closer they are to it.
The Promyvion Shard is the battlegen item obtained through stage destruction in this area.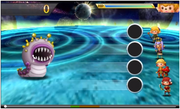 The Empyreal Paradox appears as the BMS for "Shinryu".

Etymology
Edit
Lumoria likely derives from "Lemuria." [view  · edit  · purge]Lemuria is the name of a hypothetical "lost land" variously located in the Indian and Pacific Oceans. The concept's 19th-century origins lie in attempts to account for discontinuities in biogeography; however, the concept of Lemuria has been rendered obsolete by modern theories of plate tectonics. Though Lemuria is no longer considered a valid scientific hypothesis, it has been adopted by writers involved in the occult, as well as some Tamil writers of India. Accounts of Lemuria differ, but all share a common belief that a continent existed in ancient times and sank beneath the ocean as a result of a geological, often cataclysmic, change, such as pole shift.
References
Edit