Balthier: I'm afraid the jury's still out on that one.
This article is about a character from a game that's still to be released. As such, some of the information might be inaccurate or likely to change. Please look over our policy for updating articles covering upcoming games before editing this page.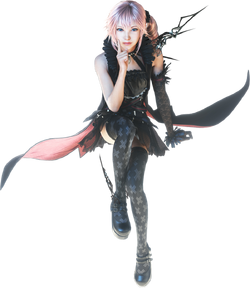 "A mysterious girl who appears in front of Lightning at every turn. Her unpredictable nature wreaks havoc everywhere she goes. A helpful friend or mischievous foe? This capricious little demon plays with Lightning and the rest of the world as if they were toys in a toy box."
—Online description
Lumina (ルミナ, Rumina?) is a character in Lightning Returns: Final Fantasy XIII. She resembles Serah Farron in appearance and crosses paths with Lightning during the latter's quest to save the world, at times appearing as a friend and other times as an adversary.[1]
Appearance and Personality
"This savior... what is she about, anyway?"
—Lumina[2]
Lumina has pale pink hair tied into a ponytail on the left side of her head with a black hairband, large blue eyes, a wide nose and wide, pink lips. The dominant color for her "gothic lolita style" outfit is black where she wears a long sweeper with pink interior, sleeveless top with feathers, lacy skirt, long glove on her left arm, thigh-high stockings, and shoes. She has aerials on the back of her right shoe and her left collarbone.
Lumina appears to know where Lightning is headed. Sometimes, she helps Lightning, but at other times, she interferes with her. Lumina views Lightning as someone to be toyed with.
Creation and Development
Lumina was designed by Toshiyuki Itahana.[3]
Gallery
Etymology
Lumina is a word of Latin origin, the plural form of the word lumen, meaning "light". An alternate definition of lumen, however, is "eye," which could be a reference to Serah's eyes of Etro in Final Fantasy XIII-2.
References

This article or section is a
stub
about a character in 
Lightning Returns: Final Fantasy XIII
. You can
help
Final Fantasy Wiki by
expanding it
.
Template:LRFFXIII