Lumina
Talk

30
14,803 pages on
this wiki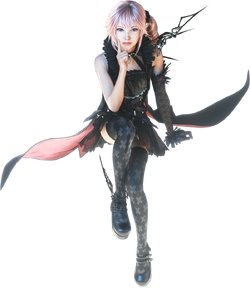 "A mysterious girl who appears in front of Lightning at every turn.
Her unpredictable nature wreaks havoc everywhere she goes.
A helpful friend or mischievous foe? This capricious little demon plays with Lightning and the rest of the world as if they were toys in a toy box."
—Online description
Lumina (ルミナ, Rumina?) is a major supporting character in Lightning Returns: Final Fantasy XIII. She resembles Serah Farron in appearance and crosses paths with Lightning during her quest to save the world, at times appearing as a friend and other times as an adversary.
Appearance and Personality
Edit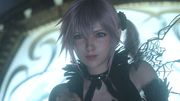 "This savior... what is she about, anyway?"
—Lumina[1]
While Lumina's eyes appear a bluish-gray in-game, her eyes are a sea-blue in her CG render. She has a wide nose and wide, pink lips. Lumina resembles a younger version of Lightning with elements of Serah in her design, seen in her pale pink hair stylized with a ponytail on the left side of her head and her face resembling a younger version of Serah's. Lumina wears a black dress adorned with feathers. She wears a long sweeper with pink interior, black hairband around her ponytail, sleeveless halter top with a black collar with silver studs and a silver feather pendant, lacy skirt, long glove on her left arm, thigh-high stockings, and pump shoes. She has aerials on the back of her right shoe and her left collarbone.
Lumina is playful and unpredictable, seeing the world as a plaything, and people as a source of entertainment. Although she can give helpful advice, she enjoys toying with Lightning, and summoning monsters for her to fight. Hinting at a deeper connection to their relationship besides her resemblance to Serah, Lumina refers to Lightning as "sis".
"You can see when you're inside this stuff? Then you can't be one of God's regular lackeys, can you?"
—Lumina to Lightning
When their parents died, Lightning abandoned her past and became strong for Serah under the delusion that she doesn't need help. Regardless, the denied feelings of wanting companionship and needing help from others causes an inner turmoil that affected Lightning throughout her life. When he finds Lightning, Bhunivelze purges her of her vulnerable side, which used the Chaos to manifest a physical form: Lumina. As she was a part of Lightning, Lumina also became a vessel for Serah's soul to safeguard her from the Chaos.[2]
Lightning encounters Lumina in Yusnaan during the former's confrontation with Snow Villiers in his palace. After Snow grabs Lightning, Lumina appears in his place as an illusion, and breaks Lightning's sword with magic. In reality, Lumina is on the chandelier above the ballroom, which she sets ablaze before vanishing. The chandelier falls, but Snow uses his l'Cie powers to stop it. As Lightning chases Snow through the palace, Lumina reappears to her in a Chaos Infusion.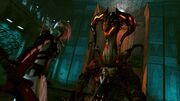 Lumina taunts Lightning that she is different from Bhunivelze's usual servants, since she can see inside the Chaos. Lumina summons a Zaltys to block Lightning's path and disappears, but Lightning defeats it.[3] After Lightning retreats to the Ark, Lumina returns to the area, commenting on Lightning's unrealistic hopes of saving Snow and the rest of Nova Chrysalia's people.[4]
In the Japan Expo trailer, Lumina tells Lightning the people who died in the past will be erased as though they never existed. She later tells Lightning that if the "wind of sorrow", the doomed souls of the dead, ever escaped, it would mean the end of the world and the future.
On Nova Chrysalia's final day, Lightning learns of Lumina's origins and Serah's ties to Lumina before her sister's soul is absorbed by Bhunivelze. While Lightning attempts to sacrifice herself to destroy Bhunivelze, Lumina appears before Lightning one final time and convinces her to accept her vulnerabilities. Lumina becomes part of Lightning again, compelling her to call for her friends' help to kill Bhunivelze and lead everyone to a new world.

Abilities
Edit
Lumina uses teleportation magic and can summon various monsters to her aid.

Creation and Development
Edit
Lumina was designed by Toshiyuki Itahana, with her look being described as a "gothic lolita style".[5] The character was designed to appear like a twelve-year-old girl, and her exaggerated movements were designed to be especially realistic when compared to the other characters.[6]
In the Japanese version, Lumina is voiced by Kanae Itō.[7]
Musical Themes
Edit
"Lumina's Theme" is an eighth theme in Disc 3 of Lightning Returns: Final Fantasy XIII: Original Soundtrack.
Merchandise
Edit

Glico, the snack company has been working with Square Enix to promote Lightning Returns: Final Fantasy XIII in Japan. Lumina appears on Pocky box along with Lightning and Snow.

Etymology
Edit
Lumina is a word of Latin origin, the plural form of the word lumen, meaning "light". An alternate definition of lumen is "eye", which could be a reference to Serah's Eyes of Etro in Final Fantasy XIII-2. The choice of her name is not coincidental as Lumina has some traits of Lightning, whose nickname is 'Light'.
When Lumina summons Zaltys she draws the power to summon it from her left bicep, referring to her resemblance to Serah, who had a l'Cie brand on her left bicep, and whenever a party member summoned an Eidolon in Final Fantasy XIII, they drew the power to summon it from their brand.
In early screenshots the color of the feather pendant Lumina wears is black, and her collar lacks its metal studs.
References
Edit