Lumina
18,488 pages on
this wiki
Talk

32
A mysterious girl who appears in front of Lightning at every turn.
Her unpredictable nature wreaks havoc everywhere she goes.
A helpful friend or mischievous foe? This capricious little demon plays with Lightning and the rest of the world as if they were toys in a toy box.
—Online description
Lumina (ルミナ, Rumina?) is a major supporting character in Lightning Returns: Final Fantasy XIII. She resembles Serah Farron in appearance and crosses paths with Lightning during her quest to save the world, at times appearing as a friend and other times as an adversary.
See also: Datalog/Characters
This mysterious young girl appears to be able to control the power of Chaos, and likes to get in Lightning's way at every turn.
It seems that she has met Snow before, and the two have more than just a passing acquaintance, but Lightning has spent the last five centuries in crystal, and she has no way of knowing what could have happened between the two.
Still, she cannot deny that the girl bears a striking similarity to Serah. But Serah is dead, and this Lumina seems to have her own goals.
Appearance
Edit
While Lumina's eyes appear a bluish-gray in-game, her eyes are a sea-blue in her CG render. She has a wide nose and wide, pink lips. Lumina resembles a younger version of Lightning with elements of Serah in her design, seen in her pale pink hair stylized with a ponytail on the left side of her head and her face resembling a younger version of Serah's. Lumina wears a black dress adorned with feathers. She wears a long sweeper with pink interior, black hairband around her ponytail, sleeveless halter top with a black collar with silver studs and a silver feather pendant, lacy skirt, long glove on her left arm, thigh-high stockings, and pump shoes. She has aerials on the back of her right shoe and her left collarbone. Physically, Lumina appears as a twelve-year-old, and according to Lightning, resembles Serah at that age.

Personality
Edit
So you'll play his game for as long as it takes to build the new world. Then you'll sit in judgment on him. You'll betray him, and destroy him, and steal the new world he labored to build. Is that your plan? I love it! Turning on God and making him a pawn in your own game. It's audacious.
—Lumina to Lightning about Bhunivelze
Lumina is playful and unpredictable, seeing the world as a plaything, and people as a source of entertainment. Although she can give helpful advice, she enjoys toying with Lightning and summoning monsters for her to fight. She is connected to the Chaos, speaking of the monsters it spawns as her "friends", and walking through and manipulating it unharmed. Hinting at a deeper connection to their relationship besides her resemblance to Serah, Lumina refers to Lightning as "sis". Due to her nature, Lumina knows and keeps in touch with Lightning's comrades from years past but also talks with various inhabitants of Nova Chrysalia, telling them about Lightning and at times offering "help" which sometimes turns to their disadvantage. But ultimately, because of her origins, Lumina is revealed to be scared of being alone and has a feeling of concern for Serah.
Abilities
Edit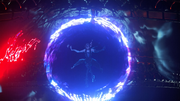 Lumina uses teleportation magic and can summon various monsters to her aid. While she teleports, Lumina flashes in bright light despite being connected with Chaos which manifests as dark clouds. She can create false prophecies into Oracle Drives, and pull Lightning into a secret place inside her where the two can converse without Hope Estheim overhearing.

Creation and development
Edit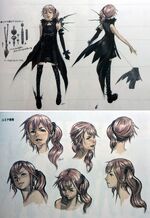 We asked ourselves how we could introduce the hidden face of Lightning in the story. This is how the character of Lumina was born. She looks like a young Serah but, more importantly, her inner feelings reflect the hidden emotions of Lightning.
Lumina was designed by Toshiyuki Itahana, with her look being described as having a "gothic lolita style".[2] The character was designed to appear like a twelve-year-old girl, and her exaggerated movements were designed to be especially realistic when compared to the other characters.[3]
In the Japanese version, Lumina is voiced by Kanae Itō and in the English version she is voiced by Jessica DiCicco.[4][5] She shares her English voice actress with Olette from Kingdom Hearts II.

Musical themes
Edit
"Lumina's Theme" is the eighth track on Disc 3 of Lightning Returns: Final Fantasy XIII: Original Soundtrack, composed by Naoshi Mizuta and Masashi Hamauzu. It's a dark tune that displays Lumina's mysterious and playful nature, and contains a reprise of "Blinded By Light", alluding to her connection with Lightning.
Other appearances
Edit
Lumina is an ally and a summonable Legend in Final Fantasy Airborne Brigade. Her EX ability is Full Swing (Cyclops).
Lumina appears with an Ice-elemental card.

Non-Final Fantasy Appearances Edit
Square Enix Legend World Edit
Lumina makes an appearance as a card.

Merchandise
Edit
Glico, the snack company has been working with Square Enix to promote Lightning Returns: Final Fantasy XIII in Japan. Lumina appears on Pocky box along with Lightning and Snow.

Etymology
Edit
[view  · edit  · purge]Lumina is the plural form of the Latin word lumen, meaning "light". An alternate definition of lumen is "eye". In anatomy, a lumen, plural lumina, means opening or space. "Lumen" is used to describe the interior space of an anatomical structure, such as a blood vessel.
When Lumina summons Zaltys she draws the power to summon it from her left bicep, referring to her resemblance to Serah, who had a l'Cie brand on her left bicep, and whenever a party member summoned an Eidolon in Final Fantasy XIII, they drew the power to summon it from their brand.
In early screenshots the color of the feather pendant Lumina wears is black, and her collar lacks its metal studs.
Despite Lumina's antagonistic attitude towards Lightning and her friends, it is apparent by completing several quests that the denizens of Nova Chrysalia seem to like her and make light of her penchant for mischief.
References
Edit