Lulu
18,948 pages on
this wiki
Talk

56
Lulu, also called Lu by Wakka, is a playable character in Final Fantasy X who also appears in Final Fantasy X-2 as a non-player character. She is one of Yuna's guardians. Since Lulu grew up with Yuna in Besaid, she and Wakka think of Yuna as a younger sister. Lulu's stoic and self-possessed nature makes her seem insensitive at times, but conceals a bit of gentleness underneath.
She specializes in the art of black magic, using various dolls to help cast powerful spells. She is instrumental in supporting Tidus to adjust to the world of Spira, although she does not initially believe his claim of hailing from Zanarkand.
Appearance
Edit
Lulu deviates from the "traditional Black Mage look" like that of Vivi Ornitier by taking on inspirations from the traditional obeah voodoo priestess and a modern day witch known for their mysterious manner of clothing, as well as the usage of voodoo dolls. She is dressed in a low-cut dark-gray and black dress that displays her cleavage (from which she pulls out items when she uses the Item command), with two crossed belts on the upper part of each sleeve. The décolletage is trimmed in fur, and the hem and sleeves have ornate lace edges. The lower front of her gown is made of a collection of interlaced belts. She wears a corset and lace-trimmed stockings.
Lulu is one of few characters in the series to have a non-standard iris color, red. Lulu's hair is braided in cornrows that lead into a bun and long braids, except for her long forlock: the braids are tied into a knot with four ornamented pins which may represent the four cardinal elements of black magic, and four bead-tipped braids falling from it. She wears many accessories: a necklace of purple round beads, a small one of white beads, and another of red and blue beads, rings and many earrings. She uses purple makeup and nail polish. Lulu's manner of dress is a stark contrast from the other residents of the tropical island.
Personality
Edit
Lulu is first mentioned by Wakka, who warns Tidus about Yuna's guardians, stating that "One of them's got a short fuse." Lulu is stern and scathing (particularly to Wakka), and does not smile often. She is nonetheless kind-hearted, caring and intelligent, and is one of the few Yevonites to question the religion on objective terms. Having lost her lover to Sin, Lulu has become reserved and prefers to keep her emotions locked up, choosing to examine the world with realism and logic. She is a big-sister figure to Yuna to whom she is fiercely loyal, and became her guardian despite initially objecting to Yuna's decision to become a summoner. She ultimately lets Yuna decide her own path in life.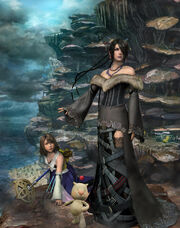 According to "Lulu's Story" in Final Fantasy X Ultimania Omega the experiences of her previous pilgrimages had given her a new goal as a guardian: to overcome her weaknesses, to become the person she wants be surpassing her previous self. Lulu believes she must finish the pilgrimage as a guardian not only for Yuna's sake, but also for her own sake. Though Lulu misses Chappu she doesn't see Tidus as a replacement, unlike Wakka, whom she berates over his readiness to bond with the newcomer. Because Lulu empathizes with Wakka she feels she can't allow herself to be similarly weak and thus tries her utmost to appear calm and rational, although her inner turmoil is glimpsed during her arguments with Wakka.
Lulu acts as a the guide to the beginning of the pilgrimage, but as her knowledge stems from the teachings of Yevon, she "represents an old age bound by traditional beliefs." When the party begins to stray from the teachings, the knowledge she can impart lessens and that traditional knowledge becomes a shackle.

Final Fantasy XEdit
Lulu is a Black Mage, and thus her physical attacks and defense are initially weaker than the other characters', although there are a good number of Defense nodes on her section of the Sphere Grid. Her HP, Strength, Accuracy, and Agility remain fairly low. Lulu's Magic, Magic Defense, MP, Defense, and Evasion are strong. Lulu has one of the highest Defense stats in the game, which is uncharacteristic of her job class.
She slaps fiends for some of her counterattacks. She performs a regular attack as a ground counterattack, and does a backhand when countering a flying fiend. When low on HP, Lulu will slouch over with her left arm draping over her knee, and when at quarter HP she will slouch down even more with her left arm further behind her.
Lulu and the rest of the Final Fantasy X cast are the first Final Fantasy characters to have different casting magic poses based on the spell's tier. If Lulu is using tier 1 magic, e.g Fire, she puts her hand on her shoulder, then casts it. For rank 2 magic, e.g Fira, she raises her right arm up past her head, and lastly, for tier 3 magic or greater, like Firaga or Flare, she raises both arms to the sky, then brings them down in a full circle, casting the spell. The doll she is using falls to the ground and mimics her pose.
Lulu's Overdrive is Fury that casts a barrage of up to sixteen spells on the target. To execute Fury the right thumbstick must be rotated 360 degrees. More spins add more castings. Nearly all of the Black Magic spells can be cast. These spells cannot be evaded, protected against, or prevented in any way and do not cost MP, but do significantly less damage than a normal casting of the same spell. Lulu cannot cast a spell with Fury until she learns it in the Sphere Grid, and she can only Fury-cast Black Magic.
Note: Values in parentheses are node stat bonuses.
Equipment
Edit
Lulu equips dolls as her weapons and bangles as her armor. When performing Attack or other physically-based ability, Lulu lets a doll go and hit an enemy making her physical attacks the longest to perform of all the party members.
Lulu's dolls are based on classic Final Fantasy creatures. She usually uses a Moogle doll but can also use the Cait Sith, Moomba, Cactuar, and PuPu dolls. As revealed in Final Fantasy X-2, unaware of this fact despite using her magic to animate them in her attacks, Lulu's dolls are sentient beings with the mentality of children who view her as their mother.
Lulu's Celestial Weapon is the Onion Knight. Lulu is the only character not shown receiving her Celestial Weapon with Tidus, due to the Onion Knight being found underwater. When fully upgraded, the Onion Knight has Break Damage Limit, Triple Overdrive, Magic Booster and One MP Cost.
Abilities
Edit
Lulu's Sphere Grid area runs near Rikku's and Wakka's, and her Sphere Color is purple. The unique abilities in Lulu's default position on the grid include the following:
Note: Abilities denoted with an asterisk (*) are available in the International, PAL, and HD Remaster version of Final Fantasy X.
Final Fantasy X-2Edit
Lulu can be fought as a boss during the Youth League Tournament in the Fiend Arena in the International and HD Remaster versions.
Party Member
Edit
Lulu can be recruited as a party member through the Creature Creator system. To recruit Lulu the player must set up a Special Monster Pod in Besaid during a New Game Plus file. The abilities Lulu can naturally learn are Fire Fury, Blizzard Fury, Thunder Fury, and Water Fury; all of which chain 9 times. She has been known to cast the improper element and heal the enemy.
Like all monster allies, Lulu can use any of the common dresspheres and she is controlled by the game's AI. If given the Osmose ability, which can be done by equipping her with the Black Tome item or the Black Tabard Garment Grid, her AI will use it as needed. As with all allies from Final Fantasy X, she will use her old battle quotes and, just like all returning heroes, performs a victory pose at the end of the battle.
Lulu Coin
Coin No.
61
Coin Value
9
Trait
Rare Coin
Location
Win from the Bevelle Core Sphere player in the Luca Stadium.
Creation and development
Edit
Character designer Tetsuya Nomura gave Lulu numerous belts to test the graphics developers to see if they could get the exact combination, number of belts, and overall design correct every time. In turn, the graphics developers found a way around by only showing Lulu from the waist up or from behind in many of the CGI scenes.[1]
Her use of dolls as weapons refers to the unused concept of dolls as weapons for Final Fantasy VI.
Director Motomu Toriyama has said Lulu was relegated to a supporting role in Final Fantasy X-2 because if she had been in the party Yuna would have relied on her like an older sister, and this would have got in the way of her quest to find a new self.[2]
Lulu's Japanese voice actress is Rio Natsuki, while her English voice actress is Paula Tiso.
Paula Tiso said that voice acting as Lulu was a challenge for her as she usually got the roles of bubbly women in her commercials. She commented that Lulu was one of her first larger roles in video gaming.
Lulu shares her Japanese voice actress with Bahamut's fayth in Final Fantasy X and Lucrecia Crescent from Dirge of Cerberus -Final Fantasy VII-. She shares her English voice actress with Jihl Nabaat from Final Fantasy XIII and Final Fantasy XIII-2.
Musical themes
Edit
"Lulu's Theme" plays only once, when Lulu faces the unsent form of Lady Ginnem and the group fights Yojimbo in the sidequest involving the Cavern of the Stolen Fayth.

Other appearances
Edit
Lulu appears as an ally and a summonable Legend in Final Fantasy Airborne Brigade. She is depicted in her default Final Fantasy X outfit.
Lulu has four cards in the Final Fantasy Artniks game: one depicting her official artwork by Tetsuya Nomura, and three depicting her promotional art.
Lulu appears as a playable character who could be recruited during the Challenge Event Third Pilgrimage as the First Time Reward for completing the event's stage Gagazet on Classic difficulty.
Assessment
Like her direct counterparts from the other games represented in the game, most notably Vivi, Lulu is a specialist in black magic. Her spells are as effective as Vivi's, but her Speed is somewhat lacking, meaning that her spellcasting will be placed near the bottom of a turn queue. She complements any party just as well as Vivi does, and so she may appeal to players seeking variety or Record Synergy. Her most practical use may be with another mage so as to exploit multiple weaknesses when physical attacks fall short.
Stats
| Level | HP | Attack | Defense | Magic | Resistance | Mind | Accuracy | Evasion | Speed |
| --- | --- | --- | --- | --- | --- | --- | --- | --- | --- |
| 1 | 170 | 5 | 6 | 12 | 11 | 6 | 20 | 20 | 80 |
| 10 | 661 | 13 | 13 | 39 | 27 | 15 | 20 | 20 | 83 |
| 20 | 1,208 | 22 | 22 | 63 | 46 | 26 | 20 | 21 | 87 |
| 30 | 1,754 | 31 | 32 | 86 | 65 | 37 | 21 | 21 | 92 |
| 40 | 2,301 | 40 | 42 | 108 | 83 | 48 | 21 | 22 | 97 |
| 50 | 2,847 | 49 | 53 | 129 | 102 | 59 | 22 | 22 | 102 |
| 60 | 3,393 | 57 | 63 | 149 | 121 | 69 | 23 | 23 | 107 |
| 65 | 3,667 | 62 | 69 | 159 | 130 | 75 | 23 | 23 | 110 |
| Rank | 2 | 1 | 1 | 5 | 4 | 1 | 3 | 3 | 2 |
Abilities
Lulu can use Black Magic spells up to rarity rank 5.
Her default Soul Break is Thunder Fury which at the expense of one Soul Gauge segment deals two successive magic lightning attacks to one target. The doll Magical Mog (X) allows Lulu to use Firaga Fury which at the expense of one Soul Gauge segment deals three successive magic fire attacks to one target. The hat Lulu's Hairpin (X) allows Lulu to use Focus which at the expense of one Soul Gauge segment temporarily raises the party's Magic and Resistance.
Equipment
Lulu can equip the following weapon types: daggers, rods, staffs, and dolls.The doll Magical Mog (X) allows Lulu to use Firaga Fury.
She can equip the following armor types: hats, robes, and bracers.The hat Lulu's Hairpin (X) allows Lulu to use Focus.
She can equip accessories.
Lulu appears in the Final Fantasy Trading Card Game and is represented in Thunder-elemental cards. She is depicted in her Final Fantasy X promotional poster, her official artwork, and her Theatrhythm artwork.
Non-Final Fantasy guest appearancesEdit
Square Enix Legend WorldEdit
Lulu makes an appearance as a card.

Other media
Edit
In Gunslinger Stratos 2, a costume based on Lulu was released in November 2014.

Etymology
Edit
[view · edit · purge]Lulu is an Arabic word meaning "pearl". It is also the diminutive or vernacular form of the female name Louisa, Louise or Lucy, or of their variant forms. Lulu is also of Swahili, Tanzanian and Hawaiian origin, and it means the "precious", "pearl", "calm", "peaceful", and "protected". According to Webster's New Collegiate Dictionary, "lulu" was an early 20th century term used to described a woman with unique talents or ability.
Regardless of Yuna's role as Tidus's love interest, many field options that involve affection mechanics, place Lulu at the top of the list for the most obtainable affection points from other party members, including first conversation opportunity points that give females 4 additional points, and 2 additional points for the males, save for points that can be earned any time during battles.
Despite being nine months pregnant and giving birth during Final Fantasy X-2, Lulu shows none of the physical tell-tale signs, even to the point Rikku says she "doesn't look pregnant." This is due to programmers not wanting to create a new character model for her.
Lulu and Paine wear similar garments unique only to them in the entirety of Spira. They are also the only characters in Spira with red irises.
Lulu is absent during cutscenes involving complex movements. Before the battle with Oblitzerator, she, Tidus, and Kimahri are seen running after the Al Bhed ship, but only Tidus and Kimahri are shown making the jump. During the scene where the party attacks Bevelle, Lulu is carried by Kimahri as they slide down the chain.
In the video showing comparison between PS2 and PS3/PS Vita remastered soundtrack, Lulu is the only one present in all battle teams for the HD Remaster showcase part which shows characters performing Overdrives.
In the Brain Blast quiz in Final Fantasy XIII-2, Lulu is mentioned as the name of a girl from the song "Tiny Lulu."
References
Edit