Lucrecia Crescent
18,488 pages on
this wiki
Talk

20
I'm so sorry!
—Lucrecia to Vincent
Lucrecia Crescent (ルクレツィア・クレシェント, Rukuretsia Kureshento?) is a non-playable character from the Compilation of Final Fantasy VII. She is Sephiroth's birth mother.
Lucrecia initially appeared briefly in Final Fantasy VII in optional scenes, but her role was expanded in Dirge of Cerberus -Final Fantasy VII-, giving her a larger role within the Shinra Electric Power Company Science Department and crediting her with research into Chaos. More details of her became available in Dirge of Cerberus -Final Fantasy VII-, such as her surname, her birthday (July 22), and her bloodtype (B).
Appearance
Edit
In Final Fantasy VII, Lucrecia wears a closed lab coat over a red shirt and yellow tie. She wears black shoes, red earrings, and has her long brown hair pulled into a high ponytail with a full, straight fringe.
In Dirge of Cerberus -Final Fantasy VII, Lucrecia's appearance changes. She still wears a ponytail but with bangs that resemble Sephiroth's falling over her left eye. The top of her ponytail is wrapped in a yellow ribbon. Her eyes are brown. She wears her lab coat open, a light blue blouse with a ruffle, an asymmetrical dark blue skirt, and red heels, with a silver pendant necklace, silver earrings, and a silver anklet on her left ankle. When encased in crystal she is dressed in a white sleeveless top cropped diagonally and a full length asymmetrical skirt with another draped over her left hip, tied like a sarong. She has a long white shawl draped around her arms, a long, three-tiered string of pearls and white flats.
If one looks closely in some of the Dirge of Cerberus -Final Fantasy VII- cutscenes, one can spot Lucrecia wearing a pair of silver earrings in an ornate filigree design that somewhat resembles the shape of a dagger, similar to those of musician Gackt who contributed "Longing" and "Redemption' to the game's soundtrack and served as a model for Genesis Rhapsodos.
Personality
Edit
Lucrecia suffers from a guilt complex. She has a kind and caring soul but tends to ignore the realities of life and convince herself to believe only what she wants to believe. Being a scientist, she is prepared to take risks for her research, something she, albeit to a lesser extent, shares with her colleague Professor Hojo. She can be emotionally volatile and stubborn.
Main article: Lucrecia's Cave#Death Penalty and Chaos
Lucrecia is briefly mentioned in a sidequest in Final Fantasy VII where the player can recruit the optional character Vincent to the party. The player can later find Lucrecia at her cave behind a waterfall near Nibelheim after Cloud returns to the party following the Mideel events. To meet Lucrecia, Vincent must be present in the active party.
Following the event scenes the player must leave the cave and fight at least ten random encounters. Returning with Vincent his Limit Break manual and his ultimate weapon, Chaos and Death Penalty respectively, can be found at the back of the cave.
Creation and development
Edit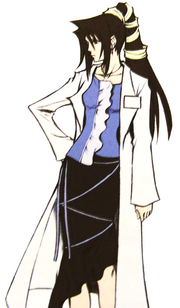 Lucrecia was designed by Tetsuya Nomura and initially had a minor role in the backstory of Vincent, an optional character in Final Fantasy VII. Her role was expanded upon when Vincent became the main protagonist of Dirge of Cerberus -Final Fantasy VII-. Her character model was redesigned to more strongly resemble Sephiroth's appearance, and her backstory was expanded upon to connect her with Vincent's father and with Chaos, a form Vincent can assume as a Limit Break after he encounters her in Final Fantasy VII.
Though Vincent states in Final Fantasy VII that Lucrecia was the person whom he "loved and respected most," it was unknown whether or not Lucrecia returned his feelings. In Dirge of Cerberus -Final Fantasy VII-, such a reciprocation is implied when her thoughts flash across the screen late in the game containing, among other sentence fragments, "Vincent..." and "I loved..."
The Early Material Files included with the Final Fantasy VII Ultimania Omega guide (scenes and ideas cut or changed in the final game), paint a different picture of the dynamics between Lucrecia, Vincent, and Hojo in the early character designs. Vincent's section mentions Lucrecia was originally "on Vincent's side," drugged by Hojo, and forced into experimentation against her will. (In the game's final version, and Compilation canon, she was a willing albeit conflicted participant.) The Early Material Files also mention she was considered an "idol" in the lab, and was the only woman on Hojo's team.
Dirge of Cerberus -Final Fantasy VII- contains some concept artwork for the picnic basket she carries to Vincent in a flashback, and the concept artwork shows it has a bottle of red wine. The opening FMV sequence shows a wine glass in Vincent's room containing a red liquid some decades later.
Lucrecia shares her Japanese voice actress, Rio Natsuki, with Lulu from Final Fantasy X and Final Fantasy X-2. She shares her English voice actress, April Stewart, with Mjrn from Final Fantasy XII.

Etymology
Edit
[view  · edit  · purge]The name Lucrecia (and its Latin counterpart "Lucretia") comes from lucrum, meaning "wealth". Lucretia was a mythical Roman figure who was infamously raped by Sextus Tarquinius. This may have been meant to hint to the nature of Lucrecia's forced participation in the Jenova Project in early game designs (when she was named), or it could be meant to emphasize the perverse nature of Sephiroth's conception.
The katakana for Lucrecia's name is read as Rukuretsia, suggesting her name may have been intended to be either Italian or Ecclesiastical Latin.
[view  · edit  · purge]In art and symbolism, a crescent is the shape produced when a circular disk has a segment of another circle removed from its edge so that what remains is a shape enclosed by two circular arcs of different diameters which intersect at two points (usually in such a manner that the enclosed shape does not include the center of the original circle). In astronomy, a crescent is the shape of the lit side of a spherical body (most notably the Moon) that appears to be less than half illuminated by the Sun as seen by the viewer.
The word crescent is derived from the present participle of the Latin verb crescere, "to grow", and was originally applied to the form of the waxing moon. One of her key plot points is Sephiroth's growth in her womb.